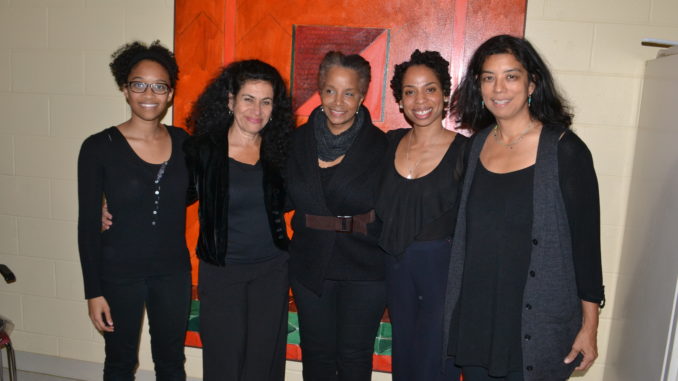 It was an electrifying evening in Malden on Monday, November 10.
The cafeteria of Triangle, Inc. at 420 Pearl St. was transformed into an elegant cafe with lamps and candlelight replacing the overhead fluorescents. The opening to the kitchen was covered by grey-mottled panels and formed the backdrop for a theatrical presentation that left the over 70 attendees to the free event profoundly moved by its power and intensity.
Malden Reads: One City, One Book in collaboration with the North Shore Black Women's Association presented a staged reading of an original play, "Henrietta," based on the 2014 Malden Reads book selection The Immortal Life of Henrietta Lacks by Rebecca Skloot. Written by poet, musician, songwriter and (now) playwright Licia Sky, the reading was a moving tribute to the African-American woman whose cancer cells were taken without her knowledge in the 1950s at Johns Hopkins Hospital and have been multiplied and used worldwide since that time to further the field of medical science.
Henrietta was a poor black tobacco farmer from the south whose family continued to live in poverty after Henrietta died and with no knowledge that her cells have contributed so widely and so profitably to medicine and other fields of knowledge.
The play was directed by Melissa Nussbaum Freeman, who also served as one of the readers. Her new play about older women, "Joy Ride," will be previewed at Boston's Calderwood Pavilion on December 8.
Alexandria Danielle King gives an astonishing performance as Henrietta. King's previous acting credits include Charlotte in "The Van Mader Trust" (NYC Fringe Festival), Frances in "The Last Jews" (Tich Productions), Fran in "Splendor" (Company One), and Masha in "The Three Sisters" (Moscow Arts Theatre School).
Also taking part in this staged reading was Amelia Lumpkin, who will be performing in the upcoming Company One's "Shockheaded Peter" and Cheryl D. Singleton, whose credits include shows at Boston Playwrights' Theatre, New Rep, A.R.T., Commonwealth Shakespeare, Phoenix Theater/Company One, Queer Soup and ImprovBoston.
This performance, with actors playing multiple roles, is a preview to the full production that the playwright and director plan to bring to fruition. They are about to launch a kickstarter campaign and were so pleased to receive the tremendously positive feedback from the audience at Triangle. Folks who are interest in supporting this project or have questions and comments can send an email to Henrietta.play@gmail.com.
The event was billed as "Dessert Theater" and a variety of delicious desserts were provided by David Stein of Brother Trucker, a division of Stockpot Malden. The diverse audience included Malden's Mayor Gary Christenson and other elected officials, Malden Reads enthusiasts, members of the North Shore Black Women's Association, and other Malden residents. There were also plenty of folks from outside of Malden, as word of this special performance spread through a variety of circles.
This performance was funded by a grant from the Malden Cultural Council, a local agency, supported through the Massachusetts Cultural Council, a state agency. Malden Cultural Council chair Candace Julyan, who attended the event, states, "What a fantastic collaboration, beautifully executed by these talented actors.   This is exactly what we hope to see happen with our local grants, opportunities for community groups like Malden Reads and the North Shore Black Women's Association to team together and create exciting, original cultural experiences for Malden residents."
Malden Reads is a community reading program, now in its fifth year, coordinated by local residents, community groups, city officials, and school representatives in collaboration with the Malden Public Library and MATV, Malden's Media Center. The program seeks to find out "What if all of Malden read the same book?" and explores each year's book selection through book discussions, a film series, a community dinner series, social/cultural/art events, educational presentations, and an overall program that works to engage the entire community across all ages and backgrounds.
At the end of the presentation of "Henrietta," Malden Reads made their first public announcement of the 2015 book selection which is Mr. Penumbra's 24-hour Bookstore by Robin Sloan. Previous year's book selections have been The Soloist by Steve Lopez (2011), Outcasts United by Warren St. John (2012), and The Absolutely True Diary of a Part-time Indian by Sherman Alexie (2013).
Here's a three-minute excerpt from the presentation: