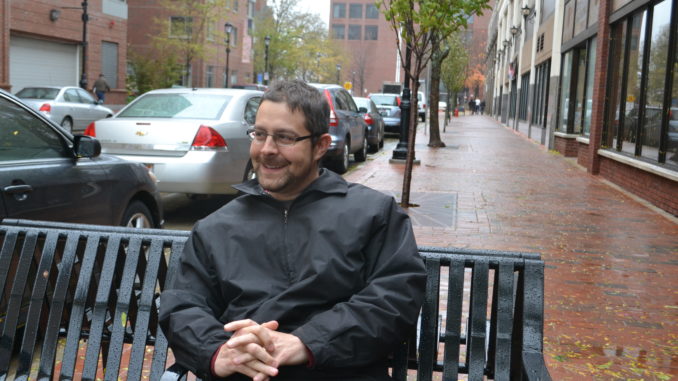 Feel like you saw this article before? MATV's Neighborhood View caught up with Nathan Lamb when he left his position back in the fall. He returned a couple of weeks later and explains what happened below. But now it looks like he's leaving the post for good. We wish him well and caught up with him one more time.
First off, Nathan, where are you headed?
Anne– first I really want to thank you for your interest. You and Ron Cox and everyone at MATV have been great media partners throughout my tenure in Malden and I did want to thank you again for that.
I've taken a position as a site editor at a company named Tech Target in Newton. Our mission centers on providing reliable information for companies looking to solve problems with technology. I'll be writing and editing for a website dedicated to those topics.
What happened the first time you left (in the fall)?
I had been freelancing for an old colleague at a company for a couple of years and she left the company and encouraged me to apply. I went through the hiring process and everything was set for me to start. Then, several days before my planned first day, I got a call and found out that the corporate office was planning changes for that whole operation and they had put the brakes on any new hires. The people who hired me were great– the decision from upstairs was a surprise for them too. There were no hard feelings. The way I looked at it, it just didn't work out.
Anyways, I left on good terms with Gatehouse Media [the company that owns the Observer], so I immediately called and asked if they had anything for me— we went through several options and it turned out that me returning to the Observer made the most sense for everyone. That office is run by some pretty nice people– I'll always be grateful.
Why have you decided to switch jobs?
A few reasons. I think the most important is that I had a good opportunity come up and I decided I wanted to pursue it. Also, I'd been in journalism for 10 years– that' s a long time and I'd been thinking it was time to try something new. There was a financial aspect as well. (My wife and I did buy a house a couple of years back).
What will you miss about working at the Observer?
Just about everything! Malden is a great community and the Observer gave me a unique platform to share information and local accomplishments. I've met so many terrific people and seen so many great things over the past few years. It's nice how there was never a dull moment and it was almost always something new every day.
I'll remember those times when there was a story that was important to the community and I was the first one to cover it— or when there was some interesting local story that was contributed and I was able to share it via social media and see people react— those were my favorite times.
I'll repeat a question I asked in my last interview with you. Are you optimistic about the future of journalism?
Journalism is definitely changing a lot but one thing I've noticed about Malden is that there is a huge appetite for local news. It's nice when I've been able to report on stories that move the needle in town and I think that kind of thing will continue to happen in local journalism.
You live here in Malden. Will you still be involved in the community?
Oh sure. I'm staying involved with Malden Reads [where I've served as Chair of the Publicity Committee for the past few years] and I've enjoyed my times with MATV so much I'm thinking of becoming a member. I've made a lot of connections during my tenure at the Observer and I'm all about keeping up with folks as much as time allows– I think that curiosity about people and the community is key for a career in journalism and I don't think you can really fake that. Also, the Gatehouse North office is planning to send some freelance assignments my way. Time allowing, I do plan on continuing to cover some local issues…
It's been a great journey. I'm looking forward to the next chapter.