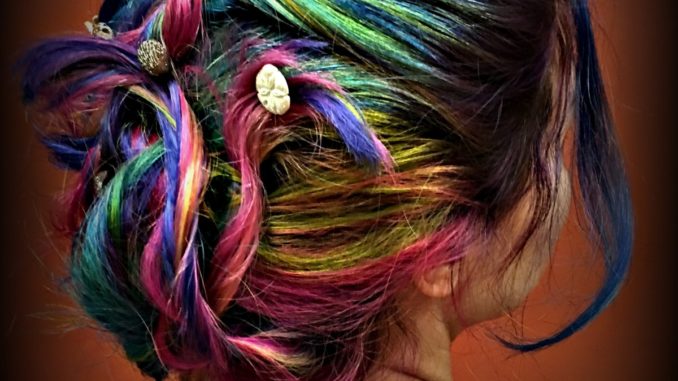 Hair as a blank canvas? Shannon Leigh, a South Weymouth-based hair designer and recent guest on "What's New? Malden," approaches hair as art. Leigh's artistic vision will be unveiled by  RAW:Boston in an art exhibit called "REVEAL" with ShanLeighHair. It's slotted for 7 p.m. Thursday, August 25 at MIXX 360 located at 665 Broadway in Malden.
Q: What is your greatest fear?
SHANNON LEIGH: My greatest fear is to become my mother. I know that sounds terrible but I fear the addiction that has consumed her for the entirety of my life and I would never, ever want to put my family through that.
What is the trait you most deplore?
Dishonesty. I can't stand a liar.
Which living person do you most admire?
Myself. I have over come so much and I use it to better myself. I live every day like its my last, and make sure that I treat people the way I want to be treated and do whatever I can to better myself. I also always, always put my kids first, and with that being said I work my ass off to make sure that 20 years down the line I WILL be someone they can look up to.
What is your greatest extravagance?
If we're talking money; if it comes to my business I buy whatever I need, if it comes to the kids, I buy whatever they need, not want, because I'm not raising two children that think they can do whatever they want and be disrespectful and still be rewarded. If it comes to things around the house, I'll buy them. I like to spend, but I'm responsible. You can't take it with you when you're dead.
I'd like to finish my tattoo, but it's not a need it's a want, and there are plenty of other things I could spend that money on, as much as I constantly work, and do deserve it, I can't make the plunge…
What is your favorite journey?
My life. Life has its ups and it's down, but I've learned that as shitty as things can be, it will get better. Once the dust settles I tell myself it's all for a reason. Life's lessons make us who we are.
What is your idea of perfect happiness?
Perfect happiness is coming home after a long day of doing what you truly truly love, to a cooked meal, even if your long day ended at 12am. Perfect happiness is spending your day off driving somewhere for a day trip and coming home, kissing good night and starting again in the morning.
Which words or phrases do you most overuse?
I don't tend to have words that I over use, or even phrases but maybe if you ask my clients they could tell you different.
When and where are you most comfortable?
I'd love to say home but it's at the salon, in my zone, doing what I love to do, taking my mind of reality. Which is crazy because I just painted you a picture of a perfect life. And I have one. It's just that's how I center myself.
If you met me you'd never know that I suffer from depression and anxiety and I owe being able to get through it to my amazing clients. My clients trust the creative process and let me do my thing. They give me an idea and let me run with it and trust me to wow them.
As a hair stylist I also double as a therapist but I have to say, to my clients that I'm overly open with, they know my life like I know theirs, and talking to them helps me just as much as I help them when they're telling me about their life. We all just need to talk to one another. Some clients stay with me for hours on end and if you'd ask them if 6-12 hrs was a long time, of course they'll say yeah, but I'm positive in saying that with great conversation, it doesn't FEEL like it.
Which talent would you most like to have?
I have it. I'm artistic. If patience was a talent, that's my answer. I'd love to have more patience when it came to little things as a mother, but if you're a mother, father, anyone with young'ns you understand what I'm saying.
What is your current state of mind?
I'm calm. I'm trying to really dig deep to answer these questions.
If you could change one thing about your family, what would it be?
I wish we were closer. Some of my family I'm very close with but others – we have all gone our separate ways as we get older and I wish we hadn't.
What do you consider your greatest achievement?
Where I am today.
What do you consider your greatest failure?
I can honestly say nothing. Maybe I've failed as a daughter, just giving up, but it was for my kids and in order to keep me sane I had to walk away. In no way was it easy but I had to take care of me; self preservation.
What do you regard as the lowest depth of misery?
Being alone in a crowded room. With anxiety and depression you can have everyone around you but still feel like you're alone and feel your heart racing because there's too many people in the room at the same time.
What is your dream job?
I'm doing it. Some day I'll be on stage teaching other stylists what I do, but for now, I'll continue to work towards it.
What is your most striking characteristic?
I'm always getting stopped and complimented on my tattoos. I used to be decked out in colorful makeup and have crazy colors in my hair, but since renting a chair I'm so busy that it's more sleep I'm craving, not attention. With that being said, I'm a plain Jane compared to what I once was: and now my tattoos and crazy style of dressing is the only thing striking about me, to me anyway.
What is the quality you most like in other people?
Honesty. Be who you are and don't pretend you're someone else – who cares what people think! Be you and be true.
What do you most value in friends?
Honesty and loyalty
Who are your heroes?
Phillip Ring. He inspires me. You may know him, IM SURE YOU DO, you know – pixel hair, and the underlights of rainbow on the black bob? Yeah thats him. The way he creates light in the hair is insane and the fact that at a ripe age of 28 he discovered he had cancer, and even in the most roughest time, when he lost his hair he managed to poke fun by creating photo shoots where he was different characters and still have a smile on his face.
Before even finding out that he had cancer, actually a week after I had seen him for a small, intimate class he taught in the town of Stoughton, in this bad ass salon, he was so warm and friendly, and made it so easy to talk to him, I was truly inspired that night.. He has just as much time under his belt in this industry as I do and with a bajillion followers on instagram as well as being known all around the world, and traveling to be on stage and teach his techniques – that's when I knew, I will be like Phillip Ring some day.
What is it that you most dislike?
I hate the roller coaster of emotions I go through on a daily basis but with a strong partner I'm able to get through it and persevere.
How would you like to die?
In my sleep, next to the love of my life, my partner, Victor. I know I know, cliche… But it's true, and I want to be remembered and celebrated not mourned.
What is your motto?
Love what you do and you'll never work a day in your life. I don't work, I PLAY.
Click HERE for more information and tickets.