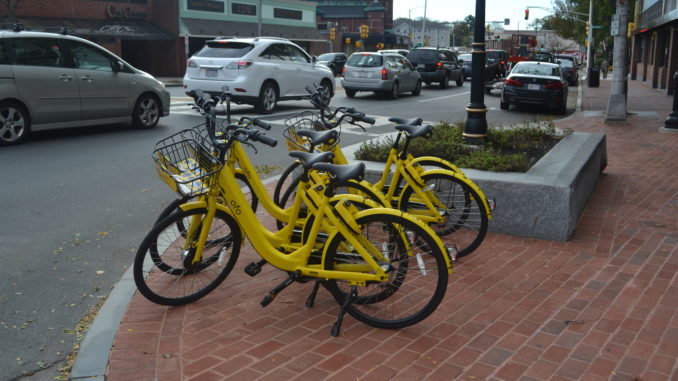 By Nekita Lamour
Has anyone noticed the yellow and green bikes appearing throughout Malden? Originally, they were clustered on Pleasant Street, at the Malden train stations, along the Northern Strand Bike Trail and at other key locations. A little over one week later and you can spot them all over the city, now often parked in front of houses and apartment buildings.
These bikes are the result of a pilot bike-sharing program, instituted by the City of Malden. The city has made arrangements with bike-sharing companies, Ofo and LimeBike, which  "each offer users a station-free biking experience," according to the city's web site. Ofo has the bright yellow bikes and LimeBike has lime green bikes.
Thanks to the efforts of Councilors Ryan O'Malley, Councilor-at-Large Debbie DeMaria, and Mayor Gary Christenson, Malden residents can ride these bikes at the reasonable fee of $1 per hour, for transportation, or exercise or just for the joy of a bike ride.
"Many constituents have expressed the desire to having bike sharing in Malden like we see in Boston, Cambridge, Somerville and Brookline," O'Malley wrote in an email. "These communities have the Hubway docking system which costs the community over $60,000 per dock and an annual maintenance fee per bike. The docked Hubway system is far too expensive to bring to Malden."
The alternative is a "dockless" bike sharing program. "Dockless bike sharing is a revolutionary change to this rapidly growing industry," O'Malley said. "LimeBike and Ofo provide services to the City of Malden completely free and only charge the users of the system $1 or less per ride."
The "smart-bikes" are enabled with GPS, 3G wireless technology and self-locks. Users must download an app to a smartphone to arrange credit card or Paypal payment and to locate a bicycle. They then scan the QR code to unlock the bike.
Nearby the bike racks at Malden station, commuters and residents were interviewed about the new program, including cyclist Jim Smith, 64, and Anthony Gordon, 46, both from Medford. Gordon said he will use the bikes, and was curious about the program. He said if a cyclist gets a flat, he/she can get another bike at a very cheap price, a positive aspect of Ofo and LimeBike. Smith, however noted that not everyone has a smartphone, a potential problem.
However, DeAndre Levarity, 30, of Malden had already downloaded the app. He said young people can use their parents' credit account.
Xiaoya Shen, 26, of Malden, just started using the bike program and really likes it. "You can ride a bike without buying one." She finds the app easy to use.
Ming Kun, 27, is very happy about the new bike-sharing program. He lives in the apartment buildings at 160 Pleasant Street and used the Ofo bike to go get lunch. He states that "you can use the bikes for free for the first two weeks and it's a very reasonable cost after that."
Malden resident Christine DeRosa, who lives in a senior housing complex on Salem Street but works in downtown Malden, is concerned that helmets are not provided through the program, nor are helmet recommendations emphasized. "We teach our children and our grandchildren that it's important to wear helmets and Malden has very busy streets. I support a bike sharing program but I'd like to see helmet safety be a part of it."
Like most new programs, a bike-sharing program is not without its issues. In an email, Mayor Christenson alluded to the need for the public to learn about safety.
"First, we may need to provide more education on the program and on bike safety in general," the mayor wrote. "I also think weather may be an issue since we already had several get knocked down by the wind. However, another advantage of having the pilot is that it is short-term, so we can figure out the pros and cons before offering one of the programs on a more permanent basis."
O'Malley cautioned about users being responsible and using traffic laws.
"As a shared resource we all need to help make sure that people are using the system in a responsible manner," he said. "When using the bikes riders should obey all traffic laws and, when parking the bikes, should leave enough room for ADA (American with Disabilities Act) compliance. The companies monitor this activity so if a user of the system continues to misbehave they will be blocked from the bike share network."
Christenson sees many benefits to the program, saying, "We felt that it would be a great convenience for our residents. Of course, the cost to the city to offer this program, which is zero, was also an incentive. Additionally, we believe it affords another way of promoting health and wellness. Residents might be more apt to utilize a bike if there is always one nearby."
Ofo was founded in in 2014, and to date has more than 8 million bikes in over 180 cities across 16 countries.
LimeBike was founded in January of 2017 and is headquartered in San Mateo, California, and has 50 employees. Malden is the first Massachusetts location for LimeBike and Holy Cross College in Worcester is their first Massachusetts college campus.
Nekita Lamour is a Malden resident, an educator, and a citizen reporter for Neighborhood View. Anne D'Urso-Rose provided additional reporting for this article.