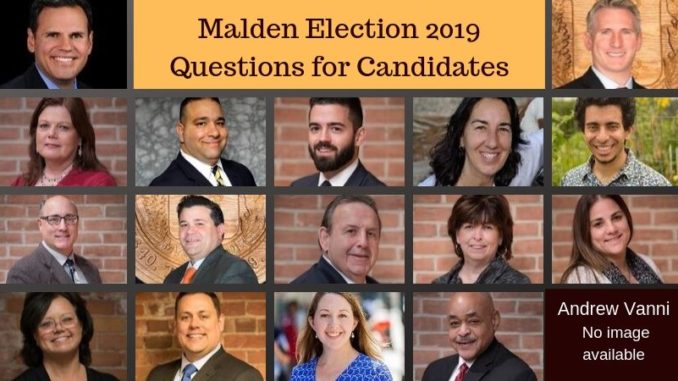 By Prisco Tammaro
The 2019 elections in Malden are approaching. The Municipal Election will be held on Tuesday, Nov. 5, 2019.
To provide Malden voters with information, Neighborhood View is running a series of "Quality of Life" questions and answers with the city council and mayoral candidates. Suggestions for questions were provided via Facebook on a Malden (MA) Politic's poll; 10 questions were formulated by the moderators in consultation with Neighborhood View and sent to all  candidates. Each candidate was given 150 words to respond to each question. Every effort was made to reach out to every candidate.
Below are answers to Question 3 and 4. These questions focus on  development along the Malden River and development at the site of the former Malden Hospital. There is a link at the bottom to Questions 1 and 2, which focused on transparency.
---
QUESTION 3:
Malden River is being redeveloped. How do you suggest we plan to make the banks of the Malden River accessible to the general public?
---
MAYOR – Incumbent – GARY CHRISTENSON
The 2017 Open Space and Recreational Plan identified increased access to the Malden River as a community priority. To accomplish this, in addition to ensuring that the mandates of M.G.L., chapter 91, are enforced, I would support amending our zoning to create a Malden Riverfront Overlay. This would establish consistent standards for any potential development of properties that abut or are adjacent to the River. Some of the proposed zoning measures would include increased setbacks from the current riverbank; inclusion of connective public pathways to and along the River; and, requirements for landscaping, benches, signage and lighting. In addition, we also need to continue collaborating with our community partners, such as the Friends of the Malden River and the Mystic River Watershed Association (MyRWA), who play an important role in advocating and working to encourage public access while promoting the River as a key recreational amenity.
---
MAYOR – Challenger – JOHN MATHESON
We are blessed to have riverfront property. This is a valuable asset that has been neglected for too long. Some dedicated residents are starting to make a difference, but they cannot do it alone. Instead of being inaccessible and polluted, The Malden River can be transformed into a popular Riverwalk destination. As mayor, I will immediately begin to join all of the public and private stakeholders, to:
1) pursue state and federal funding to clean the water;
2) adorn the banks with benches, a boat launch, and beautiful natural landscape that people will want to visit;
3) create a public entrance to the river center through the DPW yard; and 4) Conduct a feasibility study for a public ferry shuttle to Boston Harbor.
At Large Councillor – Incumbent – CRAIG SPADAFORA
---
At Large Councillor – Incumbent – DEBBIE DEMARIA
Growing up in a beach community, I value and respect the water. Malden River is a diamond in the rough. We finally recognize its value. As Council President, I continued the work of the Malden River sub-committee, even assigning some new members into its composition. Discussion, education, partnerships, passion and funding are what are sorely needed. Many groups are working diligently to address concerns. Malden Arts have done a great job highlighting its beauty with sculptures and displays of art.
Let's mandate those businesses on the River to take responsibility of their shoreline. We must prioritize more enforcement and encourage ownership. I'd simply love to see a walkway or promenade there. Creating guidelines within an overlay would certainly emphasize what we want there, or don't want there. I'd support that. Also, the DPW facility needs to be moved to a less desirable location.
---
At Large Councillor – Incumbent – STEVEN WINSLOW
I have drafted a wetlands by-law that will strengthen the Conservation Commission's oversight of the Malden River waterfront. We need to enact a Malden Waterfront Plan backed by ordinances that create setbacks for public access.
---
At Large Councillor – Challenger – JERRY LEONE
Make access available by providing a walk way ( or boardwalk) to the river, have available parking, picnic tables, grills and benches.
---
WARD 1 Councillor – Incumbent – PEG CROWE
---
WARD 2 Councillor – Incumbent – PAUL CONDON
Did not respond.
.
.
---
WARD 3 Councillor – Non-Incumbent – AMANDA LINEHAN
I'm very encouraged by the work already underway to creatively reactivate the Malden River's existing public amenities, and I support zoning for this area that would guarantee public access to the waterfront while also attracting future restaurants, retail and recreation opportunities. We should work with Medford and Everett to build an exciting regional asset. The underlying zoning along the River is fairly muddled and could benefit from a wholesale refresh, but an overlay would still be a helpful step. Opening up key sites such as the DPW yard and National Grid parcel to the public is critically important to making linkages to downtown Malden and the bike path.
(As a point of disclosure, I work for MAPC, the agency working with the city to explore new zoning for this area. I'm also on the board of the MRA, which owns the land the DPW yard sits on).
---
WARD 3 Councillor – Non-Incumbent – JULIANNE ORSINO
Planning for public access to the Malden River should align with the overall plans for Commercial Street and the city. This should be done with a long-term, strategic view with the city's and public's best interest in mind. As your Ward 3 City Councillor, I will work to pull together the number of studies already completed and look at the overall opportunity holistically. Also, I support additional enforcement of Chapter 91.
---
WARD 4 Councillor – Incumbent – RYAN O'MALLEY
A rezoning of the land adjacent to the Malden River is needed to ensure that the economic development occurring downstream in Everett, Medford, and Somerville continues upstream to Malden. As part of this economic revitalization, it is crucial that we protect the public's right to access the Malden River and it's banks for recreation and passive enjoyment. We can do this through local zoning by making a significant setback required from the river. We can also introduce minimum design standards that ensure we have attractive and usable open space long the Malden River.
---
WARD 5 Councillor – Incumbent – BARBARA MURPHY
As President of the City Council in 2016, I saw the need to create a Waterfront Access Committee (WAC) to formalize the commitment of myself and the entire City Council in working collaboratively with the Friends of Malden River and the MYRA on our mutual goal of advancing access to the Malden River. While much of the work we do goes on quietly behind the scenes, it is important work and I'm thrilled to still chair that committee. I have testified in front of the DEP to ensure National Grid complies with Chapter 91 to construct and maintain a public access walkway with a minimum width of 10 feet running along the Malden River. At the 08/14/19 Planning Board meeting I opposed granting a special permit to a business that had not complied with previous special permit waterfront conditions. I will continue to be a strong voice for our waterfront.
---
WARD 5 Councillor – Challenger – DANYAL NAJMI
The new development is a great opportunity to create infrastructure for walking and biking, which will encourage public use. The zoning should ease the building of housing that is affordable for low and middle income families, and permit sufficient residential density to achieve this goal. Adding a bus route or eventually an orange line station will make the area more accessible and attractive toresidents and businesses alike.
WARD 6 Councillor – Incumbent – DAVID CAMELL
My primary concern as Ward Six Councillor is to make sure that if city-wide resources are dedicated to something, that all residents of the city, including those on the east side, benefit. Also, we have to balance what demands we place on the two interacting stakeholder groups of business owners and residents/taxpayers.
---
WARD 7 Councillor – Incumbent – NEAL ANDERSON
Did not respond.
---
WARD 8 Councillor – Incumbent – JADEANNE SICA
We need to continue to make it a requirement that developers working along the waterfront area improve access for the public. We have done a good job making sure we have a voice in local groups like the Mystic River Watershed Association, who shares our goals for the river. We need to continue that, while our own local riverfront committee focuses on those aspects most important to Malden. Lastly, we need to work closely with the cities of Medford and Everett as the goals of the Malden Riverare common to all three neighbors. 
---
WARD 8 Councillor – Challenger – ANDREW VANNI
Did not respond.
---
---
QUESTION 4: 
How many housing units do you think is appropriate for the land at the former Malden Hospital?
---
MAYOR – Incumbent – GARY CHRISTENSON
I don't think the situation at Malden Hospital is as simple as naming a number of housing units that anyone in particular would support. Ultimately, the solution that is right for the site is one that the property owner, community and City can come together and agree on. That may be no residential units. The only way we will find that out is with a more collaborative approach, led by the new Ward Councilor for Ward 3, than that which has taken place over the past eight years under the current Councilor. It has proven to be easy, and will continue to be so, to stop any proposed redevelopment of the site. What is more difficult is to lead the parties involved in a give and take. This takes time and effort, but is truly the only way to get to the answer asked.
---
MAYOR – Challenger – JOHN MATHESON
After conducting the broadest public engagement in city history, I state with certainty that residents prefer a modest number of condos or cottages for seniors and veterans. Most of the 18 acres could then serve our need for more open space, since Malden has the 5th least per person statewide. This addition of natural public land will give our residents boundless opportunities for the future. Our records speak for themselves. Since 2013, I protected this community from a massive apartment development that was privately negotiated by the mayor. It began as 400+ units, with 550+ cars, and zero affordable units. He continued to pursue this plan even after it was soundly rejected by the voters.
Bad policies such as this are finally starting to change because someone is holding the mayor accountable. That accountability will expire on 11/5, and the future will very much depend on who our next mayor is.
---
At Large Councillor – Incumbent – CRAIG SPADAFORA
120-140 Maximum. I am strongly opposed to the density and scale of this project of larger project. Anything larger would be completely out of character for our neighborhood. The current road system and infrastructure is already overtaxed. 
---
At Large Councillor – Incumbent – DEBBIE DEMARIA
---
At Large Councillor – Incumbent – STEVEN WINSLOW
I am looking forward to the analysis of the BAC / Friends of Fellsmere Heights to understand the scale and types of housing that can readily fit into a community vision for the site. The impact of 55+ units and affordable units may be less than single family homes or market rate apartments but can also require more public and private resources to make financially viable. Some preliminary financial calculations I made indicated that upwards of 170 units may be necessary to have a financially viable development that can servce 55+ and affordable housing needs and reserve most of the land for public use.
---
At Large Councillor – Challenger – JERRY LEONE
I will pursue the acquisition of Malden Hospital with a combinatiin of the CPA funds, private funds and put the question to the voters of the city once again if they want the city to allow housing development on the hill. The voters overwhelmingly supported the City to attempt to acquire it but nothing of the sort happened in fact. Councilor DeMaria within days of that vote was negotiating behind the scenes with a developer to allow over 300 units up at the site.  
Councilor Winslow attempted just a year ago to push that plan to the planning Board. If elected I will fight to provide the citizens to determine exactly what should happen with a ballot question, which should be binding.
---
WARD 1 Councillor – Incumbent – PEG CROWE
---
WARD 2 Councillor – Incumbent – PAUL CONDON
Did not respond.
.
.
---
WARD 3 Councillor – Non-Incumbent – AMANDA LINEHAN
We'd likely need to build a minimum of 80-100 units to make a project financially feasible and include some below-market units, which is important if we hope to help community members who are struggling to stay here, like recent graduates, down-sizing seniors, and families with young children priced out of our smaller single-family homes and condominiums. I am open to a higher unit count if done in a way that achieves community goals for the site. In canvassing here, residents tell me they want better bus service, more park space and trees, links to Fellsmere Pond, and minimal traffic. They are open to some housing, if built at neighborhood scale, alongside other public benefits. Even with the site vacant, Malden must prioritize serious strategies to minimize traffic, pave roads, and add classroom space citywide (either in a new building, or by adding onto existing schools) to address already-worsening crowding.
---
WARD 3 Councillor – Non-Incumbent – JULIANNE ORSINO
For years I have supported a reasonably sized form of housing for Malden seniors and veterans. This is the community vision, includes some commercial development and interactive open space that ties to Fellsmere Park. If we look at adaptive reuse options (repurpose structure) the community can create a neighborhood with mixed income seniors, families, visitors who can enjoy this incredible space and bring life, vibrancy to an area that continues to be a blight. As a Senior Project Manager, I know it is important to set the vision, development requirements, funding sources and create a plan. Adaptive reuse requires a different approach than knocking down the current hospital buildings. As your Ward 3 City Councillor I will approach this long-term issue, with renewed energy and a deep understanding of the challenges. I have a vested interest in moving forward with an appropriate solution and the expertise to plan/implement.
---
WARD 4 Councillor – Incumbent – RYAN O'MALLEY
The best use for the former Malden Hospital site would be a commercial office park similar to what is along the Route 128 corridor. Many of these companies are looking to get closer to Boston but also want highway access which the site provides. As part of this project we could require that a significant portion of the site be dedicated to a privately owned and managed park that is open to the public similar to the waterfront park at the Encore.
As for housing, I am sceptical that a purely housing proposal would be economically viable unless the number of units were great enough for a profit to be made after the cost of acquisition, remediation, and construction.
---
WARD 5 Councillor – Incumbent – BARBARA MURPHY
Limiting the conversation to the possible uses for Malden Hospital to the "right number of units" is to limit the true potential this site has. What needs to happen is an open and honest working dialogue with the property owner, the Cities of Malden and Medford, and the residents of the neighborhood to arrive at the right answer for this site. We should not limit our thinking to a number of units. I do not support a high density residential redevelopment of the site, but beyond that, hope that we can work together to arrive at a use for the site that adds to the community as a whole.
---
WARD 5 Councillor – Challenger – DANYAL NAJMI
I am looking forward to hearing what residents have to say on what they would like to see happen with the Malden Hospital site. Housing is a critical issue facing our community, and I believe the site presents an opportunity for adding to our much needed housing supply, but I don't have a specific number in mind.
WARD 6 Councillor – Incumbent – DAVID CAMELL
Again, refer to Question #3: I am absolutely biased on this: How will Ward Six residents benefit by any proposal? That will be my North Star.
---
WARD 7 Councillor – Incumbent – NEAL ANDERSON
Did not respond.
---
WARD 8 Councillor – Incumbent – JADEANNE SICA
I would prefer that the property owner, in concert with the city officials and local residents, explore other uses other than residential, preferably something that continues to be rooted in health and wellness. I look forward to working with whoever is elected to represent Ward 3 on this important issue.
---
WARD 8 Councillor – Challenger – ANDREW VANNI
Did not respond.
---
"Election 2019: Questions for Candidates" will continue next week with two questions about trees and congestion.  
See answers to Question 1 and 2 (transparency) here.