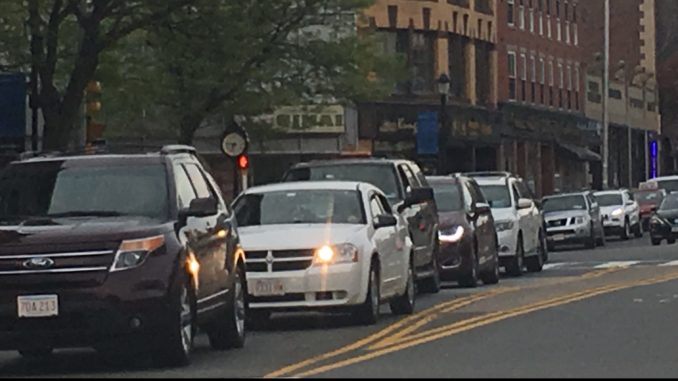 By Prisco Tammaro
The 2019 elections in Malden are approaching. The Municipal Election will be held on Tuesday, Nov. 5, 2019.
To provide Malden voters with information, Neighborhood View is running a series of "Quality of Life" questions and answers with the city council and mayoral candidates. Suggestions for questions were provided via Facebook on a Malden (MA) Politic's poll; 10 questions were formulated by the moderators in consultation with Neighborhood View and sent to all  candidates. Each candidate was given 150 words to respond to each question. Every effort was made to reach out to every candidate.
Below are answers to Question 5 and 6 which focus on trees and congestion in Malden. See links for previous questions at the bottom of this page. 
---
QUESTION 4:
What can we do to increase the number of trees in the City, and preserve the existing stock we have?
---
MAYOR – Incumbent – GARY CHRISTENSON
I am committed to making sure we set aside funding for tree plantings so that we can continue to plant over 150 new trees each year. The removal of any tree is a drastic measure and we will work to improve the process we developed to preserve our existing stock and make informed decisions. In addition to community input, each tree is now reviewed by an arborist,  is re-evaluated once the sidewalk is removed and roots exposed, and, is then re-assessed to consider alternative options for ADA compliance. We are also focused on protecting trees during construction as well as replacing those that cannot be retained. Although we have made progress, there is more work to be done as far as long-term planning, including completing a tree inventory. In the meantime, we will work with the advisory committee formed by the City Council to establish policies and best practices.
---
MAYOR – Challenger – JOHN MATHESON
Trees are a valuable asset. Beautiful streets are important, and trees are an integral part of that. I have championed this issue on the City Council by drafting Malden's tree care ordinance, initiating our Tree City USA certification, and starting Malden's annual Arbor Day where we dedicate and plant a city tree together. With a new mayor, Malden will finally have a dedicated Parks Department. We will conduct a citywide inventory of all public shade trees, and create a diversity of tree stock that includes disease resistant native species. We will grind out tree stumps, fix tilted sidewalks, and plant and prune trees everywhere it is needed. Every street will benefit, and the resulting beautiful streetscape will improve neighborhood pride and property values. There are many grants available to pay for this important work and the new administration will prioritize grant writing.
At Large Councillor – Incumbent – CRAIG SPADAFORA
I think Malden has made great steps the past five years, but more can certainly be done. I would support a creation of a sustainable fund for the annual purchase and maintenance of trees. I would also support the creation of an ordinance to green many alleyways and used property. This would help improve the aesthetics and increase value along these streets, areas can be targeted to plant trees in adjacent parcels.
---
At Large Councillor – Incumbent – DEBBIE DEMARIA
As Council President, I supported and formed a Forestry Committee. This committee consists of two resident arborists, who have done a great job in just a short year. As their first task, they (along with the administration) created an up-to-date citywide tree inventory. They have held several tree hearings and created clear guidelines. I supported Malden becoming a Tree City USA. This is an honorable distinction that addresses the benefits of preservation. Malden is proudly celebrating three years. There is so much more to do to maintain the beauty of our trees; and I look forward to continuing the work.
---
At Large Councillor – Incumbent – STEVEN WINSLOW
I have been serving on the tree committee and supported efforts to preserve more street trees during road and sidewalk reconstruction. We need to continue to seek grants to fund a robust tree inventory in order to create a baseline to work from. We also need to consider adopting an ordinance to limit clear cutting trees during development especially within mandated zoning setbacks.
---
At Large Councillor – Challenger – JERRY LEONE
All trees should be replaced that are cut down except for the ones cut down due to safety reasons. The city should determine if parks and recreation areas can use more; what we have left for trees in are green spaces should be left alone.
---
WARD 1 Councillor – Incumbent – PEG CROWE
---
WARD 2 Councillor – Incumbent – PAUL CONDON
Did not respond.
---
WARD 3 Councillor – Non-Incumbent – AMANDA LINEHAN
This is an issue I hear about constantly while door-knocking: residents are upset at the rate of both private and public tree removal. Often, it is done to add parking or other paved surfaces that increase runoff pollution and GHG emissions from added vehicles, and it disrupts the ability of our tree cover to provide shade and mitigate urban heat island effects. We are lucky to have a dedicated Canopy Collective working to prioritize our urban trees and I'd be proud to partner with them on helping residents request trees, care for sidewalk trees, and advocate for delayed tree removal. Removed trees should be automatically replaced, and with appropriate breeds. As an environmental justice community, Malden must strive to add shade and tree cover, not eliminate it as a first step. Trees increase property value and clean our air. Sidewalk safety and accessibility don't have to conflict with urban forestry.
---
WARD 3 Councillor – Non-Incumbent – JULIANNE ORSINO
As the Ward 3 City Councillor,  I will support hiring an arborist as a consultant who can help us plan for planting native trees with slow growing and short expansion root systems. We are Tree City USA, yet we are often replacing trees that cannot survive in the urban environment and are not the right choice for sidewalk placement. We can do better! Adding to the essential tree canopy beautifies the neighborhoods and provides critical green material the environment needs. Analyzing the impact to the tree population in our parks is important. Lack of care over the years has led to many being infested with insects and overgrown with invasive plants that have destroyed many of our park trees. Grants are available for these types of projects. As the City Councillor, I will leverage my background and education (MS in Environmental Studies) to pursue these opportunities.
---
WARD 4 Councillor – Incumbent – RYAN O'MALLEY
As the founder and chair of the Community Forestry Plan Advisory Committee, I have a proposal for a heritage tree ordinance that would protect large-diameter trees throughout the city. This idea was brought to my attention by a lifetime Ward Four resident who has seen many beautiful century-old trees cut down in her lifetime. We as a city also need to prioritize the protection and preservation of existing street trees when we are doing construction projects. Removing healthy street trees is expensive and so is planting new ones. It's more cost effective to protect than to replace. While I believe the DPW Director, who also serves as the Tree Warden, is doing the best job possible with the resources available, I believe that we should have a dedicated Tree Warden to advocate for and plan the strategic growth of Malden's tree stock.
---
WARD 5 Councillor – Incumbent – BARBARA MURPHY
In the past the city has planted on average 150 new trees per year! This year, we are looking to increase that number to 200 and are well on our way with 157 planted so far and 30 more on the way to the DPW yard. Councillors, including myself, add to that number by purchasing additional trees with mitigation money. We now plant 6 different varieties of trees to ensure one type of tree disease does not adversely affect our canopy. The Tree Hearing is an important aspect of making sure existing trees, especially old growth trees, are given every consideration to be saved prior to any decision to remove the tree. Finally, our DPW Director has put in place a new process where a picture of every dead tree is taken and recorded before removal to ensure additional accountability before the difficult decision is made to remove a tree.  
---
WARD 5 Councillor – Challenger – DANYAL NAJMI
Engage all of our community in enjoying and protecting our green spaces. In our schools, give our children time to explore natural spaces outdoors (and plenty of recess time!) and inculcate a reverence of nature. Recruit volunteers from our community to take care of our parks, and plant trees in areas that don't have enough shade. Set goals for number of trees to plant per year, and identify target locations.
WARD 6 Councillor – Incumbent – DAVID CAMELL
I have been in some great conversations lately with our administration and Councillors-At-Large about getting resources dedicated to more trees in the area of Maplewood Square.
---
WARD 7 Councillor – Incumbent – NEAL ANDERSON
Did not respond.
---
WARD 8 Councillor – Incumbent – JADEANNE SICA
We should explore out-of-the box thinking, like requiring any developer to plant a certain number of trees citywide for every xx square feet of developed space. It is a reasonable way for developers to give back to the city. We should also explore options for incentivizing residents for planting trees on their property within a certain number of feet of the public way. These act as shade trees as much as trees on the sidewalk. I think we have developed a transparent and comprehensive process for evaluating trees that need to be disturbed due to road work.
---
WARD 8 Councillor – Challenger – ANDREW VANNI
Did not respond.
---
---
QUESTION 6: 
What plan would you have to relieve traffic congestion and improve transportation in Malden?
---
MAYOR – Incumbent – GARY CHRISTENSON
Traffic is a function of many variables. The truth is, there is no simple answer. I have supported alternative transportation modes during my time as mayor and will continue to do so. However, I also recognize that vehicle usage continues to increase. Families that just 20 years ago had one, maybe two, vehicles, now find themselves with three or even four. I hear it from residents every day who struggle to find parking. This year, I added a Transportation Planner to Engineering who will proactively research, plan, and oversee multi-modal transportation initiatives. This person will also review traffic signalization, look at ways we can increase our capacity during peak times especially for school generated traffic, and lend their expertise to City Boards and Departments. Our primary goal is to allow for safe and easy travel for motorists as well as pedestrians, bicyclists, and transit riders of all ages and abilities.
---
MAYOR – Challenger – JOHN MATHESON
We will restrict the use of side roads as cut throughs by nonresident commuters. We will also take a comprehensive approach to improving all modes of transportation, including walking, biking, parking, and public transit, without making it more inconvenient to drive a car. Apartments have overcrowded our roads, and we desperately need to improve traffic flow with updated signal timing. The USDOT recommends adaptive signal technology that measures and adjusts to traffic in real time. This is proven to lessen stop-and-go wait times by up to 20%, while reducing CO2 emissions, gas consumption, and driver frustration. We will also conduct a citywide audit of parking spaces to add parking where possible and take away the problem spots. After paying excise tax, gas tax, registration fees, inspection fees, tolls, license fees, and insurance, Malden residents deserve a mayor that makes this a priority.
---
At Large Councillor – Incumbent – CRAIG SPADAFORA
It would be hard to relieve traffic and congestion. Malden is the last stop on the Orange Line and is a transportation hub for all commuters to the North.
---
At Large Councillor – Incumbent – DEBBIE DEMARIA
Just a few ideas, totally untested: (1) flexible start times for all schools, (2) neighborhood schools, (3) continuing encourage of alternate modes of transportation; i.e. walking, public transportation, biking, and (4) revamping our parking program. After three previous failures prior to my council term, I believe this year the Parking Review Committee might have a winner! Being part of its inception and a member of this committee, we have tenaciously held four public meetings for our residents this summer, garnering positive results. This will be at NO cost to our residents who pay their excise tax in Malden. I believe the attrition of cars will be proof positive. I am also pleased with the Encore Casino bus transportation being utilized in Malden.
---
At Large Councillor – Incumbent – STEVEN WINSLOW
I successfully advocated for the City to hire a transportation planner to work with our Traffic Commission, DPW, Engineering, and Police to assess the state of our roads and traffic signals. Based on those assessments, we can then begin to identify Federal, State and local resources to dedicate to transportation improvements. This will help put us in position to apply for new grants to support improvements to bus services, upgrade traffic signals and other efforts that support walking, transit use, and bicycling.
---
At Large Councillor – Challenger – JERRY LEONE
A study should be conducted with bus routes in the city to determine if certain areas are not serviced properly, synchronize the traffic lights on the main roads, and improve markings on cross walks and traffic lights.
---
WARD 1 Councillor – Incumbent – PEG CROWE
---
WARD 2 Councillor – Incumbent – PAUL CONDON
Did not respond.
---
WARD 3 Councillor – Non-Incumbent – AMANDA LINEHAN
We missed the boat with our most recent developments by requiring one parking space per bedroom even in brand-new buildings adjacent to the MBTA; in planning for the future we must work quickly and decisively to update our parking minimums. Even so, state data show most of our congestion is due to cut-through commuters and TNCs (Uber/Lyft). While working with our State House delegation to demand adequate funding for the T and reduced commuter rail fares to get regional cars off local roads, Malden must also implement bus-rapid transit on major corridors, expand protected bike infrastructure, institute TNC drop-off zones to minimize circling and dead-heading, promote carpooling and walking to school, and mandate that developers subsidize transit passes and bar transit-adjacent apartments from obtaining on-street permits. Better coordinating school start times, improving sidewalks and crosswalks, and adding more crossing guards would help parents choose options other than driving to school.
---
WARD 3 Councillor – Non-Incumbent – JULIANNE ORSINO
There are many ways to improve traffic and transportation.  Two examples are to add traffic signals at the Fellsway and  Highland Avenue intersection and add solar on-demand pedestrian lights at several dangerous intersections to improve safety for those commuting by foot. The on-demand pedestrian lights could be funded with the $90,000 rideshare revenue the city receives from the state. We need to continue to invest and support travel by other means. The bike lanes being added throughout the city provide much needed safety for the cyclists traveling to and from their destinations. Working on providing safe travel routes for all within our neighborhoods has been a focus of my successful community advocacy for years.
---
WARD 4 Councillor – Incumbent – RYAN O'MALLEY
Malden is not unique when it comes to having traffic congestion. All communities around Boston have to contend with increasingly bad rush hour traffic. Since we do not have the ability to build more roads, it is impossible for a dense community like Malden to add a significant amount of capacity for cars. What we can do is invest in public transit, pedestrian, cycling, and roadway infrastructure improvements in order to encourage other modes of travel which in turn will reduce automobile congestion. Our aging traffic signals also need to be replaced in order to handle cars and pedestrians in a more coordinated fashion.
---
WARD 5 Councillor – Incumbent – BARBARA MURPHY
The 2020 budget includes a new position for a Transportation Planner. This is a position that has been needed for years and I supported. One of the first things I will request that the planner address is the timing of our traffic signals. I believe the opportunity exists to better sequence lights to relieve congestion and allow traffic (cars, buses and bicycles) to flow more smoothly.
Additionally, as a member of the Complete Street Committee, I'm proud of the work we've done developing a connected, integrated and safe network that serves all road users. Malden is an old city with limitations on laying out new streets. However, even small improvements to existing streets and intersections can make a big difference as evidenced by the 8 projects which we have finished to date, each of which has made for safer commuting for everyone. Four more projects are in the works!"
---
WARD 5 Councillor – Challenger – DANYAL NAJMI
I will work towards improving our public transportation and bike infrastructure so that more people will opt not to drive, thus reducing traffic. I propose running more buses at rush hour and piloting dedicated bus lanes to keep buses efficient and not overcrowded. I would like to expand our bike infrastructure and keep it seperate from automobile traffic as much as possible- my vision is for folks to be able to commute to any of the surrounding cities on safe bike paths. I am researching the possibility of bringing Circuit to Malden, a van that gives free rides and is paid for by advertising. I also would like to create a city wide carpooling program, ideally an app that could help people connect with others with similar commutes.
WARD 6 Councillor – Incumbent – DAVID CAMELL
We need to put our differences aside and put concentrated pressure, as a community, on our Commonwealth to deal with the chronically underfunded public transit system. I'll add a bonus here: we also need to do that on school funding formula. Our delegation is doing a pretty good job articulating our position, but we need to find some leverage to bring the Governor and reps of well-to-do areas to the table on this!
---
WARD 7 Councillor – Incumbent – NEAL ANDERSON
Did not respond.
---
WARD 8 Councillor – Incumbent – JADEANNE SICA
Travelling East/West in the City during peak travel hours is one of the greatest issues we face. Eastern Ave seems to offer our greatest opportunity for creating more throughput for the system. There may be an opportunity to add an additional lane of travel on each side using existing road width. It of course requires exploring. However, the norm won't do here, we need some out of the box thinking to solve this challenge.
---
WARD 8 Councillor – Challenger – ANDREW VANNI
Did not respond.
---
"Election 2019: Questions for Candidates" will continue next week with two questions about trees and congestion.  
See answers to Question 1 and 2 (transparency) here. 
See answers to Question 3 and 4 (development) here.