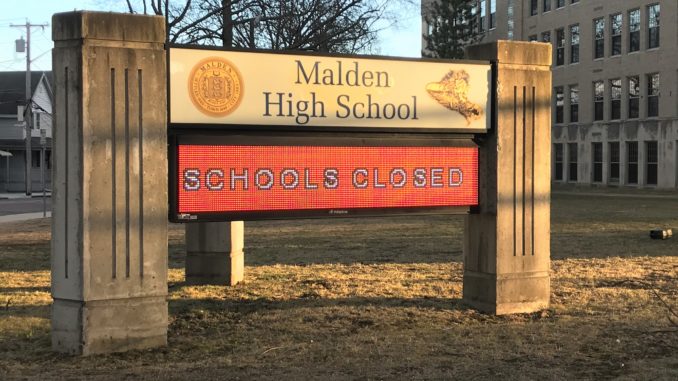 By Stephanie Schorow
The full impact of the COVID-19 crisis hit Malden this past week with the announcement Thursday night that the city's public schools would be closed indefinitely and that public gatherings, such as public meetings not required by law, would be curtailed.
As of Monday, March 16, City Hall will be closed to the general public for two weeks. Departments can still be reached by phone and/or email and further details will follow. The Malden Senior Center has ceased all activities for its members until further notice and the Malden Public Library announced Friday it will close for two weeks. Local businesses and organizations are considering ways to operate remotely or whether they should stay open at all.
Beginning Monday, Malden Public Schools will provide free lunch and breakfast to all Malden students at two locations:  Malden High School and the Salemwood School. The meals are "grab and go," Superintendent John Oteri told Neighborhood View on Friday. Breakfast will be from 7:30 to 9 a.m. and lunch from 11 a.m. to 1 p.m. Parents may also pick up their children's medication from school nurses on Monday from 8 to 10 a.m. (See full info – click on image document, right.)
City department heads have been meeting to develop a coordinated response to the coronavirus, which has sickened thousands worldwide. "Everything we are thinking about is based on limiting group interactions; that's the core," said Ron Cochran, communications director for Mayor Gary Christenson.
Coronavirus updates will be posted on the city's web site and residents can sign up for alerts by clicking on the Alerts & Notifications tab and filling in an email address.
The situation "defines the word unprecedented," Cochran said.
As of the morning of Monday, March 16, the total number of presumed confirmed COVID-19 cases in Massachusetts was 164, according to Mass.gov. More than 1,000 Massachusetts residents have been subjected to quarantine.
As of Saturday morning, the City of Malden website reported one confirmed Coronavirus case in a Malden resident, who was already under self quarantine. "The case is linked to the Biogen conference last month," according to the posted alert.
What is clear is that Malden residents – like other Americans – are adjusting to a new reality. This includes frequent hand washing, limited social actions, facing numerous closures and working from home. Local grocery stores have been packed with shoppers who often find that shelves are empty of toilet paper, disinfectant and other staples.
In his message announcing Malden Public Schools would be closed, Oteri acknowledged that "this is an extremely difficult situation for families to face," but that "we believe these steps are necessary."
When the 10-year-old son of Yana Lapaix, a resident of Malden for 13 years, learned that classes at the Beebe School were cancelled, he celebrated his sudden vacation. But then he and his mom sat down and had serious conversation about what was going on. "He really understood the seriousness of the situation," Lapaix said.  She wonders, "How do you give kids enough information without scaring them?"
Malden resident Ose Manheim, 79, knows she is in a group particularly susceptible to the virus, due to her age and recent health issues. She is worried, saying the U.S. health system is far different than that of her native Sweden. "Here you can't even get tested. I feel very unsafe," she said.
Melanie Messer-Chiang, a resident of Malden for nine years, was not surprised when the Cheverus Catholic School suspended classes. "All week we have been thinking abut what would we do in case this happened," she said. She picked up books and material and is prepared to work with her 10-year-old son at home now. "I told my son we are going to act like this is school."
Lapaix, likewise, was prepared for the Malden school closing, but knows the next few weeks will be challenging for her two children. "The hardest thing is they can't do activities like they used to. Everything has been changed – soccer training, soccer tournaments. And now, the concern is, do we have play dates?" she said.
Fern Remedi-Brown, who has a 9th grader in the Malden public schools, remains concerned that the district has not put in place any systems to keep the students engaged in academics, such as online classes, a worry echoed nationally. Oteri said that school officials and the Malden Education Association  are currently discussing how to address online education, but "we are worried about families who do not have internet access at home. There's a lot we need to address,"  he said. He said schools would stay closed at least two weeks.
Maria Luise, special assistant to Mayor Christenson, said the city's Health Department and Emergency Management Team have been actively monitoring the situation and are working with the Department of Public Health, all Malden city departments and the school superintendent. "We are taking every precaution necessary to protect the health and well-being of our residents, employees and all community members. The aim is to reduce opportunities for this virus to spread," she said.
Closing schools, colleges and universities are part of the effort to do what scientists call "flattening the curve," that is, to control the number and rate of infections so that medical systems are not overwhelmed. This is why Massachusetts Gov. Charlie Baker declared a state of emergency; the aim, said Cochran "is to slow that curve so there's not an overwhelming pull on our health care."
Messer-Chiang noted that it is hard to shift through all the information online about the virus.
"I know some people think [closing schools] is overreaction but I'm not sure," she said. "I'm trying to trust in our leaders and the science community as well."  She praised the Cheverus teachers for anticipating closure and for "staying on top" of alternative plans.
Hailey Hao, Director of Media Arts Education at MATV/UMA, was born in Chongqing in China near Wuhan, where the first known Coronavirus infection occurred. She said she feels "like I have been living through this pandemic on social media, as I am paying close attention to what was going on in China from the beginning of this year."
"China has effectively controlled the situation and that is a result of the aggressive effort of the whole nation, including the government and every single person coming together to fight this thing," she said. "It may seem not that bad here right now, but it will get worse if we take it lightly and don't do anything to help stop the virus from spreading. We just don't want to wait until it's too late."
Important Message from MATV/UMA:
At this time of great uncertainty and disruption, we see our role, more than ever, to be a provider of information and a connector for the community. We will continue to play that role, using the tools and resources at our disposal. 
Although we have decided to close our facility to the public at this time, we are formulating a plan to use our resources to provide information; actively engage our members, particularly in ways they can be helpful; continue the expression of art, thoughts, and ideas; and connect our local community to each other and to the world. We welcome and will consider your thoughts and suggestions.  MATV/UMA staff will be working both remotely and on-site. We can be reached through email – [firstname]@matv.org for individual staff or access@matv.org, phone message (781-321-6400) and via our social media sites. Be sure to "Follow" this Neighborhood View site (see right-hand column).
We are in this together and hope to infuse some fun, humor, and creativity, along with critical information and communication, during this challenging time.
Note: This story has been undated when possible with new information.