Have you ever wondered what it would be like to hear a cat talk? How would a sassy Barbie doll speak? Have you ever wondered what they might be thinking?
A chatty cat and talking Barbie were part of the June 10 "Stories Only You Can Tell"  virtual "Storyteller's Café," presented through MATV (soon to be UMA, Urban Media Arts).
The hour-long event featured short personal narratives, poems and reflections presented by attendees of the "Stories Only You Can Tell" workshop run by author and musician CD Collins at UMA/MATV back in February. With Collins and the talking cat named Scarlett Lee as emcees, these local storytellers came together via Zoom to share their works.
Collins, described as a "front line toe-to-toe artist, defender of women, children and the natural world," began the night by presenting a custom-made Barbie constructed in her likeness. The doll's blonde hair was cut short and melted down with a blow dryer, worry lines were drawn on her face and she was bitten up and down the arms to resemble actual scars on Collins' arms. Then Collins showed off a custom-made toy cat.
"See, I wanted the CD doll to talk. And I wanted my cat to talk. I wished they could actually talk," she said.
What followed was a short, animated clip of a cat whose animated mouth moved while a deep, garbled voice says; "My name is Scarlet Shona Lee. Like it?" The screen then cut to an image of the CD doll who was animated as saying, "I'm reportin' live from the trailer!"
Actually, Collins informs us, "She's not actually from the trailer, she's from a house, but she thinks if she says she's from the trailer, then she thinks she can do and say whatever she wants…" Throughout the rest of the evening, between performers, Scarlet and CD Barbie acted as commentators, adding an offbeat, whimsical touch to the program.
Participant Paula Spirizzi spoke about her favorite childhood book, The Phantom Tollbooth by Norton Juster, an adventure story of a young boy who receives a purple tollbooth, a map and a purple coin. Turns out the exceptional book was written by an exceptional person. Spirizzi told of how her sister wrote to Juster about her dream of being a writer and he wrote back to say, "Just keep on writing." Later, carrying a copy of the 50th anniversary edition of the book, she met the author at the Boston Public Library. She tells him her favorite scene is the one where he conducts the sunrise. "I think he was pleased. He explained how that was the one time he pushed back on his editor, who wanted to cut the scene."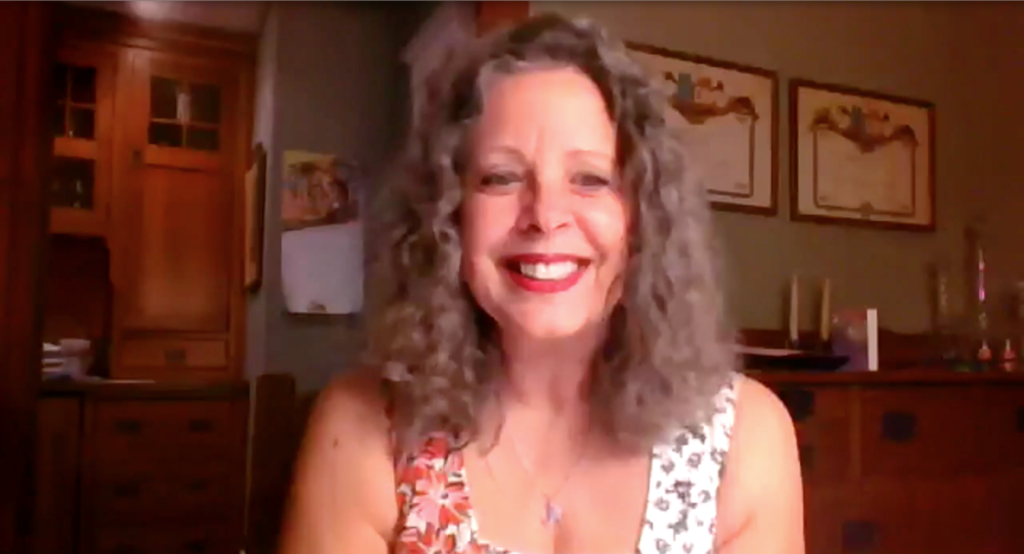 Karen Phillips, a former nurse from Virginia, spoke of a more serious experience. It was the experience of growing up with privilege while others hurt around her. "I hadn't met a black person until my first job outside of college," she said. She explains how she grew up in a household conditioned to dismiss questions relating to racial differences on the rare occurrence she would think to ask them.
She moved through life, through all white schools and all white spaces, silencing her own judgements of the world around her. "I'm not a racist" was a refrain she used over and over. But what was ever done about that phrase? What work had ever been done? What conversations was she having with herself or "at the dinner table?"
"Of course you don't find any answers if you don't identify the problem," she said. She confessed that she ignored the real fears of people of color and had only recently started to think critically of the reality of racism "I don't know why the murder of George Floyd became the tipping point. He wasn't the first unarmed black person to be murdered; he wasn't even the last."
"'I'm not a racist' is not sufficient while people of color engage with the realities of racism on a daily basis. …I need to move into an active state of anti-racism. Anti-racism requires a voice or a pen… it demands that I be more open to the experiences of people of color. It's only the beginning for me."
Vsevolod Petriv read his poem, "Journey," which began with the words, "I am from a lost group of warriors. I'm from a people that took a stand during a blood revolution" and ended with, "I'm still traveling that road."
Writing "Where I'm From" poems was part of the Storytelling class, as a way to share cultures and the salient points of each writer's life through poetry. Later in the program, Paula Spizziri read hers which began, "I'm from Jersey and don't ask which exit."
For her story, Bernadette Mutebi reflected hopefully on the current turbulent times. She said she has recognized how she has handled times like these previously and now seeks to create new ways of coping for the future. "I stopped listening to the way people told me I should live and form my own ideas."
It was not easy for Mutebi to be able to say this. Reflecting on the ongoing pandemic she said she realized that she cannot worry about or change something out of her control. "I remind myself that hardships are a part of life and should never be an obstacle." She finished by saying, "Even though we're still in this pandemic, I have learned that in order to be at peace, especially when you're in situations that you cannot handle you need to accept the way that life is, focus on what you can control and reach out to better yourself."
Other performers included Jessica Palmisano, who talked about the experience of taking Collin's storytelling class, and another workshop participant, Evan Kaplan, who read a poem.
Collins closed with a personal story about having come to Boston after growing up in racially segregated rural Kentucky. Her journey involved the arts, music making and publishing. She found an outlet for her numerous passions and interests where she couldn't at home. She thought about how she wasn't allowed to express herself there even though in Boston she often thought about her hometown. "Thomas Wolfe said, 'You can't go home again.' I think that you can, but I think you need to have something going on." 
She managed to convince the Keas Tabernacle Choir at her home church to put on an event and they sang a collection of songs that historically brought people together. They started with one of Collins' original songs called "Black Mary" from her album CD Collins and Rockabetty, which "celebrated Muslims, Jews, Buddhists, gays and the Mardi Gras!" That lead into "Amazing Grace" and they closed the night with "What a Wonderful World."
"This song was given to Louis Armstrong to sing during the civil rights era because he was seen as a bridge between races. …when my singers took the stage and they vibrated the halls with their glorious voices, I felt like I had done a little something."
UMA, Urban Media Arts, will be offering more opportunities for writing and storytelling workshops, offered virtually. The next one will focus on writing "Where I'm From" poetry. If you're interested in learning the details as they become available, email anne@matv.org.
You may view the entire Storytelling Café here.