By Avion Katisho Manong
When life gives you lemons you add a little sugar and make lemonade.
Paula Terenzi's Dance Complex, which has been located in Malden Center for over 35 years, used the "lemon" of the pandemic and turned it into a positive experience in which children and adults expressed their creativity while learning dance in a safe environment.
Like so many businesses, Terenzi had to shutter her dance studio last March due to the COVID-19 pandemic. But she was able to work with the city of Malden to secure a public, outdoor site to stage the all-important annual recital, where her students could show off their hard work and talents.
On Thursday, July 9, at the public parking lot at 99 Pleasant St., the studios' 36th dance recital was held from 11 a.m. to 7 p.m. The students ranged in age and abilitities — some were as young as 3 years old.
Despite the pandemic, the children and dance teachers had been working hard to put together their dances for the annual recital, working with the students online as they practiced in their individual homes. The annual recital is held to demonstrate students' progress and the different dance techniques they have learned throughout the year (which is from September to June).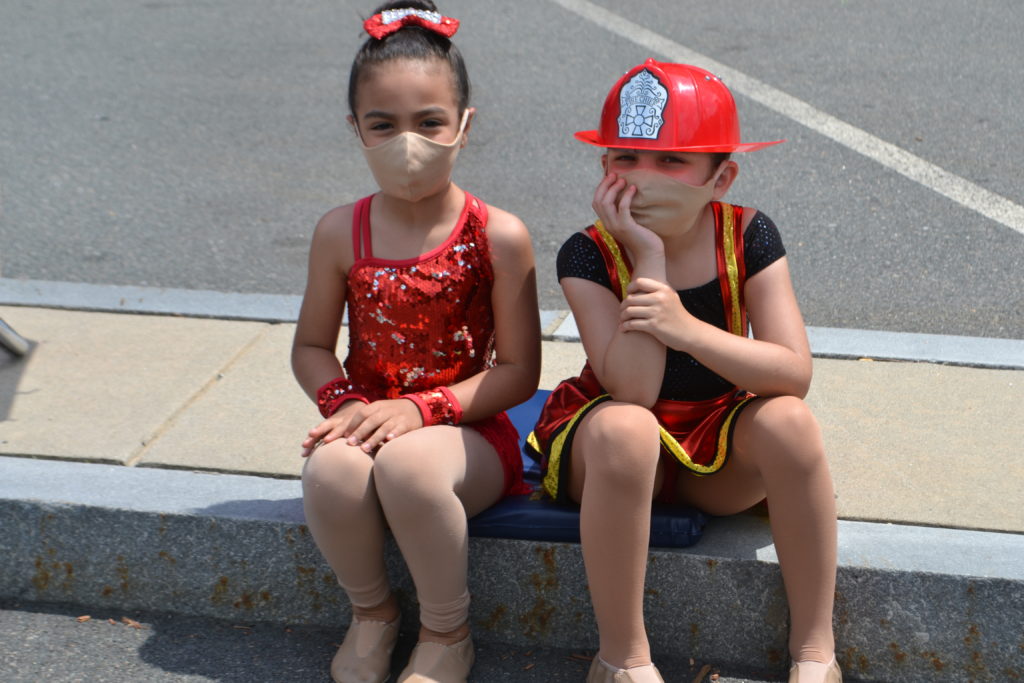 What could have been a tragedy for a group of dance students who had been working hard and looking forward to showing off their new skills at the end of the year's dance recital took a turn for the better.
Terenzi knew how much this recital meant to the students; she recalled a familiar quote: "Remember life is not about waiting for the storm to pass, it's about learning how to dance in the rain." So in that same spirit, she knew she had to come up with a plan to save the dance recital. She reached out to some of her staff members and parents who were very receptive and supportive of the idea of saving the dance recital.
First, Terenzi looked for theaters and local halls but dates could not be resolved. The only option left was having the recital outdoors. The question was where? The idea of using the public parking lot at 99 Pleasant St. was proposed. It was near the dance studio where the performers could change or use the bathroom. Organizers were able to get approval from the City of Malden for parking lot.
Organizers rented a stage and prepared for the students to show off their skills. Dancers wore costumes to coordinate with the theme of "Elements" or Fire, Air, Water, and Earth. They also had to wear a mask that blended with their costumes. They also managed to use a few props here and there.
Not only did the dance studio manage to successfully stage the annual recital but dance organizers filmed the event and held a public screening at Kowloon in Saugus on Aug. 5. The feedback they received from family and friends was that they should do this every year.
Editor's Note: Currently (as of October, 2020) Paula Terenzi's Dance Complex is offering both in-studio and remote dance classes. COVID-19 precautions are are taken in all in-studio classes. The studio can only have a limited number of students in the dance studio during this time, so any class with a large enrollment has split into two groups that alternative between one week in the studio and one week remote. The studio has limited its enrollment for pre-classes with the youngest dancers since it is difficult for them to follow on remote learning; several classes on a waitlist.
Parents must answer CDC symptom questions each time they enter the studio (and all those who are sick must stay home.) Parent must wear a mask entering the dance studio. Students must hand sanitize on the way in and the way out, and they are placed six feet apart in the dance room. They are encouraged to wear a mask. If they have more than one class in studio they wash their hands between classes, and the dance studio is sanitized in between every class. The waiting area is not yet open.
"We are going through a lot of cleaning supplies but hopefully this keeps both dancers and staff safe during this time," Terenzi told Neighborhood View in an email. "It is very challenging at this time; parents are concerned but supportive of our safety policies. Our competitive students cannot work together at this time so our competition season will look very different… we have to 'team build' in a whole different way and find creative ways to learn choreography and rehearse."