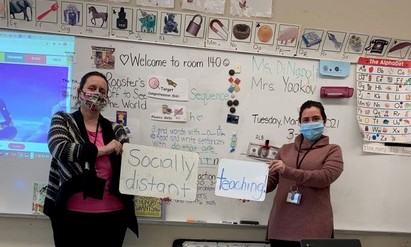 By Catherine Riordan
Like many other schools across the country, Malden schools have had to grapple with how to teach children through remote and hybrid learning due to the Covid-19 pandemic. Since last March, the Malden Public Schools have been fully remote but early grades returned with a hybrid phase of learning beginning on February 8.
Wendy Yaakov, a kindergarten teacher at Malden's Beebe School has taught her students throughout the pandemic. According to Yaakov, the focus with the children during this new hybrid learning space is on what they lacked, such as handwriting, and learning what it is to be in a classroom and not their bedroom. The children in her class have never had a traditional school experience as they began their school career remotely and entered hybrid learning. Yaakov said "It's going to be an adjustment… for some of them; it's the first time in school."
Yaakov told of a little girl who asked her teacher if she needed to be doing more learning because the little girl is used to remote learning where teachers are focused on the lesson. The teacher had to explain that she was learning, but there was more to learn than spelling and math. The kids are transitioning to learning how to function in a routine with socialization, downtime, and routine created by their parents more often at home. Yaakov's goal for these kindergarteners is to "just being comfortable with what school is." She focuses on setting expectations and talking about routines and checking in with her kids emotionally as they transition to being in the school buildings for the first time.
While the educators are trying to make sure the students are getting the education they need, they cannot replicate some aspects of school in hybrid or remote learning, such as playing. "They can't play with kids; yes they can talk, but it's parallel play," Yaakov said. "It was playtime activities they're missing. But we are working really hard to give them a different kind of education, and they're learning to be flexible."
Flexible seems to be the key term when in hybrid learning. Paraprofessional Allana DiNapoli works with Wendy in her kindergarten classroom. DiNapoli said, "Now, there's a different type of learning that you have kids in the classroom, changing their boots from the snow to their sneakers. They are transitioning up and down the stairs to lunch. There's a lot of value in that type of learning as well. It's important."
DiNapoli has worked with Yaakov to create a cohesive learning experience for students while half of the kids are online, and the other half are in person. "Having to really juggle both online and in school, there is just a lot more going on. We need to figure out what is the best way we can work with them to meet their needs." DiNapoli and Yaakov work in the classroom simultaneously and take turns working with the remote students and with the students in person to create some form of routine. DiNapoli said, "It's been a learning curve for everyone, but in a good way." The learning atmosphere has been different over the past couple of months, but these children were still learning.
Needless to say, the upcoming generation can log into a Zoom faster than most adults. According to DiNapoli, "There are kids who are presenting on a screen which took Wendy and I three months to figure out."
While Yaakov and DiNapoli have entered into hybrid learning, seventh-grade science teacher Leslie Morrison teaches all of her kids remotely. In normal times, many remember science as the time they dissected a frog, dug for fake dinosaur bones, or learned the life cycle of a butterfly. Morrison's seventh-grade science class has a very different look this year than it has pre-pandemic. "Ninety percent of what I did in my classroom was group work and hands-on." To be inclusive to all families in Malden, remote science labs look very different.
"I want to be able to give kids something to do at home like an experiment or an activity, but I was limited in the materials." Morrison came up with the idea to drop objects into a bucket of water and record the size of the splash to explore the topic of kinetic and potential energies. While she is making do with the online platform, Morrison misses seeing her students in person, "It's so fun to be doing labs that get kids engaged, and there's not much of that happening, which is disappointing." The middle school students will be the last to transition into hybrid beginning in April.
Teaching remotely takes a toll on the students as well as the teachers. Morrison said, "It's exhausting teaching this way because it's very different teaching over a camera, dealing with technical issues… you feel like you're teaching in a vacuum." The difficulties with the learning platform have not stopped the positive response from her students. "I'm getting 90% of these kids showing up every day. I'm getting 75% to 80% of the work these kids are doing. That's great. I'm really proud of them. I'm pleased with them at least trying in this environment." Many of the kids have had a positive experience from this new learning format, while many have missed the in-person school's social aspect.
All of the educators agree that they are grateful for the parents' support and given to them and the students throughout the school year. "God bless the parents," Yaakov said. , "The amount of parental support is immense."
They are also all agreed that the students helped them get through this difficult time. When asked how they are coping through this time, Yaakov said, "It's wonderful to see the kids. I mean it's just very joyful. They really love being here."