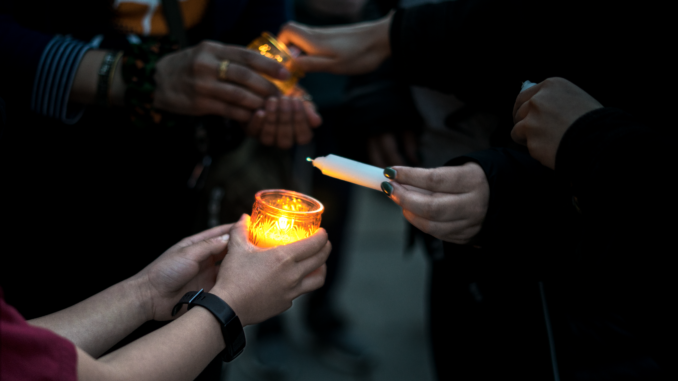 By Kamila Rodrigues
Last week's vigil in Malden decrying violence against Asian Americans and Pacific Islanders (AAPI) began with a simple Facebook post and blossomed into a multi-faceted community gathering.
On the afternoon of March 21, Malden resident Maddie Lam made a post to the Facebook group "Malden Neighbors Helping Neighbors," after the targeted attacks on Asian American women in Atlanta in which eight people were killed. Lam, a musician, poet, and painter, described the fear she felt and expressed concern for the Asian community and their safety. Her statement resonated with many; dozens of Malden community members responded and hundreds liked the post.
Karen Colón Hayes, a community member and organizer, saw the post and sprang to action. "I immediately reached out to her and we began planning. We had a Zoom call with members of both MaldenCORE and GMAACC and we centered Maddie as the lead," said Colón Hayes.
Lam joined Greater Malden Asian American Community Coalition (GMAACC) and began planning for the community vigil alongside Malden Community Organizing for Racial Equity (MaldenCORE). Over the next six days, Lam organized the event along with Andrea So, Jenny Hsi and Mai Du of GMAACC and Erga Pierrette, Karen Colón Hayes, Zayda Ortiz, and Bwann Kellie Gwann of MaldenCORE.
Throughout the planning process, many community members and organizations joined in the preparation and offered their support. The event was co-sponsored by Asian American Resource Workshop (AARW), Asian Community Development Corporation (ACDC), Asian Task Force Against Domestic Violence (ATASK), Boston Chinatown Neighborhood Center (BCNC), Chinese Culture Connection (CCC), Chinese Progressive Association (CPA), Greater Boston Legal Services Asian Outreach Unit (GBLS), First Lutheran Church Malden, First Parish UUA Church Malden, Just Us Somerville, Malden Neighbors Helping Neighbors (MNHN), Malden Police Alternatives and Accountability (MPAA), Mass Senior Action Council (MASC), Mystic Valley Progressives, NAACP, Mystic Valley Branch, and National Asian Pacific Women's Forum – Boston (NAPAWF Boston).
On Friday, March 26 at 6 p.m., over 150 people gathered at the steps of the Jenkins building at Malden High. The event lasted about two hours and included multiple performances and speakers. A group from the Wah Lum Kung Fu & Tai Chi Academy opened the vigil with a drum performance. Andrea So, president and co-founder of GMAACC, gave the opening remarks. Pastor Dan Ko of Seven Mile Road Church followed with a speech and prayer, saying, "Today we are here to mourn." Thomas Tran gave a land acknowledgement, a statement of recognition that the event was taking place on stolen Native lands. Peter Huang of MASC gave a speech and Tamiko Beyer read two poems.
State Senator Jason Lewis and Malden Mayor Gary Christenson both spoke at the vigil. Shortly after, Lam sang an original song entitled "Moon Women," which she wrote to empower Asian women. Lam's performance was followed by a speech from Vivian Ho, who spoke of the importance of liberation and marginalized communities coming together to support one another, saying, "Our liberation is tied to the liberation of other marginalized communities."
Michelle Chan sang a song entitled "I'll Be There For You." Chan's performance was followed by speeches from GMAACC youth members Billy Zeng, Sammi Nie, Mandy Sun, and Enzo Nguyen. In her speech, Sun brought up the need for more anti-racist school curricula, mental health support, and anti-racism trainings. NPAA member Carey McDonald spoke, followed by the Rev. Otto O'Connor from First Parish Malden.
So, in her opening remarks, said that the number of reported anti-Asian hate crimes in Boston more than doubled from 2019 to 2020. So also mentioned that in Malden, 21 percent of Asian Americans live below poverty — a higher rate than the overall 16 percent of Maldonians living below poverty. Many of the speakers and organizers at the vigil said the AAPI community needs to be supported by their fellow Maldonians and their elected officials. "City officials need to show that they care by actively planning strategy for short and long term resolutions, i.e. emergency crisis teams. Our students need support. Our elders need support," said Erga Pierrette.
Pierette stressed the importance of relationship building, "We need a space to have that happen. We need to lean into discomfort so our relationships can be authentic and true and we can stand side by side in solidarity," Pierrette said.
Many of the speakers mentioned how important it is for community members to show support and care for their fellow Malden neighbors who are Black, Indigenous, and People of Color (BIPOC). They expressed that community members and government officials need to take action to dismantle the oppressive systems that allow for these attacks to happen. "I'm not into Band-Aid solutions," said Lam.
Said Colón Hayes: "The deadly attacks in Georgia and the widespread violence plaguing our communities need to be condemned by our elected officials and we need to grieve and stand in solidarity with our AAPI community, our friends and their families. We need to acknowledge the devastating reports that anti-Asian hate crimes have increased by 149 percent in 2020. We need to put real time action behind words by supporting our community with government representation, voter access, and by expanding our school curriculum to include the history of ALL people."
The vigil gave the community a place to mourn, but many who spoke at the vigil said action must be taken to ensure the safety and well-being of the AAPI community in Malden and beyond. "We all need to feel safe in the city of Malden. We need clear ways to seek help," said Pierrette.
As the vigil came to a close, the Rev. Emily Hamilton from First Lutheran Church Malden invited members of the community to light candles and bring them to the steps of the building. The Wah Lum performance team gave a final performance. The vigil gave many in the community an opportunity to congregate and share in a safe space with one another and support the AAPI community in Malden. In the midst of the Covid-19 pandemic, many are feeling the heavy effects of spending the past year in isolation. "GMAACC created a space for people to come and heal," said Lam. The turnout "made me believe in myself, that we can do anything. It made me believe in people and have faith in humanity."
Many in the AAPI community, and in the BIPOC community at large, feel they have nowhere to go when faced with racist hate crimes. Speakers at the vigil and other community members voiced the need for support systems to be created and for more language resources to be made available and accessible in Malden. "City officials need to make space and share power among people that have been marginalized and oppressed…really take action, enact policy changes. [People of color] need to feel like they belong and have access to their rights, they [city officials] need to prioritize our fight to be human, as the process of oppression is a process of dehumanizing, and be allies to POC," said Lam.
The full video of this event will be cablecast on MATV Public Access Channel.
Post credits: Reporting — Kamila Rodrigues; Copy editor—Stephanie Schorow; Video production— Simon Camilo, Avion Manong, Allie Thompson; Photos & video editing— Keren He; Production assistance — Masio Dotson, Amanda Hurley.
Neighborhood View is a citizen journalism program of UMA – Urban Media Arts (formerly Malden Access Television).