By Christina Appignani. Photos by Keren He.
Maddie Lam, an up-and-coming musician, was born and raised in Malden, Massachusetts. For Lam, music is a means to express her pain and a dream that does not let itself be abandoned. Lam's interest in music started young and continued throughout high school — as a child, she learned how to play various instruments before gaining an interest in writing her own songs. Lam graduated from Malden High School in 2016 and participated in the Malden High School Choral Arts Program.
Lam has released her own music on online platforms such as Spotify and SoundCloud, her most recent single being "Sunflower Song." Her musical style, which often includes melancholic but sweet lyrics accompanied by slow piano and ukulele melodies, is showcased in her latest release. She also helped arrange the performing arts festival "Our Voice, Our Stories: The Beauty & Resilience of Immigrants" as part of the larger Malden Summer 2021 Festival on August 7. This festival celebrated immigrants, children of immigrants and multicultural communities through music, art, poetry and dance.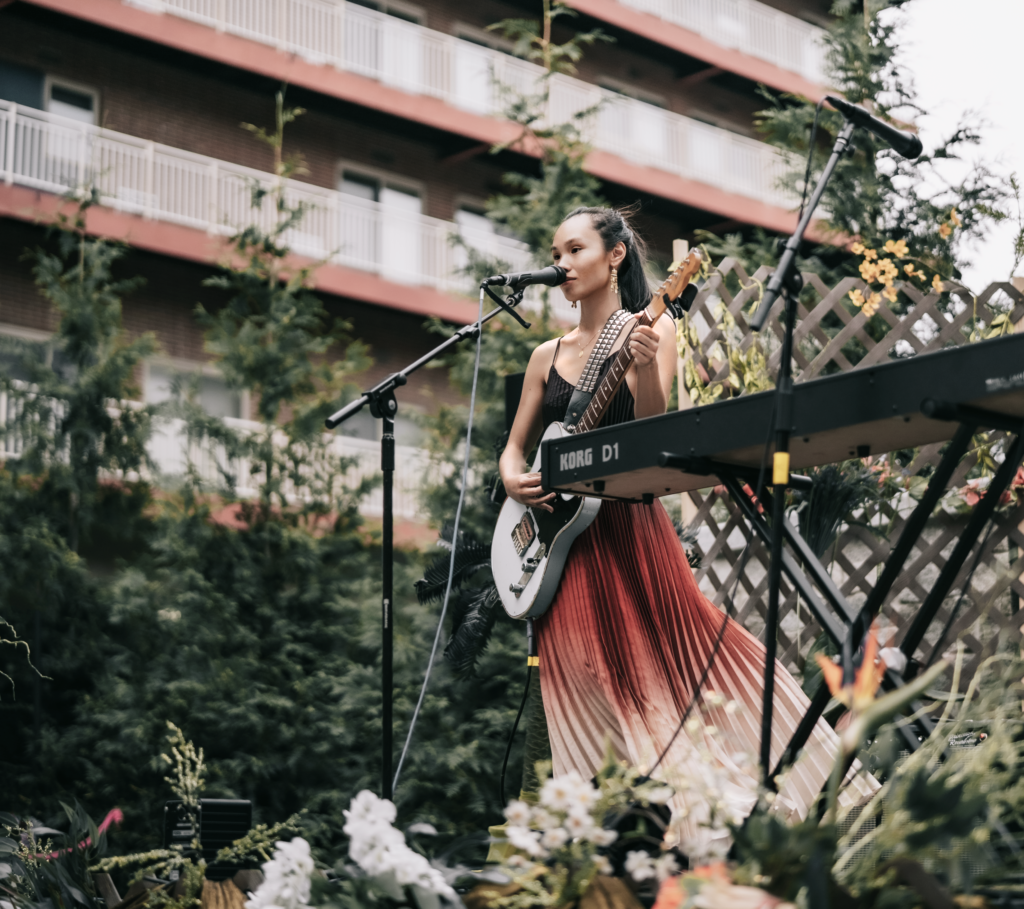 On August 16, Christina Appignani interviewed Maddie Lam for Neighborhood View about her background, music and the process of organizing the festival.
Neighborhood View (NV): Talk a little bit about your background; where you are from, where you grew up and what it was like growing up as an Asian woman in Malden?
Lam: So, I'm the child of a Vietnamese immigrant as well as a Chinese immigrant. My dad came here after the war and my mom came here in pursuit of a better life like many immigrants do. And it wasn't until college that I realized the ways that imperialism has impacted my life. So I think a lot of times that we're not taught that these larger systems of domination really impact our interpersonal relationships.
Growing up as a child of immigrants has been really challenging, but I think what is challenging is really deepening as well. And so, I think there's so much responsibility that comes with us and there's so much extra weight that comes with being a child of immigrants. There's so much gratitude and there's so much guilt that comes with that responsibility. There's so much role reversal of caretaking and there's so many cultural contracts that we are signed into, by default.
NV: What inspired you/how did you gain a passion for singing/songwriting?
Lam: I Participated in the Malden High Choral Arts Program. Graduated from Malden High in 2016. Todd Cole is my dude. He's amazing. He's just really wonderful and understanding and such a great leader.
I always knew that I wanted to sing when I was like five years old and I've always been into music. I've always played instruments growing up. I am a classically trained pianist. I was a classically trained violinist. I taught myself guitar. Music has always just been in my sphere.
During my freshman year [of high school], my best friend died and she committed suicide and that was so dramatic for me. I mean, it just fragmented me into so many different parts. And there are parts of me that still really deeply grieve for that really beautiful friendship that I had. And after she died, I wrote my first song, and I was like, 'I can write how I feel into this really beautiful piece of art? No freaking way!' And after that, I just kept on writing.
I mean, I think every relationship is nonlinear. No relationship is 100% wonderful all the time. So I think I had this relationship with my songwriting where there was a year where like, I didn't even touch it. It was a year that I deleted all my songs, threw away everything, did not play, did not write anything. And then there are other years, like this past year, where it's just production after production, and just really diving into this dream of mine to touch millions of hearts with my music. The first dream is to return my own heart to wholeness, you know, and then the secondary dream is to touch millions of artists hearts with my music.
NV: Did you make any music during quarantine and the pandemic?
Lam: I released my first thing during the pandemic, I am about to release my first official music video. I'm about to release another single, which is really exciting. And so it's been very productive, but I've experienced a deep, intense resistance to things. I think anytime we do something that's really worthy of risk, it's really scary.
NV: You recently released your first single "Sunflower Song." What was that process like in terms of writing the song, recording it, and filming the music video?
Lam: Writing the song was just so easy, so much easier for me than producing. I mean, when you think of production, it's like arrangement and how do you want this to sound. And there's more than a million ways that this song can sound. Then you gotta mix it and you got to master it. And this whole thing is something that I really am learning how to enjoy. And it's hard to enjoy. Because I just want the end product, right?
But writing it, I wrote it a couple years ago in 2018 and I wrote it in one of the deepest heartbreaks that I've ever experienced. I mean, I was still healing from my friend's death from 2013, 2014. And so it was like years of just having my heart live outside of my body and experiencing the pain of living with grief. It's painful to live with unprocessed grief, especially when you don't have a village to cry to and grieve to. So I wrote [Sunflower Song] to speak out my pain, to say "This is my heart and my heart is hurting." What I realized was that out of really deep pain, beautiful things are birthed out. You know, I think about the process of giving birth. Literally, it's painful. As women, we contract and wait and here's blood and there's pain. So, I think about the same ways that I've birthed beautiful things out of deep pain.
So a couple years after that, I was in college and I just graduated a year ago, and I had this dream inside of me to be an artist. I have this dream to be a public facing musician, and it would not shut up, no matter what I tried. I was like "I'm gonna get a full-time job, let me travel the world, let me just do all these things." But, it doesn't matter what I do or how I try to kill it or silence or suffocate this dream; it keeps calling and knocking on my heart's door, and I was like 'Okay, let's finally answer it.'
And this past year, I've been asking myself "What does it mean to be a professional musician?" What does it mean to put my music out there? So in the last year, I worked with a producer to produce [Sunflower Song] and we are getting ready to release the music video. And shooting the music video was so much. Preparation for it lasted about a week, we shot in two days, and I've been editing So it'll be done by Thursday, you know, like the processes, so everything is so much faster I set the production, but I think there's something to say around like, not rushing the process as well and letting the teeth fall when it's ready or letting the apple fall when it's ready.
I think making music videos is more than producing, just because production feels really foreign to me. And I also have a wonderful director that I want to work with for the rest of my life. His name is Bao, and he's just a wonderful human being. He's a wonderful friend. His fiance is actually an artist as well, and we're very close. And so, I think without the support of them, and their belief in me as an artist, I would not be where I am. And I think one of the most beautiful things is when his fiancé Emily told me 'Maddie, your music is worth it.' What a disservice I do to myself and the rest of the world that I don't share this gift that I've been given. And something that my songwriting teacher tells me is that 'Your songs are not the gift, you are the gift. Your songs are just the vehicles' And I always remember that. And with the music video, I'm so excited to share with the world. It's so aligned with exactly who I am, the softness that I want to cultivate and it's so beautiful. I'm just so excited to share that part of my art.'
NV: How has your culture and upbringing influenced your art/music?
Lam: I think that my music hasn't necessarily been influenced by Chinese and Vietnamese culture as much. I'm sure implicitly, but explicitly, I don't think so. I think visually, certainly. In terms of how I look, I'm Asian American, I can't change the shape of my eyes, I can't change the color of my skin, I can't choose the color of my hair, the texture of my hair. And so, I think just like being in front of the camera, and being like, "this is exactly who I am," I hope that it's very powerful and inspiring for other people who look like me, or don't look like me, to look white supremacy in the face and say 'I am beautiful too. And I'm just as worthy of life, of dreams, of humanity.'
I wrote a song specifically for Asian American woman called "Moon Woman." I think about the ways that we're so reflective of lunar energy and the moon essence and moonlight. I'm going to create a music video for this to highlight Asian American women.
I think the core and the mission of my work exists on many different levels. Like, one of them is just to have fun and honor the inner child inside because art is just the creation of our inner child. On a social justice, social structure level, my art is really to empower Asian Americans and Asian American women to see themselves as beautiful, to see themselves as the main character, as you might say. And on another level, like the meta level of humanity, worldwide, I think it's like to get in touch with divinity and to get in touch with the part of us that is eternal.
NV: You cultivated the Our Voices, Our Stories performing arts festival in Malden, which celebrated the beauty and resilience of immigrants. What was that like in terms of cultivating the festival and seeing all of the diverse, immigrant artists perform their art for the Malden community?
Lam: I first have to thank Alice Feldman who deserves so much praise and so much credit for this festival. I managed more of the creative direction, the programming, the vendor, artist side and she managed a lot of the budget as well as the set decor, the design of the builds. We've co-produced this together. And without her, I would not know how to pull this thing off. And she's just also produced many, many festivals before. So, this is not her first rodeo. It's been many months in the making, many months of sending applications out, reviewing applications, putting the program together, getting a graphic designer and she found people to do the decorations and the stage build. Just many months of just brainstorming and envisioning how we want this festival.
And the week before the festival was insane. I was getting like five, six hours of sleep per night from putting everything together. On the day of the festival, I hit a threshold from managing all these different artists that are coming through with all these different needs. It just felt like so much to carry but also so juicy to carry. And the day of it was so beautiful to see all these different aspects coming together. It was stressful, but I'm so glad I did it.
NV: How can Malden as a city continue to celebrate the arts and music of its multicultural community?
Lam: Fund more festivals and put community members at the forefront of those festivals. Really get in touch with different communities that exist in different populations in Malden and whose voices are not heard, like the immigrants, Black and Brown people, undocumented folks, Asian folks. Make intentional efforts to get in touch with these people and offer them paid opportunities. is first and foremost.
Additionally, fund the arts program at the educational level for the elementary schools, middle schools and high schools. Think about what grants we can pull in so that these students have such a well-rounded curriculum. Because I think in our society, we see art as frivolous, but art is so meaningful. Art is revolutionary and life-changing.
NV: Do you have any performances coming up? Or anything else coming up in the future that you wanted to mention?
Lam: My Sunflower Song music videos is coming up. I'll be releasing another song called My Prayer around mid-September and I'll be filming the music video at the beginning of September and probably releasing that in October. So, lots of different music videos and singles are coming out.
Check out a sampling of Maddie performing live at "Our Voices, Our Stories" in the video below. Maddie Lam's music can be found on Spotify, Apple, Title, SoundCloud and YouTube. Follow her on Facebook at Maddie Lam or Instagram at maddiexlam.
Video above was recorded by Ron Cox and edited by Amanda Hurley. This article was written by Christina Appignani, a student at Lesley University and an intern at Urban Media Arts. Photographer Keren He can be reached at keren_he@emerson.edu.