By Nikita Sampath
Two days after the Olympic Games began in Beijing, Chris Choi, a Malden nursing student originally from Hong Kong, was standing in the bitter cold in Copley Square with a group of protesters calling for a boycott of the games to draw attention to reports of human rights violations in China.
"Any kind of participation in the games is equivalent to being complicit in the atrocities China is committing," said Choi who has been organizing for No Beijing 2022 in the last few years. Choi's family left Hong Kong following the Anti-Extradition Law protests in 2019-2020.
A few miles away in Medford, a group of protesters, including some from Malden, have been gathering every Saturday from 10 a.m. to 12 p.m., in front of the Colonial Volkswagen dealership on Mystic Avenue. The protests started in reaction to the allegations that Volkswagen has been using forced laborers of Uyghur descent, an ethnic minority in China, in the company's factory located in Urumqi, Xinjian, built in 2013.
Organized by Maya Mitalipova, the president of the Boston Uyghur Association, the weekly demonstration has attracted people from various communities and similar campaigns are being carried out in more than 30 cities. Protesters pledge to continue until Volkswagen shuts down its factory in Urumqi, which is the capital city of East Turkestan.
The Feb. 6 demonstration in Copley Square, which drew about 50 people, sought to draw attention to a variety of human rights allegations involving China, including the country's policies on Tibet and Hong Kong. Tenzin Tseten, a Malden health-care worker whose family fled Tibet to neighboring Nepal and India, walked alongside fellow Tibetans, Uyghurs, Hong Kongers and Taiwanese at the protest.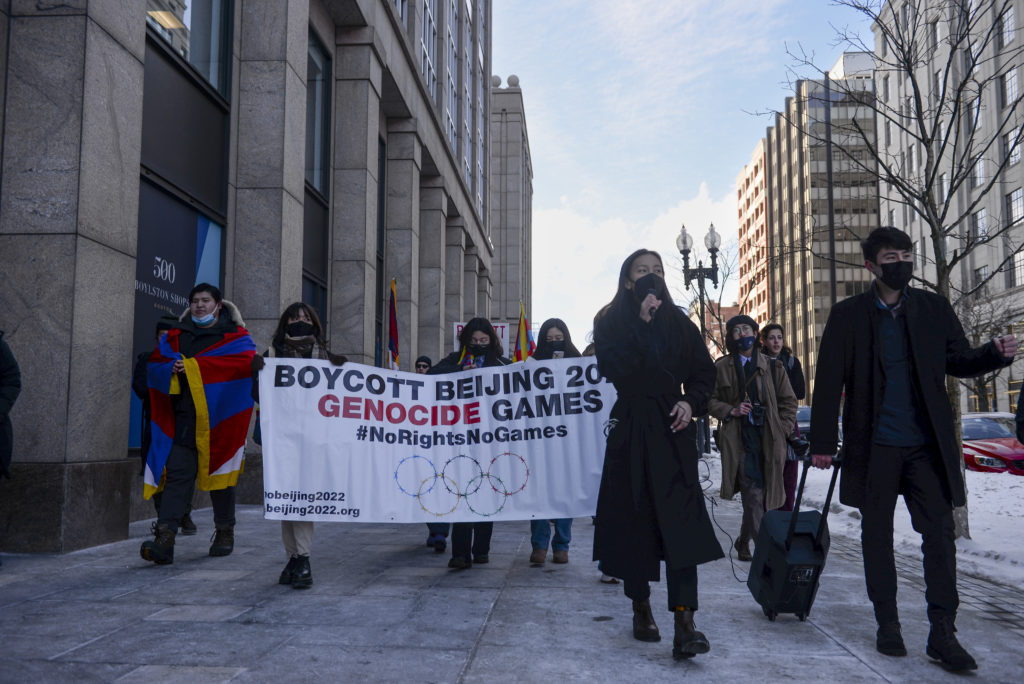 "We don't think that anybody should be able to 'sports-wash' the human rights violations being perpetrated by China," said Olo Bayul of Somerville who said the Olympics could have been held in a different country. Bayul's parents fled Tibet after the Chinese invaded in the 1950s. They moved to the U.S. in 1996 as part of a family reunification plan.
Tenzin Yangzom, a 24-year-old organizer from Arlington, said they have been encouraging athletes who return from Beijing to make strong statements. "We are calling for a boycott of the games because it is what is necessary considering the stakes," she said.
In December, the Biden administration announced a diplomatic boycott of the Beijing 2022 Winter Olympic and Paralympic Games citing "ongoing genocide and crimes against humanity in Xinjiang and other human rights abuses." The U.S. has not sent a high-level, official delegation to the Olympics.
Protests against Volkswagen were originally started by the East Turkestan Youth Congress in April 2021, with the hashtag "#VWFinancesGenocide" on social media. In the past two years, Uyghur activists have also organized protests and demonstrations at Boston City Hall, the Boston Common, Harvard Square, and at businesses that they contend have profited from forced Uyghur labor in factories or branches in Xinjiang.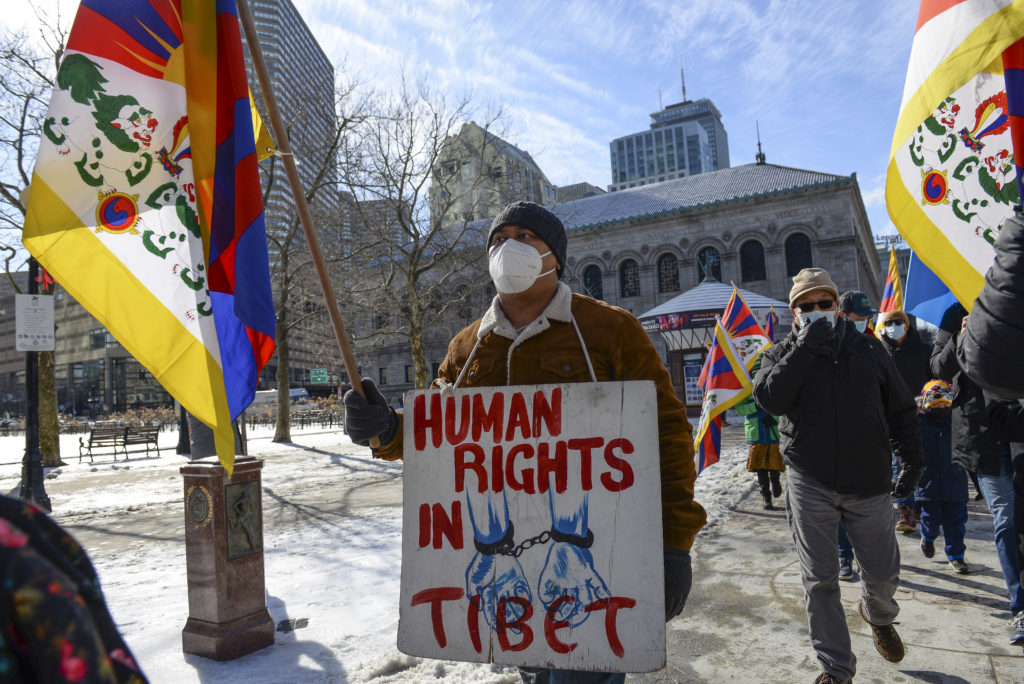 A Feb. 8, 2022, article in The Boston Globe reported that "for decades, an estimated 11 million Uyghurs living in the Xinjiang Uyghur Autonomous Region — which many Uyghurs call East Turkestan — have struggled under the Chinese government." As early as 2014, experts believe, the state began to detain Uyghurs and other ethnic minorities in mass detention camps, according to the Globe.
The re-education camps in Xinjiang, or as many media have called them, the concentration camps, detains more than a million Muslim minorities against their will, with high level security measures and a dense police force to prevent escape. Increasing evidence has pointed to massive human rights abuses taking places in these camps, including forced conversion, forced sterilization, arbitrary imprisonment, physical torture, and forced labor.
China has claimed the camps provide vocational training and said measures are needed to prevent the Uyghur residents there from becoming extreme terrorists.
The blizzard of accusations of China's exploitation of forced labor have prompted some international companies to withdraw from their Chinese suppliers.
The activists in Medford highlighted the "Uyghur Forced Labor Prevention Act," which is designed to pressure big corporations to cut ties with their production lines in Xinjiang. Though it's already illegal to knowingly import products made by forced labor, the bill makes it the companies' burden to prove that their factories and suppliers are free from forced labor.
The bill was finally passed by Congress and signed into law by President Biden on Dec. 23, 2021. For the activists who launched the campaign in Medford, it's a milestone of their journey. Mitalipov said, "We are glad the bill has passed, but we are nowhere close to the end of Uyghur genocide. We won't stop our grassroots effort until the CCP [Chinese Communist Party] is held accountable for the atrocities they committed."
---
In 2008, about 300 people gathered in Boston to protest China's alleged human rights violations ahead of the summer Olympics held there that year.
Keren He, who has participated in the Medford protests, contributed research to this story.
---