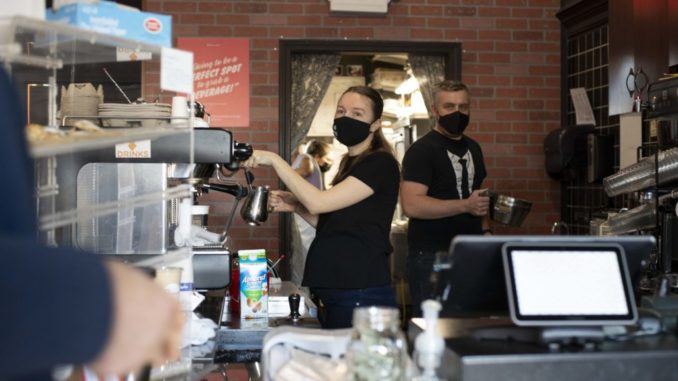 By Nikita Sampath
In Malden, there is a cup of coffee for everybody.
The city's downtown has five spots to grab a cuppa joe, all within a short walk of one another. Each spot tells a story about the people who live here.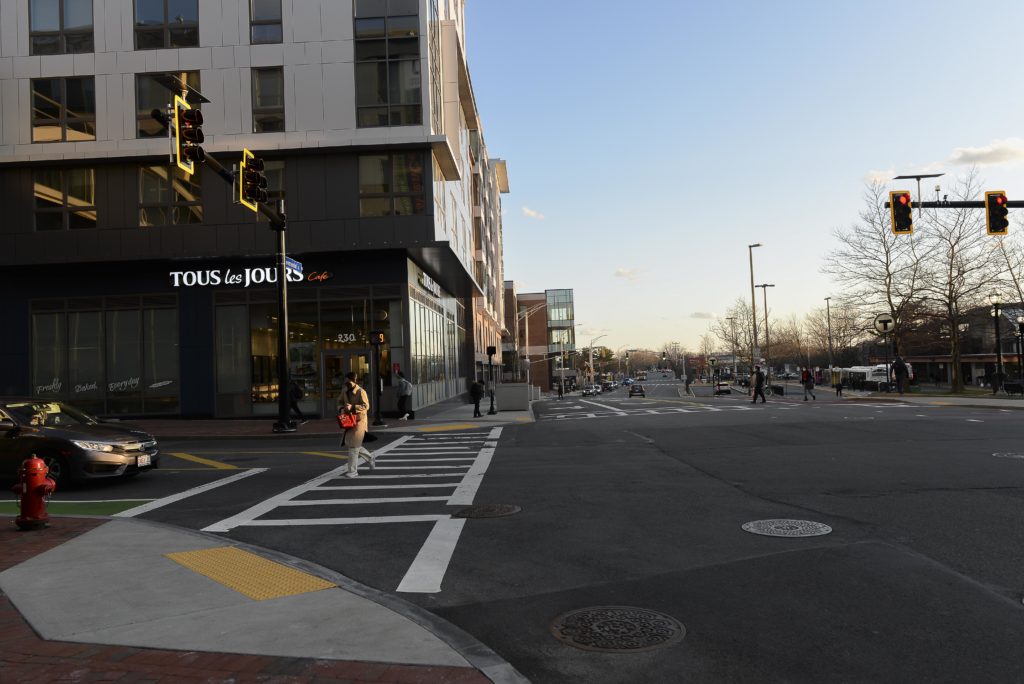 Tous Le Jour
Right across from the Malden Station on Commercial Street is Tous le Jour, a spot that offers French-style bread and pastry with Asian inspired flavors. It's the only place in Malden where you can get a kimchee-filled croquette and a taro latte.
Owner Dennis Diao was a longtime resident of Malden when he first came to the United States from China for a program at Northeastern University. Despite moving away from the city, he chose to open a branch of Tous le Jour in the J Malden luxury apartment complex in June, 2021. "Malden is a city with potential. Everybody who lives in J Malden and everyone who takes the T is a customer," he says.
Tous le Jour allows for customers to grab a quick bite or spend extended amounts of time catching up with friends, studying or working. K Tan, a part-time employee, moved to Malden with his family five years ago from Guangzhou, China. "A lot of Mandarin speakers come to the store and give me feedback about our pastry. I enjoy working here," says Tan, who is a Computer Science student at UMass Amherst. The store opens at 7:30 a.m. and it is not uncommon to see people working on their laptops as early as 8 a.m.
Dunkin
Mornings are the busiest time at the Dunkin on the intersection of Pleasant and Florence streets. The store has been open for over a dozen years, making it the oldest place to offer coffee in this location.
Sukhwinder Singh, originally from Punjab in India, has worked in this Dunkin for three years. When the newer coffee establishments came to town, he perceived a small dip in sales that didn't last very long. "The coffee at those locations is more expensive. The middle class come here," he says. Singh lives in the neighboring town of Everett. His hourly wage at the Dunkin was recently raised to $15.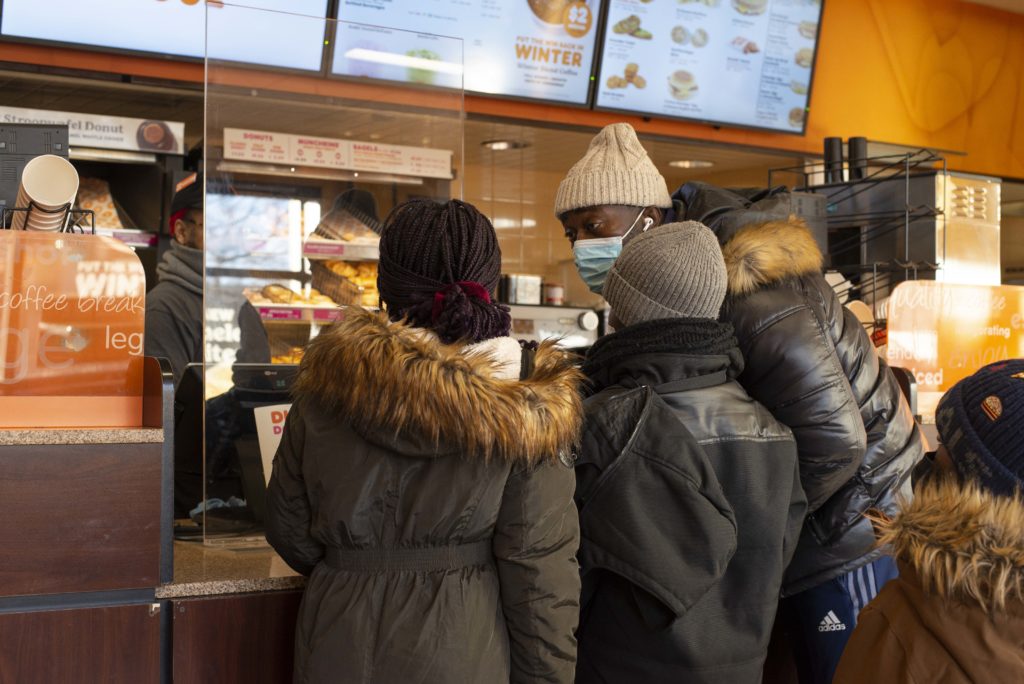 B2 Café
A five-minute walk from the Malden Center train station is B2 Café. Owner Peggy Kai opened the café in September 2021 to cater to her cravings of Chinese barbecue meats and baked goods. Kai is originally from Hong Kong and has lived in Malden for ten years.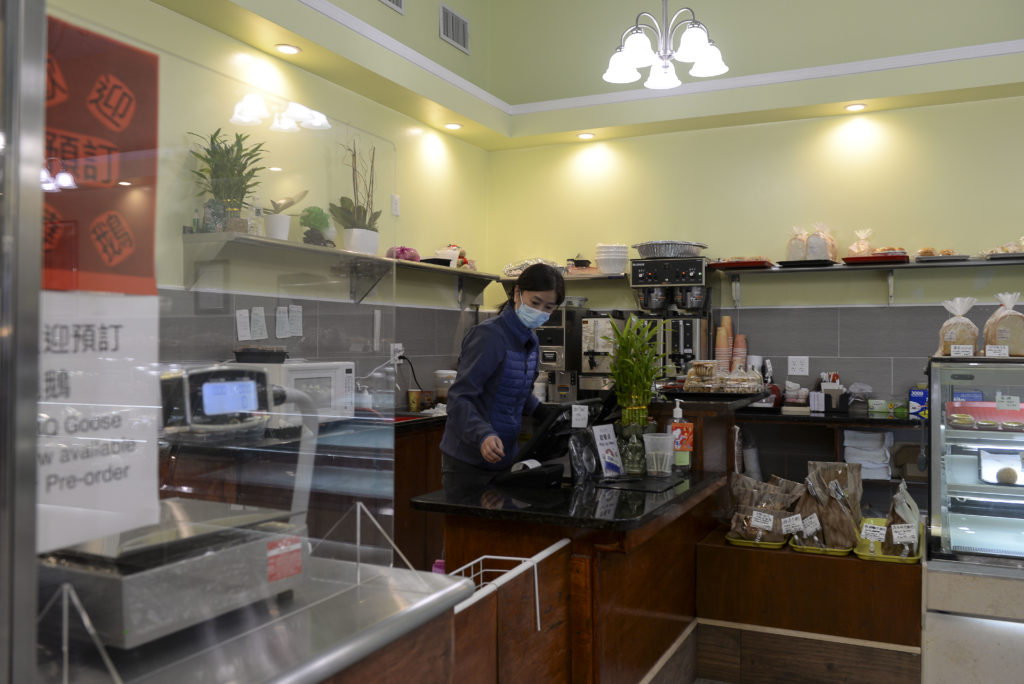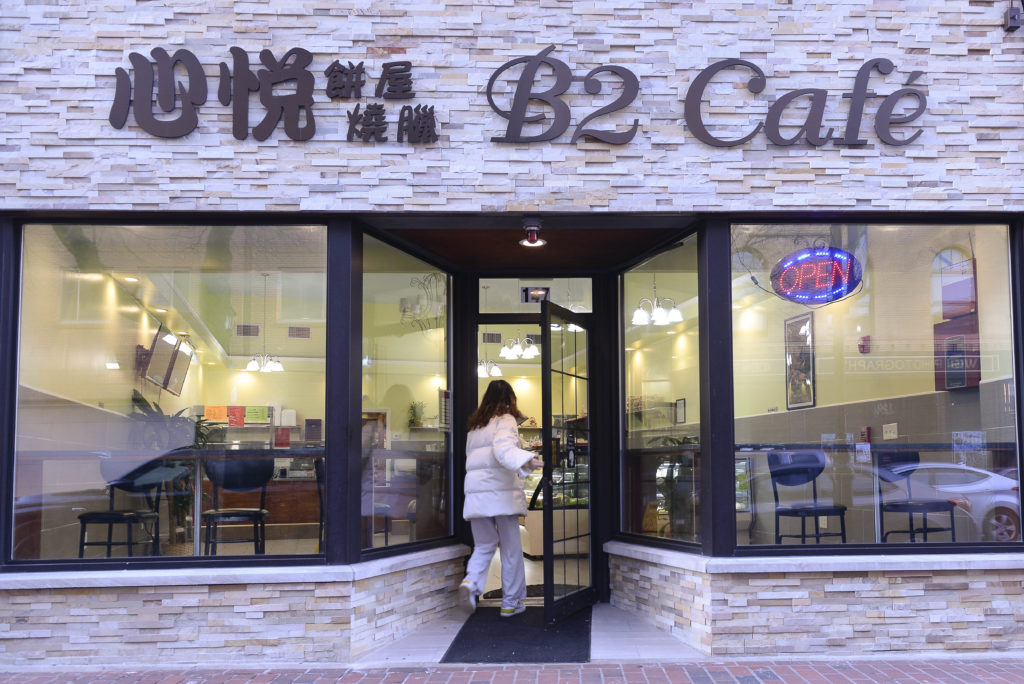 "Malden is a good location, it is developing," she says. Kai's barbecued chicken and duck are popular among all her Asian customers as well as ones from other cultures. The establishment offers their customer coffee and Hong Kong milk tea as drink options. Kai has plans to introduce more drinks in the summer but says that they are not dependent on coffee sales for their business. B2 sells food made using Chinese traditional recipes. The pastry is less sweet than those found in traditional American bakeries. The egg tart and barbecued chicken are their most popular items on sale.
Bikeeny Cafe
Behind Malden Station on Summer Street is the Bikeeny Café, named after an Eastern European pastry. Evelina Caraus and her husband Serg opened the café in Malden because it is one of the most diverse places in Massachusetts. Originally from Moldova, the couple have bought a home since opening the cafe and expect their child to enroll in the Malden school system.
"We thought what we offer would be good for the people here, we don't make the usual items like donuts," says Caraus. Most customers here are loyal Malden locals who come in, taste the coffee that is roasted every week and ground every day. "We have people from so many different countries, sexual orientations and religions. I know this because some of them have come in to work for us," says Caraus.
Starbucks
In October, 2021 a new player entered the coffee scene. The opening of a Starbucks at the corner of Exchange and Main streets created a buzz in the Malden community. "You know when a Starbucks comes to town that it has truly gentrified," says Malden local Maria Sanchez. "When I was growing up there were never any fun options like the ones now."
When asked if the recently opened Starbucks has affected their business, Kai, Diao and Caraus all say "Not really." Although the establishments all serve the same area and offer coffee and small bites, they strongly believe they have unique things to offer and continue to hold a niche market.
"I still see my customers every day. I don't know if they can have that much caffeine!" says Caraus, with a hearty laugh.