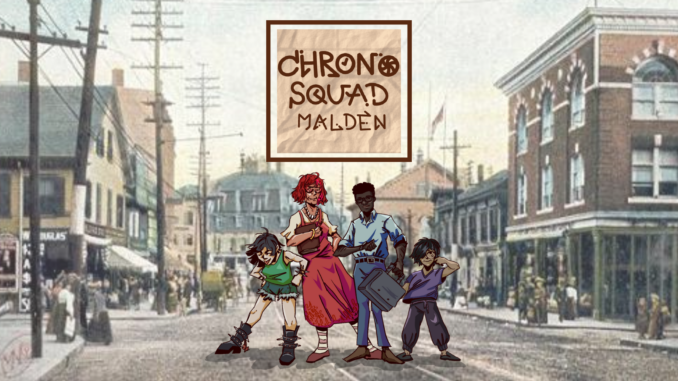 By Amanda De Rosa
In a cross between Pokémon Go" and a historical tour, a new gaming app lets users both young and old visually travel back in time in Malden to experience the city's colorful past.
ChronoSquad: Malden – a free gaming app available to download via Google Play and Apple Apps stores – follows four detectives, Tam, Su, Francis, and Max, who discover a magic camera that can see through time, called the Chronoscope. The app transforms the user's mobile phone camera into the Chronoscope, and the app's integrated map and clues from the ChronoSquad help players discover various portals throughout Malden.
When these locations are discovered, the Chronoscope reveals hidden histories using augmented reality. This local history scavenger hunt features five different episodes of play, each focusing on different areas of Malden, and reveals historical stories of immigration, abolition, suffrage, and labor.
Celia Pearce, the creative director of the ChronoSquad: Malden, is a game developer and professor of game design at Northeastern University. She and a team of her students worked to create ChronoSquad to appeal to all age groups.
"Nobody is really making games at the moment targeted to intergenerational play and it's a huge, under-tapped market," she said in an interview with Neighborhood View. "A running joke throughout development was me telling my students, 'Please make these fonts bigger. Your dad and grandma won't be able to read this!' I think that's one of the draws of this as well. At Northeastern I'm involved in an initiative focused on older gamers and I see this or games like it as an important contribution to that."
The game could make for an exciting and educational summer field trip. Pearce's design team envisioned a game that would not only connect individuals to untold stories of the past, but also to connect individuals to each other and for new stories to be shared. People, too, can act as portals through time. Grandparents playing ChronoSquad with their grandchildren may uncover forgotten memories of what Malden was like, "Back in my day…"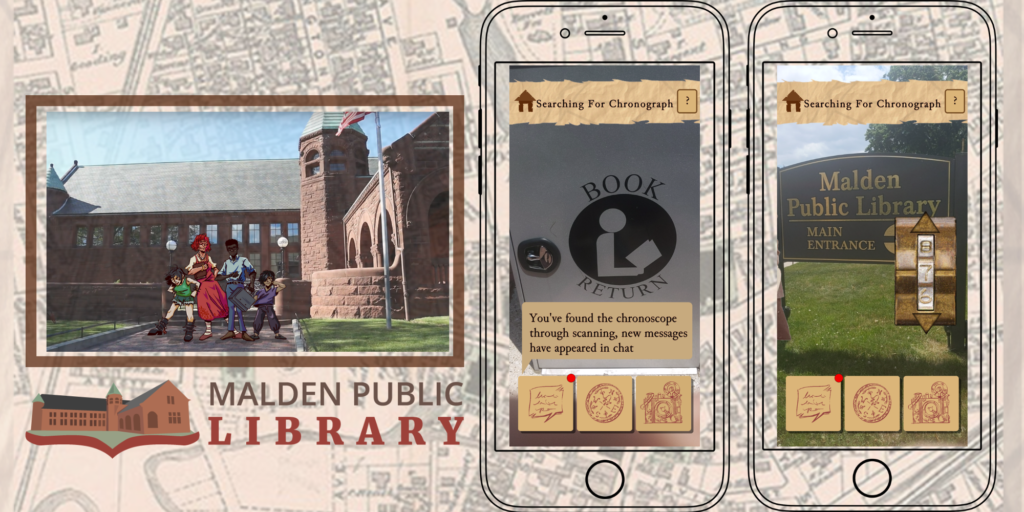 In a Q & A with Neighborhood View, Pearce explains how ChronoSquad: Malden was developed, the inspiration behind it, and delves a bit into the anthropology of the gaming world.
Could you briefly elaborate on how ChronoSquad: Malden developed? Why Malden?
The project came about as the result of a "perfect storm" of conditions, and I would say if anyone is to blame, it's Kevin Duffy from the City of Malden. We were put in touch by one of the local business-owners involved in the Malden Gaming District, James Cobalt of the soon-to-open Immersive Game Theatre. I was involved in some brainstorming on how to best use Covid-19 Federal recovery funds to bring people to downtown Malden. ChronoSquad was part of a larger initiative which ultimately included several pub crawls by Incantrix, as well as street festivals and other outdoor community activities. My group, Paidia Studios, which consists of myself and my students from Northeastern University, had just developed the "Hidden Histories" AR app for another project and were looking for some other opportunities to create pervasive history games. So I sent a pitch to the City [of Malden] via Kevin, and they decided to move forward. The writer I hired—Daud Alzayer—is also a Malden resident and also a public historian, Live Action Role Playing (LARP) designer and museum consultant, so he was a perfect fit for the project. Having access to the library's archive and expertise—including Dora St. Martin's expansive knowledge—created the ideal situation for a project such as this.
What should prospective players expect from ChronoSquad: Malden?
I describe ChronoSquad Malden as "Pokémon Go" meets "Malden History" (although it should be noted we started developing the platform before the former came out.) I am a history nerd and I love time travel, so the app's purpose is to place historical images into real-world scenes, giving people a way to look into the present to see the past, to create a kind of "time travel portal." For ChronoSquad: Malden we decided that portal should be a camera since there were so many great photographic assets, and it made sense for someone to unearth a weird old camera in the library archives. When we started engaging with the materials, we discovered a long history of activism, which really resonated with the entire team as the thematic core of the game. The mission of the app as originally envisioned was to tell "hidden histories," stories we may not have already heard. People are surprised to find out, for example, that Malden housed a group of abolitionists, or that it was home to one of the first immigrants to gain citizenship.
Were there any experiences you had growing up that you relate to your work in game design, or that you think may have inspired you to create games like ChronoSquad?
I've always been obsessed with history. As a kid I used to dress up in period costumes, and I still do that to this day! My partner and were in full Victorian attire when we ran into Kevin at one of the Malden pub crawls. As a young game designer, I worked for a company that made museum exhibits and worked on concepts for history and natural history museums. The approach we took was always to start with the present and find a way to make it relevant to contemporary audiences. So that's I think a deep, underlying root. Growing into a field that is very future-focused, I remain passionate about histories that are forgotten…we're only recently starting, for instance, to acknowledge the many women, including women of color, who were integral to the development of computers. So I'm interested in using games to tell those under-recognized stories.
You teach a class called "Designing Imaginary Worlds" (which sounds amazing). Are there any key learning points from this course you could share for those out there interested in becoming game designers?
Well, I could go on about imaginary worlds for hours. But I will say that this course is one of my favorites to teach because it gives students a license to "geek out" while developing critical and creative faculties in world-building. I love that they bring so much of their own knowledge to the table, and I learn an immense amount from them. One area the class really emphasizes is trans-media and cross-media adaptation. Most game students are going to be asked to adapt from existing material, and it's not something that's typically taught. One of our guest speakers last semester was a former grad student of mine who designs modules for Dungeons & Dragons Online based on the tabletop roleplaying game books. The students loved seeing photos of her notebooks with all her notes and sketches figuring out how to translate from one medium to the other. And this class is not just for game-makers. I feel like anybody who is interested in a career in media needs to learn these skills. I also try to move the students away from over-used tropes, so they are forbidden to make anything in a Tolkienesque world, a post-apocalyptic scenario, or involving zombies.
Could you elaborate a bit on your studies of the anthropology of the gaming world? Are there any interesting takeaways or enigmas you could share?
Going back to the mid 1990s, I've been doing social science research on virtual worlds—or as the kids today call them, metaverses! As a game-maker, what particularly interested me was how the design of such worlds influenced large scale emergent behavior, including player creativity. My thesis work, which became the book Communities of Play (published in 2009, the same year Minecraft came out), focused on a community of "game refugees" whose online game closed and who then migrated into other virtual worlds. Because I was able to study the same group across three different platform, I was able to look at how the specific worlds they were in resulted in distinctive behavior. In my more recent work, including pervasive games like ChronoSquad: Malden, live action roleplaying  and what I call "playable theatre," I've been trying to apply some of the same principles of emergent design that I learned from online games to analog and "real world" games. Currently I'm working on an interactive theatre piece with Dacha Theatre in Seattle called (F)UNFAIR which is trying to apply some of those same principles to live performance. I'm really excited to see what happens with Disney's Star Wars Galactic Cruiser, which has done for live action roleplaying what Pokémon Go did for pervasive games.
Are there any aspects of human identity that are particularly interesting to think about in relation to gaming?
Play – including adult play – is still marginalized in a lot of ways, even though it's a multibillion dollar business – really multi-trillion plus if you include all forms including theme parks, cosplay, LARPing, and, of course, hobby culture. Play promotes imagination, creativity, and innovation and allows you to experiment and try on different identities, and even live in different time periods or worlds. I think it's fundamentally human to seek out alternative worlds and identities, and it's a valid and meaningful way to expand our horizons and our sense of empathy. I think my goal is and has always been to bring play to a broader audience, as well bringing a broader array of voices to the table.