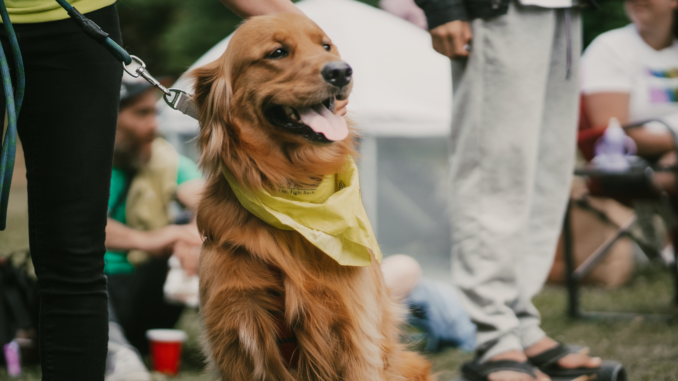 Story and photos by Keren He
Everyone loves a cool treat on a hot day and that includes dogs.
During Malden's first Dog Appreciation Day on June 25, canines at Pine Bank Park could get a dog-friendly free ice cream from a JB's Indoor Dog Park truck parked there for the morning. When a dog parent asked owner Jackie Brady about the recipe for the ice cream, Brady said it was homemade with healthy ingredients and no sugar.
Kevin Alkins, Malden police animal control officer, had an idea for a dog appreciation day when he met Brady, the owner of the dog ice cream truck, which is based in Norwell. In January, Alkins had some health issues, yet he still kept working. People from the neighborhood showed great concern for him while receiving his help on animal control, and that's when he decided to give back to the community. Dog Appreciation Day is not only Alkins' brainchild, he also financially sponsored the event.
Brady and Alkins plan to hold another Dog Appreciation Day in September, with free dog ice cream again.
In other news from Rover World, a dog beauty pageant, a side-shoot of Malden Pride 2022, was held in Coytemore Lea Park on June 18.
Set up with colorful tracks and traffic cones by Paws & Purrfection, a pet supply store on Main Street, the pageant showcased about 10 candidates, some with costumes. It was very hard for the judges to pick the best contestant, therefore each good boy and good girl brought home a medal. Check out the proud medalists of the day!