By Martha Bezzat
Malden High's football team will soon share an honor with the Boston Red Sox: both will have played at Fenway Park, which has actually hosted high school football teams since around the time of its opening in 1912.
The Malden High Golden Tornadoes will play the Medford Mustangs on Tuesday, Nov. 22, at 7:30 p.m. at Fenway Park in downtown Boston.
"The opportunity to play our 135th Malden vs. Medford football game at one of America's most beloved ballparks is a once in a lifetime opportunity, and it seems fitting that one of the nation's oldest high school football rivalries will be played at one of the nation's oldest ballparks," said Malden High Director of Athletics Charlie Conefrey.
Malden High Head Football Coach Witche Exhilomme, a Malden High alum and Social Studies teacher at Malden High, was recently interviewed on an UMA podcast by Mike Cherone, and said that the Fenway game is "exciting for the kids, exciting for the players, and exciting for the city."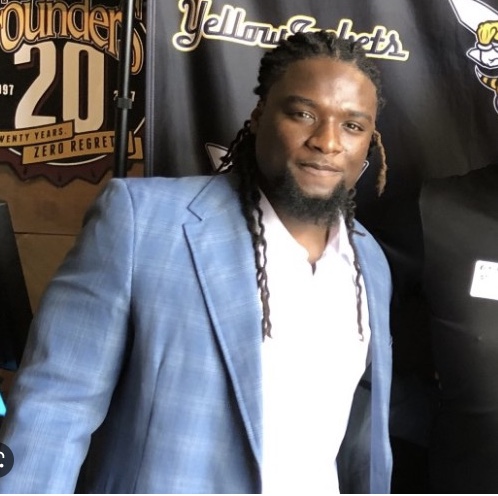 When asked how the team was doing, Exilhomme said, "We had a fast start, and things started off very well; we won three games back to back, but had some key injuries." He credits the team's success to a strong coaching staff of about 15-16 coaches, many of whom are volunteers. "A shift is going on in Malden where people are coming back to invest in the youth, and people care," Exilhomme said,
Exilhomme explained that the school now has a strong weight lifting program off season, in which even players who play other sports off season, like basketball and track, demonstrate "a lot of dedication" by continuing to lift even after their other games and practices. "We had time to establish ourselves, and we're trying to keep the momentum that we have." Malden High supports players during the lifting season by providing protein shakes, and during football season, mandatory tutoring from 3:00-4:15 four days a week and snacks with support from the Mayor's office.
Fenway has historically had a "High School Football at Fenway" program but, as Exilhomme put it, "Malden and Medford hadn't been invited to the party." He said, "[Malden High Athletic Director] Charlie Conefrey has been working towards it for a while, like five or six years, and because of the long rivalry, we finally got in." Exilhomme reports that his players are very excited and that it's very good for the program to help them rebuild, get back on track, and create motivation.
Mayor Gary Christenson said, "I am over-the-moon happy for our Coach Witche, his staff, our players, cheerleaders, and everyone else involved with this historic game." He added, "It's not only because of how hard our Charlie Conefrey worked to make this happen but it's also because of just what great students they all are." He said he is proud of the young adults the players are becoming and looks forward to the difference they are going to make in Malden.
Exilhomme credits his own successful high school football career with early intervention by school and community leaders, including Joe Levine, who runs the Malden Recreation Department, former Malden High Principal Dana Brown, and Barbara Scibelli, a secretary at Malden High. He said that "Malden is blessed now by positive role models and leaders," and that "Malden is doing it right."
Exilhomme has his own memories of the Thanksgiving game rivalry, and recalled that when he played at Malden High, the football team won every Thanksgiving game against Medford. "Beating Medford is the bread and butter for every coach, and it's a long, deep tradition, and then you realize you're a part of it – we still have the trophy!" he said.
Conefrey is grateful "for the opportunity extended by the Fenway group," and said that both he and Medford High School's Athletic Director, Robert Maloney "are looking forward to a spirited game in front of alumni, students, staff, friends and family."
Final thoughts from Exilhomme on how to spend Tuesday, Nov. 22? "Malden, go crash Fenway park and get a win! Come out to Fenway, come have a blast!" Asked if they will win, he said, "We will."
General admission tickets are available for $20 online or at the door at Gate A Ticket Office, and seating is first come, first serve in the lower bowl. (Private suites were already sold out at this printing.)