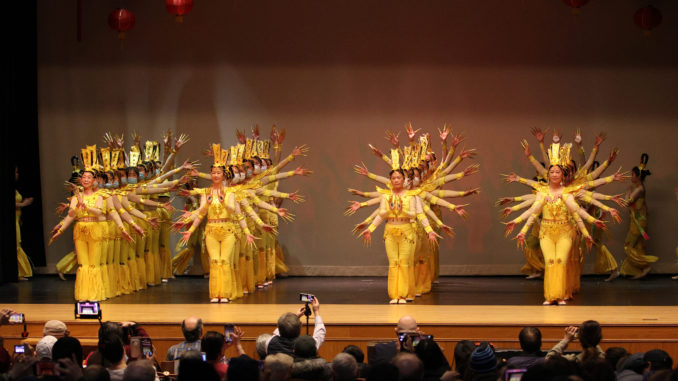 By Jinghe Zhong, special to Neighborhood View
MALDEN, MA — The Chinese Culture Connection (CCC) held its 14th annual Lunar New Year Celebration at Malden High School on January 14, 2022. For the Asian community in Malden, this was a momentous occasion. The event was finally presented in person after three years, bringing together hundreds of local residents and businesses of diverse cultural backgrounds.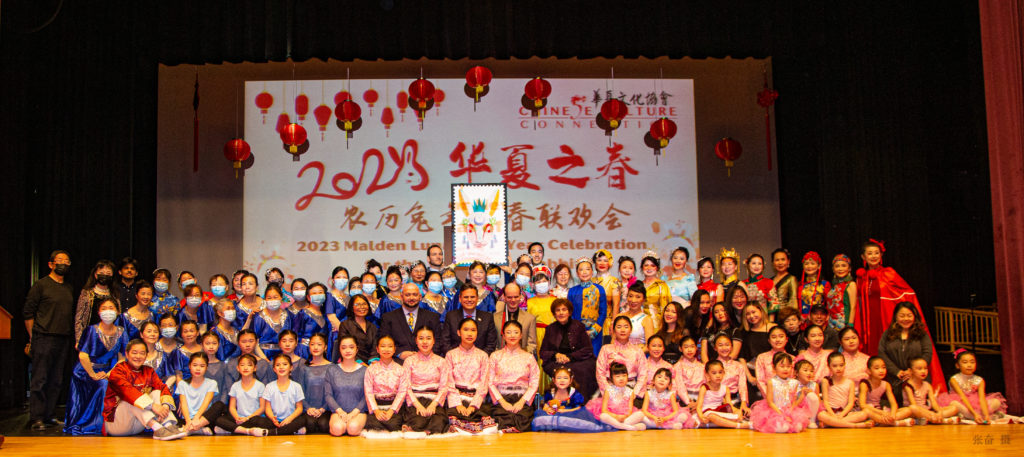 A spectacular lion dance performance by Wah Lum Kung Fu & Tai Chi Academy set the festive mood, and Mei Hung, Executive Director of the CCC, was joined by Malden mayor Gary Christenson to officially open the event.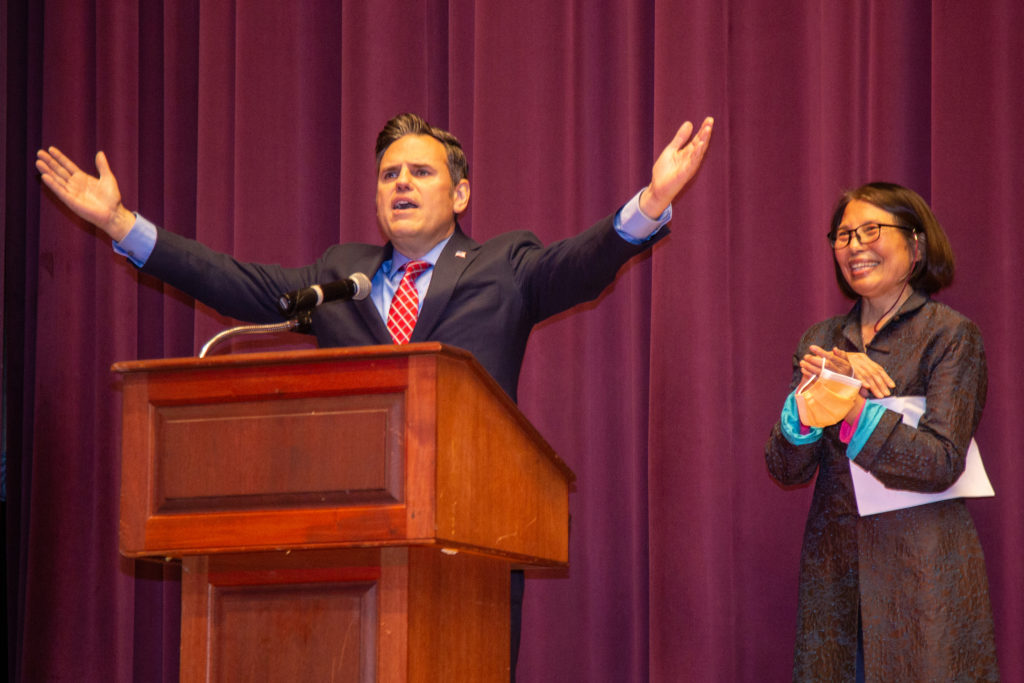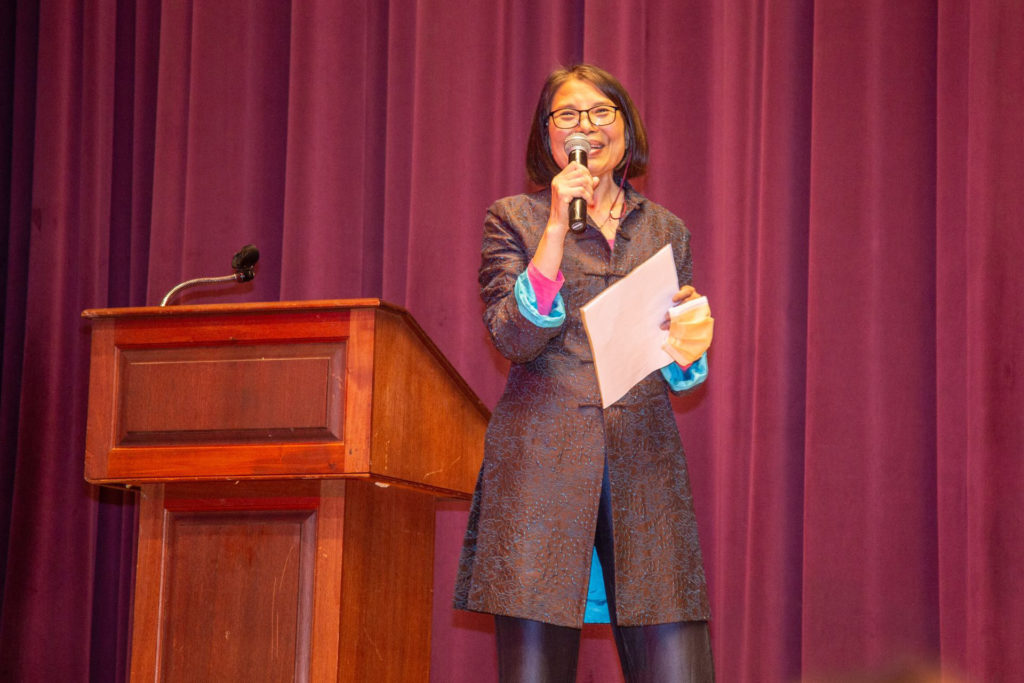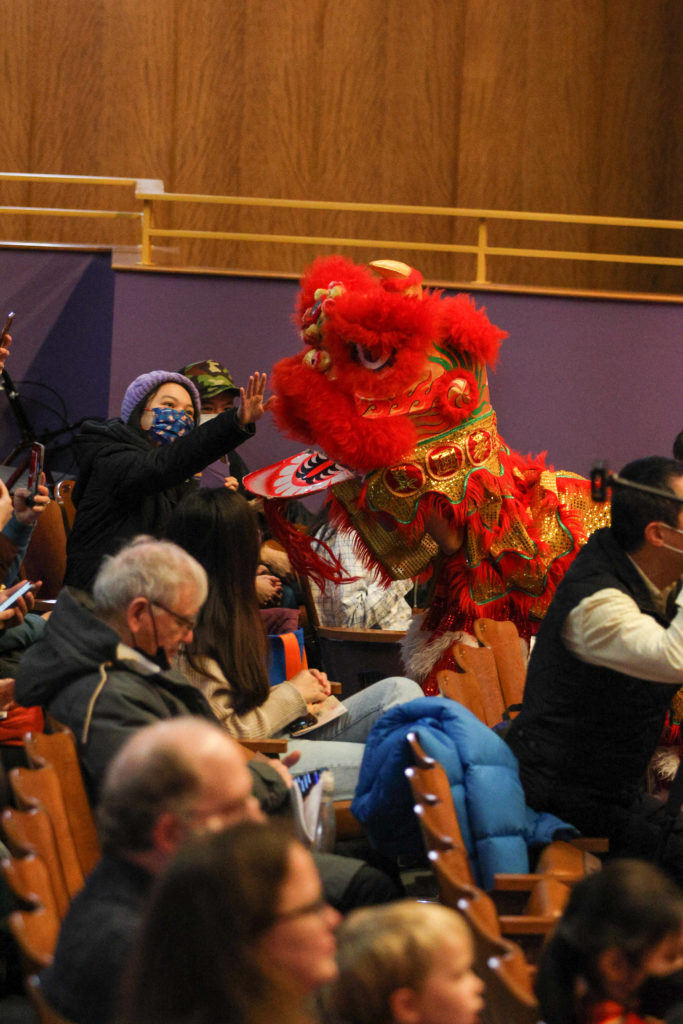 The nearly four-hour celebration featured over 20 performing groups and individuals from across the Greater Boston Area. A major highlight was Thousand Hands Guanyin, a large-scale dance performed by the Boston Chinese United Dance Group, whose members range in age from eight to 80. Together, they harnessed the power of dance to raise awareness of the importance of goodwill and selflessness in today's society.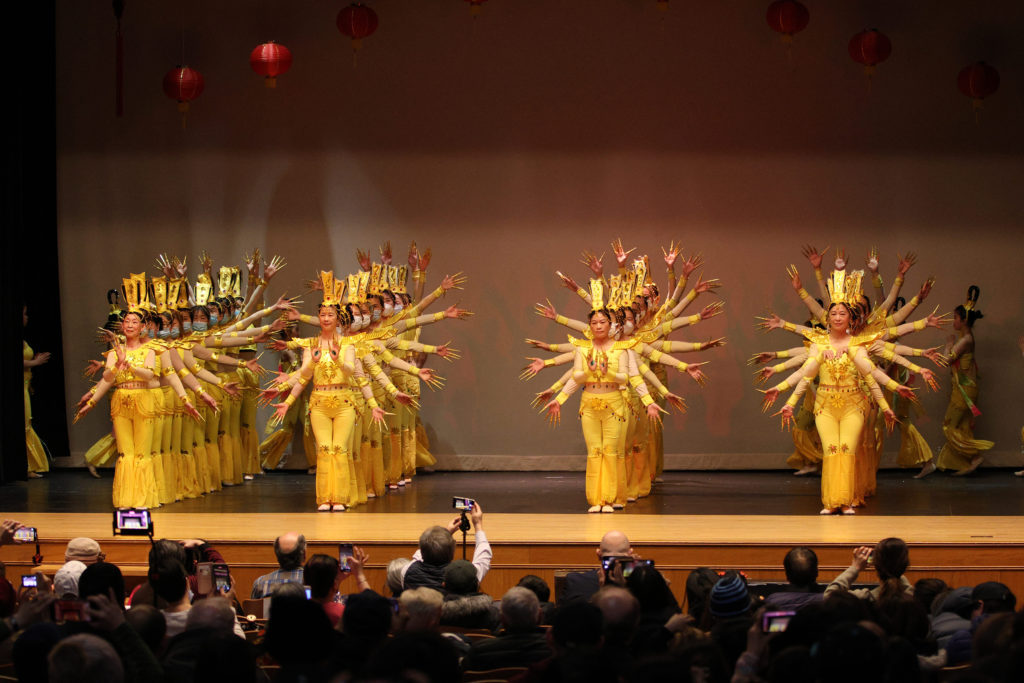 There were also performances by students from the CCC's Chinese Language School and Little Dragon After-School Program that provided a special touch.
The event also included an award ceremony for the COVID Coping Strategy Contest. The contest was a collaborative effort between the CCC and Malden Reads, sponsored by Health Resources in Action. (Read the award-winning essay by Arya Shah in the young adult category here.) Linda Zalk, of the Malden Reads Steering Committee, joined Mei Hung to announce the awardees. Santon, an award-winning pianist born blind, made a special appearance. He was invited to perform a selection of original compositions that portray the wide spectrum of emotions he experienced during the pandemic. As well as being technically impressive, his performance was characterized by a great deal of boldness and joy, which generated much enthusiasm and enjoyment among audience members.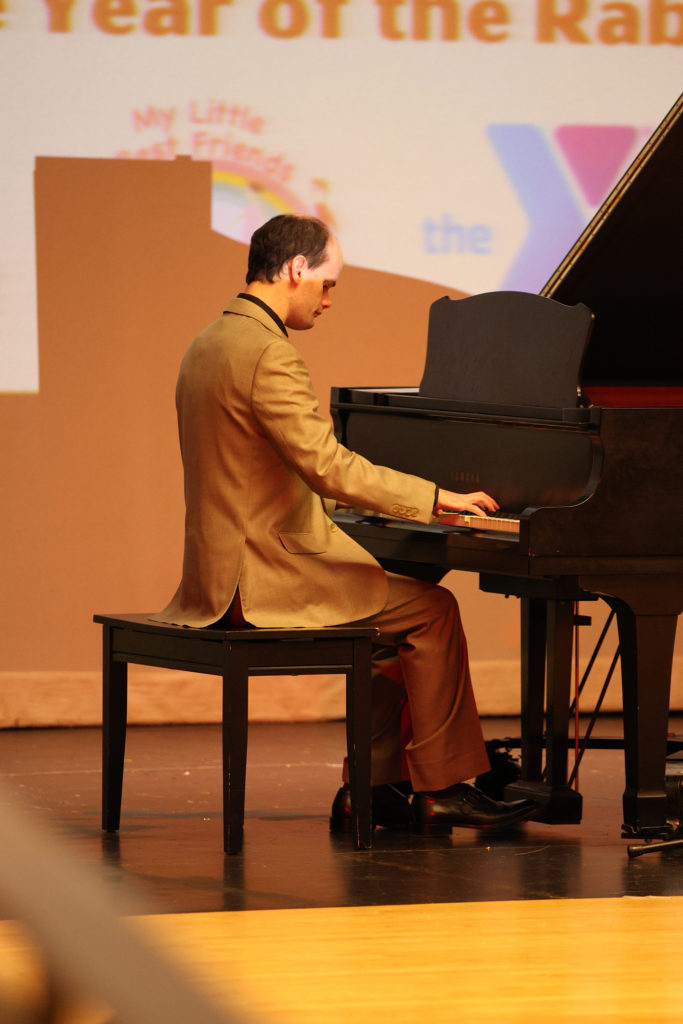 Each year, the event serves as a platform for the unveiling of the U.S. Postal Service's Lunar New Year stamp series. "We had the distinct pleasure of having U.S. Postal Service Manager of Malden Branch Jeff Carter present to unveil the Lunar New Year: Year of the Rabbit Forever stamp," said Mei Hung, Executive Director of the CCC. "I can't thank Jeff and USPS enough for helping us keep this tradition alive."
Outside the auditorium, a substantial number of visitors enjoyed Chinese arts and crafts activities and display tables. Many families received vaccinations at the COVID-19 vaccination clinic, which was held in conjunction with the celebration.
"We at the CCC share one common goal: to strive for the wellbeing and happiness of our people." said Mei Hung, "Our mission to serve the Asian community in Malden will remain unchanged in the Year of the Rabbit. And we'll work hard to accomplish everything we set out to do." The CCC's 2023 Lunar New Year Celebration was made possible by the South Cove Community Health Center, My Little Best Friends Early Learning Center, Mystic Valley YMCA, Fantuan Delivery, and Malden City Councilor-at-Large Karen Colón Hayes. Thank you to all the volunteers from Malden High School's Asian Cultural Club and Key Club for making the event run smoothly.
###
ABOUT THE CHINESE CULTURE CONNECTION
The Chinese Culture Connection, Inc. (CCC), is a 501(c)(3) non-profit organization founded in 1985. In 1999, it relocated from Reading to Malden to support the growing Asian immigrant population by building connections between Asians and the diverse community of Malden and surrounding cities. The mission of the CCC is to promote intercultural harmony, strengthen diverse communities and build bridges between American and Chinese people through interactive educational programs and arts in schools, libraries, museums, and community centers throughout the New England region.
For more information, visit www.ChineseCultureConnection.org or Facebook (@Chinese Culture Connection) or Instagram (@chinesecultureconnection).