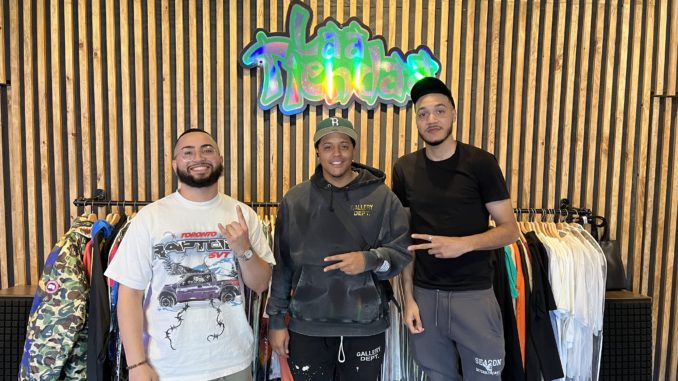 By Bryan Liu
MAPLEWOOD SQUARE—past the doors of a rather unassuming storefront, a red Supreme ping pong table half-filled with sneakers stands at the center of the room. When it isn't being used for play, it makes for a pretty good countertop. One side of the store are rows of shelves packed with neatly arranged pairs of shoes: Jordans, Forces, Dunks, Maxes, Breds—there's also a giant glass case of collectible Be@rbrick figurines in the corner about the size of a refrigerator. Racks of designer clothes surround the interior to make for easy browsing. It's undeniable: the drip is wall-to-wall.
This is LaaTiendaa: a community-oriented local fashion collective emphasizing real merchandise and authentic individuals. Their name comes from the Spanish word "la tienda" which literally translates to "the store"—but for owners Gabriel Toribio and Jezmani Kraus, LaaTiendaa is more than just a store: it's culture.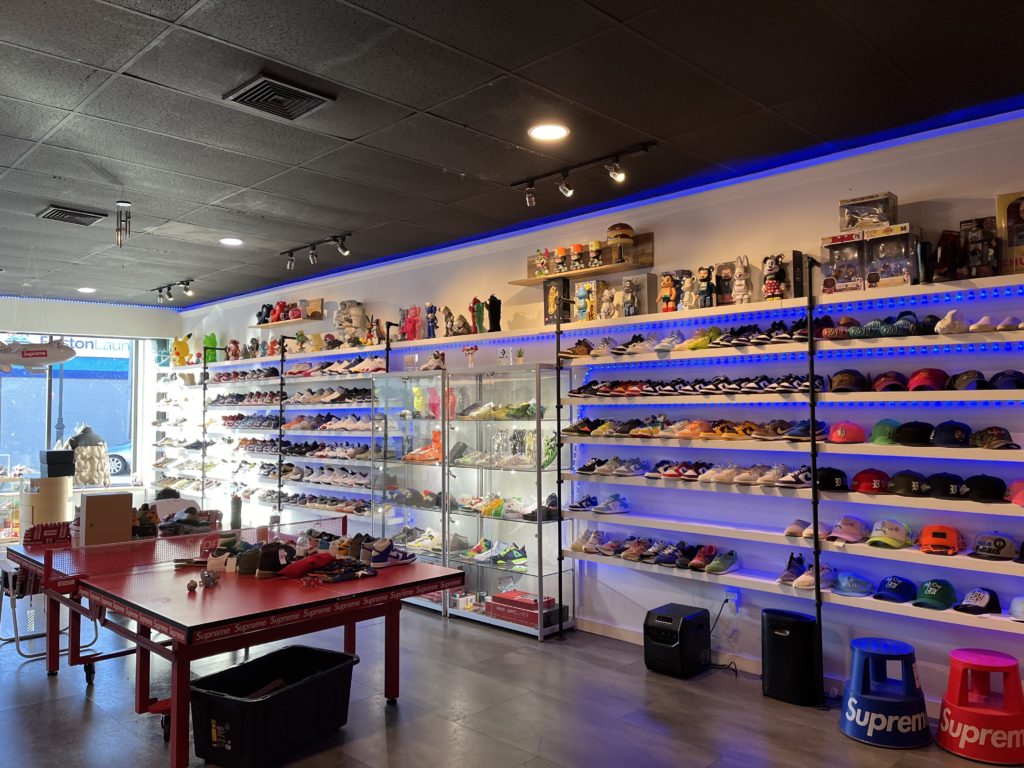 "Sneaker-ism" first kicked off when people realized their shoes could define a generation—the advent of iconic shoes like the Adidas Samba and Nike's Air Jordan inspired countless sneakerheads to turn their niche obsession into a multi-billion dollar reselling industry.
Nowadays, resellers depend on online portals like GOAT, StockX, and Fight Club—which are three pillars of the secondary market—to gauge hype, supply, and ultimately, price. Reselling is all about identifying trends in the market and leveraging them to one's advantage.
It's a bit like day-trading stocks.
"You've got to play small in this game," said Toribio. "Because if you play big and you think one of these is going to make you $100,000, you're on a whole different planet. Let's say you buy a shoe that's reselling today for $300. You buy 100 pairs and suddenly tomorrow it's only worth $200. What happened there?"
According to Toribio, sneakers are one of the hottest commodities in the world—but just because sneakers are a lucrative side-hustle doesn't mean everybody's doing it ethically. The modern secondary sneaker market is flooded with one too many eager pushers looking to make a quick buck, and LaaTiendaa is not one of them.
"We've always loved sneakers so that's how the journey started. It was never about capitalizing off of an industry," said Kraus.
Although the counterfeit industry will never be as big as the real industry, it's still big—after all, why pay more for the real thing when someone can buy something that looks the same for a fraction of the price? The answer lies in a metaphor: American artist and expressionist painter Jean-Michel Basquiat—Toribio explains that like paintings, sneakers are an asset.
"If you could buy a Basquiat painting from Basquiat directly, you would," said Toribio. "Now if somebody in Minnesota offers you a 'Basquiat' piece, you're gonna think twice. Why? Because it's not coming from a trusted source and it's not coming from Basquiat."
Sneakers are more than just a shoe, they're an investment.
"If you had to sell the sneaker, you know your shoes are real, and you'll get top dollar for what it's worth. Unlike when you buy a counterfeit item," said Toribio.
The same way museum curators scrutinize works by big-name artists, Toribio and his team want to make sure their shoes are real. He says the secret is in the smell. It's safe to assume a sneaker is counterfeit until proven authentic, but simply checking the sole and the stitching isn't going to cut it anymore—real shoes pass the sniff test. New cars have an eponymous odor and all sneakers have their trademark perfume: a good whiff gives the essence of this is awesome.
"And that's becoming a sneakerhead," said Toribio.
Both Toribio and Kraus each have 13 years of experience in the game; during which they've made and maintained supplier relationships with secure connections to get their products. LaaTiendaa also sends representatives to exclusive releases around the country, sneaker conventions, or to the supplier directly (i.e., brands like Nike or New Balance or individuals like Pittsburgh-based designer John Geiger) for all their clothing, accessories, and shoes.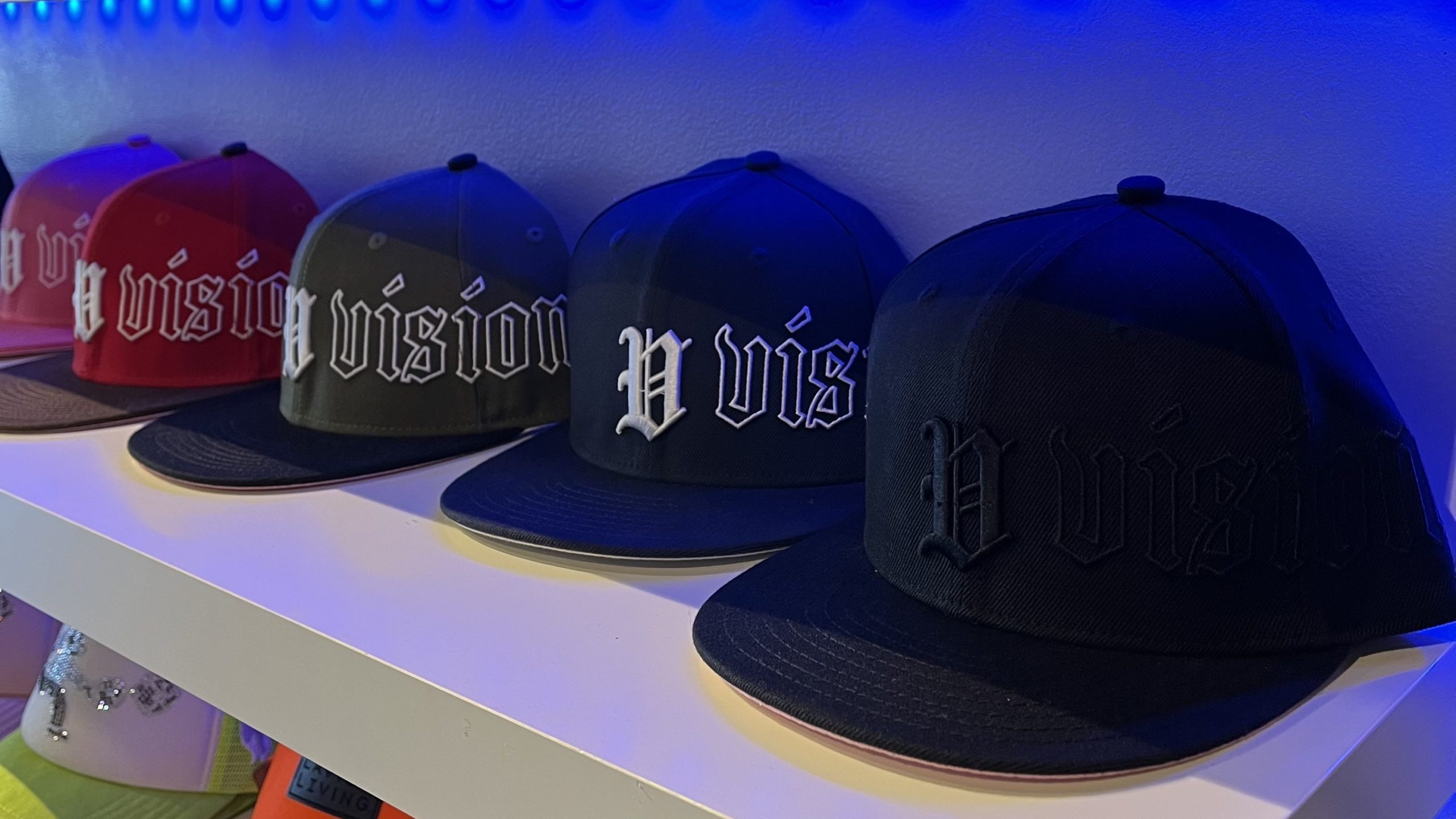 "I feel like when you go to Louis Vuitton, people are always on top of you or staring at you," said Toribio. "They want to know if you have money. I don't care if you have 25 cents in your bank account or if you're from Malaysia and you don't know English. I'm gonna use my translator and I'm gonna help you with whatever you want."
LaaTiendaa is offering a curated selection of the best of brands—some of which Malden has never even heard of. Like the city itself, the store is diverse and community-driven.
Kraus emphasizes the "Bodega-ness" of LaaTiendaa—customers come to local stores over big chains because they trust them more. The authenticity is two-fold: real products and real people. Toribio and Kraus would rather spend time encouraging customers to explore their own style in the store than push an agenda—because at the end of the day, what's that one extra sale to a relationship?
"People can't go to another store and be negotiable on price," said Kraus. "You can talk to me if you're in a situation or if life is happening and it might be hard for you. Maybe I have some cheap stuff downstairs I can give you for free."
The idea began in the Neapoli Pizza Cafe next door: it was between slices that Kraus insisted on buying the then-vacant building and starting LaaTiendaa. The duo had survived Malden High School and a multi-level marketing agency together. Kraus quit his union job, abandoning his pension fund, and Toribio gave up the family business, much to the chagrin of his father.
With the help of a real estate attorney to lease the building, they set up their own interior by watching Youtube videos on how to assemble IKEA furniture. The initial floor plan was simple—white walls, shelves, and racks.
On their first day, they lost $15,000.
They'd been victims of a credit card scam. This didn't look good in front of their suppliers and it looked even worse for the bank. "They thought we were a fake company," said Toribio, who later paid everybody back.
Despite the pandemic, LaaTiendaa sold out their first month online. But at the peak of the George Floyd protests, the store was broken-into.
At 1 a.m., looters smashed LaaTienda's windows and stole $10,000 of clothing. That same day, Toribio had posted a picture on Instagram: 100 new pairs of shoes, restocked apparel, and custom merch. He still regrets it. After seeing the riots in L.A. and New York, Toribio and Kraus scrambled to move their sneaker inventory to an undisclosed location for safekeeping, but they couldn't fit everything. Ultimately, people took advantage of a sensitive topic to justify malice—nobody was hurt, but Toribio and Kraus couldn't even claim insurance for their loss.
"[The insurance agencies] said what happened was like a world catastrophe because it was happening everywhere," said Toribio. "They called it terrorism insurance, so we wouldn't even be covered."
To Kraus, the store is his baby. It didn't hurt that some clothing got stolen—clothes can be replaced, but he and Toribio had put too many eggs in this basket just to let them crack.
"It's easy to break a business when you're still small," said Kraus.
In response, friends of LaaTiendaa launched a GofundMe campaign: donors from all over the country and the Malden community raised over $10,000 to help the store rebuild. Toribio and Kraus bought better cameras, improved their alarm system, and invested in a new state-of-the-art security gate—LaaTiendaa might as well be Malden's Fort Knox. There hasn't been a break-in since.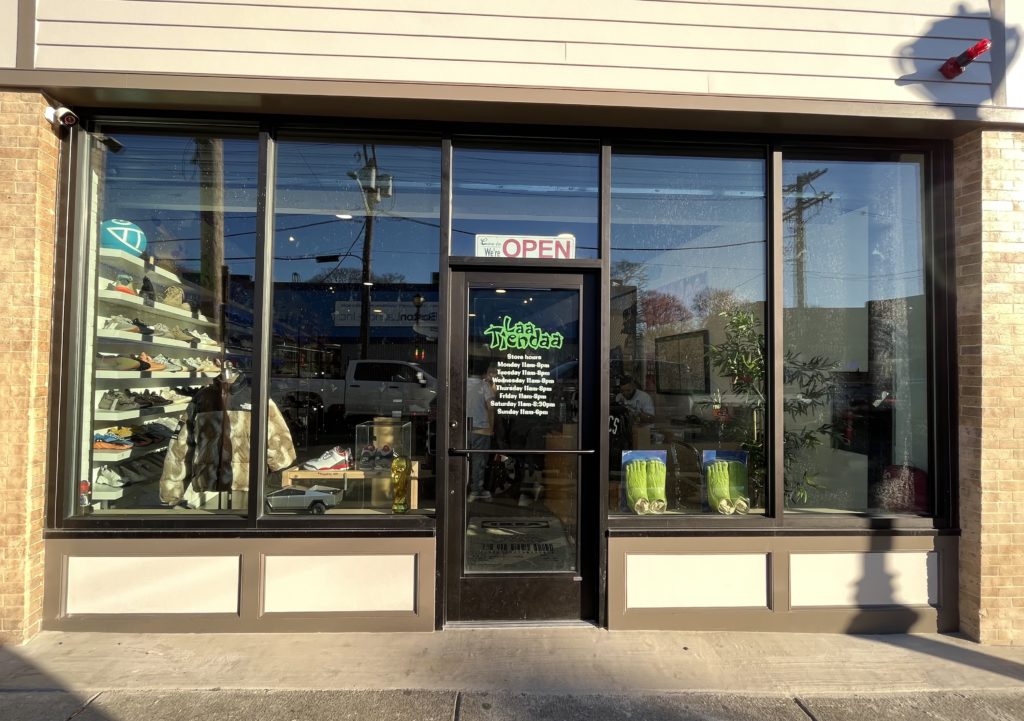 He's not asking for it, but retroactively, Toribio takes some pride in the fact that looters took a trip up to his store when they could've just stuck to robbing big name brands like Louis Vuitton and Concepts on Newbury St.
"If you're willing to come to Malden, where people usually don't come for anything, to rob us, it means our brand is worth something to someone," said Toribio.
The thieves were never caught.
"One day we're in Boston and I see a homeless guy and I'm like why does that teal shirt look so familiar? It was our merch," said Toribio. "Someone sends me a snapchat like yo I'm in Boston right now and this guy got your t-shirt on that they stole."
Toribio feels that Boston doesn't have the drip or the fashion people really want, but LaaTiendaa does: embellishing greater Boston's existing style with clothes from Miami and New York, local designers, and their own staff picks.
LaaTiendaa has since collaborated with Celtics player Marcus Smart and brought celebrities like Soulja Boy and most of the Patriots to Malden.
"We could've opened a store on Newbury St. right away, but Malden is where we grew up, Malden deserves that shine before anything else," said Kraus.
It's no secret that Toribio and Kraus are art aficionados: they already sell wearable art, but the future of LaaTiendaa looks like a cave—albeit an artistic cave. In other words, Kraus is building a public art gallery in the attic. Dubbed "La Cueva," or "the cave" in English, the brick-and-mortar walk-in space will spotlight works by local artists like Adam Lucey and Nicholas Cordeiro. The gallery is set to open soon but no exact date has been announced.
"A lot of [the gallery] will be our personal collection," said Kraus. "Sometimes you gotta let some things go in your collection to grow it more."
Kraus also plans on regional expansion, but for now, tomorrow just looks very promising. LaaTiendaa has left their mark and they have no plans of slowing down.
All photos by Bryan Liu.
Check out this 2021 episode of "Culture Matters in Malden," an interview with owner Gabe Toribio, sharing his personal story growing up in Malden and how "Laa Tiendaa" got its start.