By Rachel Sorlien, Malden Juneteenth Committee (special to Neighborhood View)
It may have rained all day, but that didn't dampen the spirits of hundreds of attendees at Malden's 6th Annual Juneteenth Freedom Day Celebration this past Saturday, June 17th. In a quick pivot and with the steadfast support of Superintendent Ligia Noriega- Murphy and custodial staff at the Ferryway School, the event location was moved indoors from Lincoln Commons to the Ferryway School.
Opening presentation for the Juneteenth celebration in the lobby of the Forestdale School. Lydia Harrell (at podium) leads attendees in the Black National Anthem. Photos by Anne D'Urso-Rose.
The Freedom Day Celebration began in the Ferryway lobby, where former U.S. Marine Eric Henry raised the Juneteenth flag as Lydia "Lovely Singer" Harrell sang the Black National Anthem "Lift Every Voice and Sing." A crowd filled the atrium and waved miniature Juneteenth flags, as Mayor Christenson gave his annual Juneteenth Proclamation and Malden Juneteenth committee member Erga Pierrette made a stirring statement about the need to center humanity and acknowledge the continued impact that systemic racism has on Black people and People of Color. She also highlighted the need to make changes to educational curricula to teach true history.
Following the flag raising, the gym became the epicenter of the Malden Juneteenth event. Crowds gathered to watch artist performances, browse Black-owned vendors, and engage with a variety of community organizations, including: Malden Reads, Malden Girl Scouts, Bread of Life, Malden Cares, Cambridge Health Alliance, Malden Language Ambassador Program, Mystic River Watershed Association, American Association for Arab Women, Friends of Roosevelt Park, Mystic Valley Progressives, Urban Media Arts and more. Youth activities occurred simultaneously in various spaces- games in the lobby, henna and face painting in the hallway, arts and crafts in the gym, and even a story walk in the stairwell.
Emcee Bridget Mutebi introduced a joyful and reflective program by Black artists, beginning with Reba Danastorg, who immediately engaged the crowd with her soulful performance of "Lean on Me," with A. Vincent Jones on keyboard. Malden High School graduate Christelle Jean wrote a Juneteenth poem which Erga Pierrette shared with the crowd. Jillian Harvey, President of the NAACP Mystic Valley Branch, delivered an appeal for NAACP membership and a call to action for all community members toward community empowerment and especially youth activation and representation. An annual favorite, Malden High's step team AO Step gave a dynamic performance, followed by another beautiful number by Lydia Harrell, a rendition of Bob Marley's "Three Little Birds." The program culminated with the amazing musical group Zili Misik, led by Kera Washington. The band performed several songs and engaged the audience in drum circles and dances. The artist program ended with a joyful dance line winding through the gym to Zili Misik's final song. Malden-based DJ Tyrone Henry of LiVn on Beats managed sound throughout the event. All artist programming was supported in part by a grant from the Malden Cultural Council, a local agency which is supported by the Mass Cultural Council, a state agency. Malden's Urban Media Arts recorded the artist program.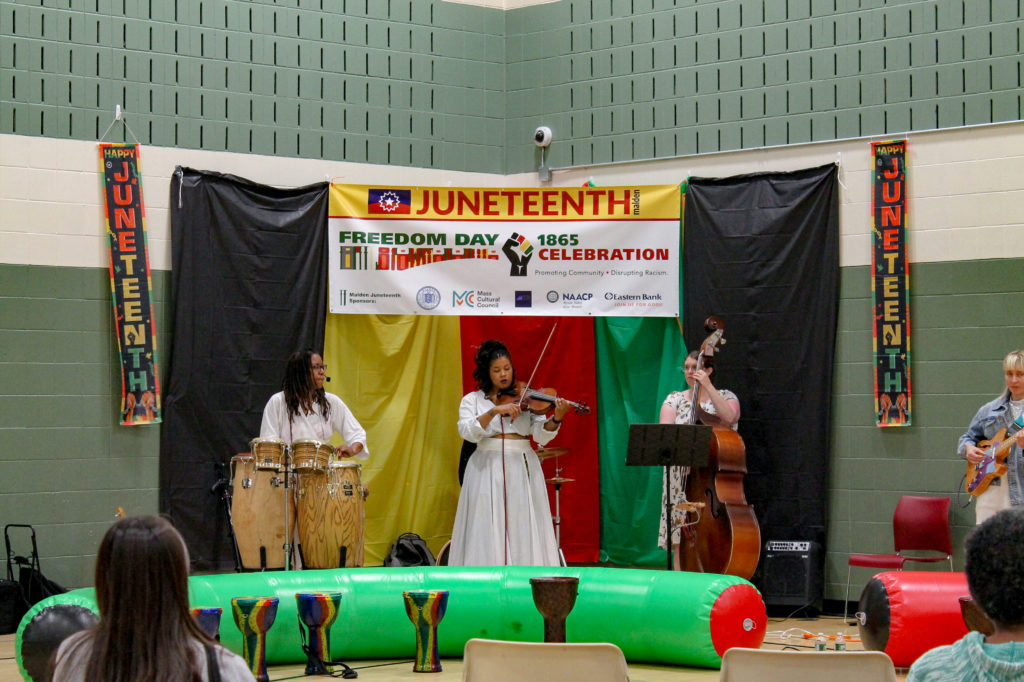 The City of Malden sponsored Malden Juneteenth's free community lunch in the Ferryway cafeteria, which was joyfully decorated for Juneteenth. The menu was provided by local Black-owned caterers Soulful Cuisine, The Island, and Neighborhood Kitchen and included curry goat, macaroni gratinée, and deliciously spiced fried chicken. Lunch service was efficient and the food plentiful, thanks to an enthusiastic group of community volunteers including youth from the following groups: Malden High Key Club, Mystic Valley YMCA Leaders, and Malden Youth Civics Council. A youth member of one of these groups was the jubilant winner of the vendor raffle after lunch- she won a basket containing items donated by all vendors, including a small painting, hair accessories, jewelry, a handbag, and more.
Malden's Juneteenth Freedom Day Celebration is truly a community effort. The Malden Juneteenth Committee consists of 13 diverse members, including: Erga Pierrette, Rachel Sorlien, Marcia Manong, Karen Colón Hayes, Melissa Castillo, Jessica Vasquez, Tyrone Henry, Zayda Ortiz, Reba Danastorg, Bridget Mutebi, Muriel Williams, Linda Clyne, and Dawn Macklin. Over 50 additional community volunteers assisted on the day of the event. In addition to funding the community lunch, the Malden Mayor's Office provided significant support with event logistics and coordinated flag raisings at municipal buildings across the city. City Councillors Karen Colón Hayes, Carey McDonald, Chris Simonelli, Amanda Linehan, Barbara Murphy, Peg Crowe, and Craig Spadafora provided financial support. Malden Public School administrators coordinated flag raisings at each Malden Public School building and shared Juneteenth resources with educators and students. Eastern Bank Foundation and NAACP Mystic Valley Branch awarded essential funding to Malden Juneteenth for artist programming and event decorations, equipment, and supplies. Nearly one hundred individuals donated to Malden Juneteenth through their participation in the group's first annual fundraiser in May. This 6th Annual Malden Juneteenth Freedom Celebration brought the community together once again, and the Malden Juneteenth Committee is thrilled to carry this collaboration forward to 2024's event!
Above, Bridget Mutebi (left) hosted the presentation for attendees (right) at the event. Photos by Anne D'Urso-Rose.
The day was captured on video by Urban Media Arts. Stay tuned for the edited version which will run on the MATV Public Access Channel and posted on the Urban Media Arts YouTube channel.