By Ose Schwab
It's 1:30 a.m. in Chile and Malden and 1:30 p.m. in Shanghai. Fourteen-year-old Finn Sedan in Malden, Javiera Paz Valenzuela Rodríguez, 15, in Santiago, Chile, Isabella Zhu, 14, in Southborough, and Anny Wang, 13, in Shanghai, are laughing nonstop while making final editing touches to a short film that they have been working on together all week.
"We were up late – well, not for me because it was 1:30 p.m.," said Anny. "I guess we did not start editing until that last day. We worked for five hours on Zoom. But it was not painful. It was chill. We were joking, editing, and talking about ourselves. Our mentors, Avion and Sophie, made us feel so comfortable and we had become friends. I was sad this was the last working session together."
The teenagers' short film titled "Isolation" would be screened later that day (the next morning for Anny) as part of an international filmbuilding workshop for 13 teens from China, Chile, and the United States, sponsored by MATV (UMA) and Zoom-In Zoom-Out, an educational program that curates discovery-based filmmaking experiences to promote cross-cultural exchange.
May 17 marked the final Zoom gathering for this virtual workshop and the day that the teens' films would be screened for the group as a whole. The previous eight days of hard work showed that teens from different parts of the world could work together remotely without much structure to create films that represent their ideas, life and culture. The students created three short films with original music and scenes from Chile, China and Malden. The films evoked feelings of isolation and the power of friendship and perseverance. All students contributed footage of life in their homes and neighborhoods and appeared in scenes.
The films affirmed what Finn reflected in comments after the workshop ended: "Film has no language and anyone from around the world can make films no matter what the language barriers or any barriers really."
Before the workshop began, Hailey Hao, Director of Education at MATV/UMA, who helped coordinate the workshop, admitted, "I had doubts about how well the students could work together and finish their films." At the conclusion, "I was so impressed by what the students were able to accomplish both technically and in their process. I don't know how we managed to have a flexible environment and yet the students worked well together and produced such amazing films." One even caused her to tear up.
Hao worked with Tom Flint, founder and director of Zoom-In Zoom-Out, to offer his flagship workshop to students from various countries as part of the MATV/UMA educational program. Flint's filmbuilding workshop uses a "discovery-based approach to filmmaking that relies on a continuous exploration and integration of ideas that result in highly original and personally revealing projects." The workshop includes open-ended themes that inspire inquiry and dialogue, creative constraints that challenge collaboration, discussions and consideration for culture of all kinds, and a screening event.
With Hao and Flint, MATV/UMA's Intern and Volunteer Coordinator Masio Dotson, and MATV/UMA interns Allie Thompson, Avion Manong, Kamila Rodrigues, and Sophie Carleton administered the workshop in May. The tight-knit team provided a supportive and fun atmosphere.
Participating students ranged in age from 12 to 16. Some had experience with film. Others had none. Five students are Chinese, three of them now living in the U.S. Four students live in the cities of Santiago and Antofagasta in Chile. Four students live in Malden.
To kick off the workshop, the students each shared five photos of themselves answering these questions: who are you; what is unique about you; what do you see outside your bedroom window; what is home to you; and what is comforting you during this difficult pandemic.
Divided into three cross-cultural groups, facilitated by one or two mentors, the students had to film, edit, and produce a five-minute film on the theme "What is the opposite of distance?" To facilitate this process, they met daily by Zoom, used a cloud-based video collaboration tool called Wevideo, and shared documents in an online classroom tool provided by TakingITGlobal, a social network for youth who want to make a difference in the world.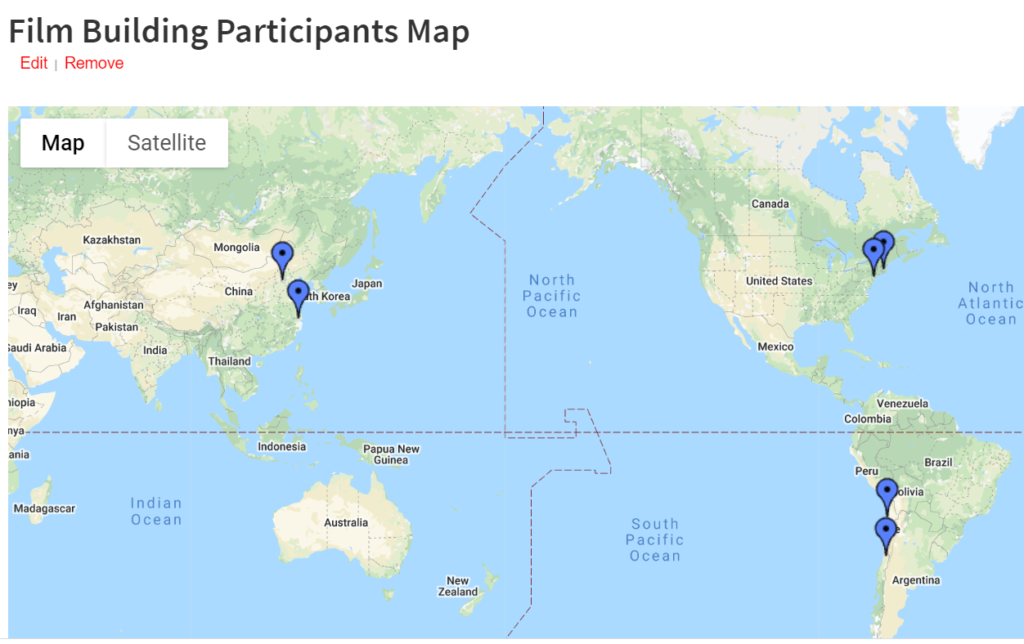 During the breakout sessions, each group always played some warm-up games to get to know each other before brainstorming.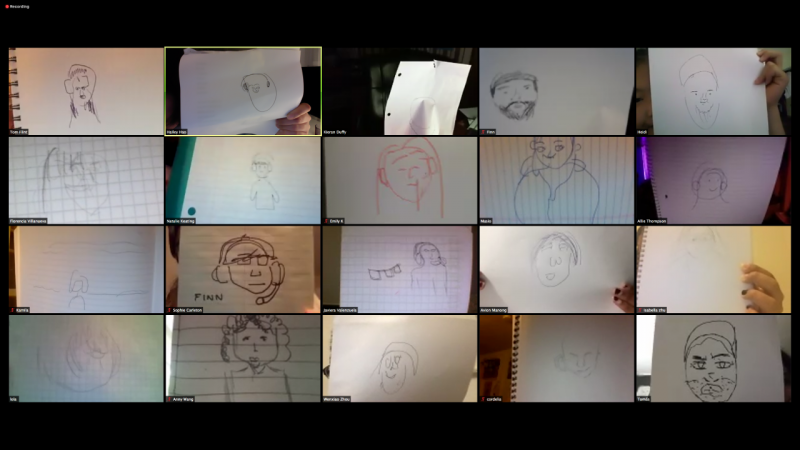 "My favorite part of the workshop was talking to my group," said Finn. "The first few days were uncomfortable, but after a few days, we started to be more ourselves and joke around. Then we felt really comfortable and safe. We talked about funny stuff and sometimes we would get off topic. It was really fun and laid back."
Florencia Delia Villanueva Ringler, 15, Antofagasta, Chile, also remarked that the feeling in the groups improved through the week. "When I first got invited by my school, I was really nervous," she said. "I thought I would not be able to communicate that well with the other students in the workshop. That got me nervous because of our different cultures it was going to be more difficult to communicate. But I discovered that maybe our cultures and customs are different – really different in some ways – in other ways we are all the same. I also felt like the feeling in our group was so comfortable."
Kamila Rodrigues, one of four mentors, said, "It was really cool to make something without the structure I was taught works best. I was surprised and intrigued. It made me see the process of creation differently." She also observed that the freedom and flexibility embedded in the workshop approach created some interesting challenges.
Florencia, a musician, acknowledged that in her group with Cordelia Tierno, 14, Malden, Kieran Duffy, 13, Malden; and Heidi Cai, 12, Beijing, China, it was "difficult to bring all of our ideas together. Some days we had a big brainstorm. A lot of ideas come out. It is a little difficult to bring it all together."
Said Cordelia, "It was stressful because we did not have an idea (at first)." In their group's case it helped to change the dynamic by talking among themselves without a mentor. In their final film, "Connected," the students play four students living with new families away from their own families of origin. The characters connect with their friends and learn ways to deal with the strange new environment and people.
According to Finn, "The biggest challenge [for our group] was coming up with a plot. Our group had a bunch of ideas and it was challenging to turn it into one idea." Isabella said, "Just being more flexible and less stubborn about what we wanted and how it can happen really made our film work. Our group changed our story one day before the screening." Their film, "Isolation," had no dialogue but showed snippets of day-to-day life interspersed with moments of isolation, rays of light, and unexpected magic.
Kamila, the mentor, said that "midweek my group seemed distracted. I wondered if they were still interested and still having fun. I also worried about making sure they all engaged in the way they saw fit. I know Lola wanted to edit and Tomas was interested in music…. It is special that they each got to do something that played to their strengths whether acting, editing, or music score."
Natalie Keating, 13, Malden, who was in Kamila's group said, "We threw ideas around and kept coming up with ideas until we came up with what we wanted." Another member of the group, Lola Lynch, 15, Santiago, Chile, said early on they "had the idea of giving a message to the world. That was before the story idea. We filmed scenes and created a story but were not sure we were going to use it. We decided to film the story and offer messages of hope at the end. I wanted to edit more than act, but they thought I would play a good mother, so I did it. But I also learned a bit of editing from Natalie." Their film, "Connection," captures a day of in the life of a teen girl, who is struggling with feeling stuck and isolated from her friends. Her mother helps her take action to connect with her friends in feasible ways: through texting, letters, and video chat.
At the student screening on May 17, Flint told the students, "You were thrown into a room, without a script and nothing to lean on. You had to come up with something from scratch. You did it so well."
"I loved these films and I don't know why. They were emotional. And that could be a good sign that I cannot explain why I loved them."
A public screening of the films was held on May 23. One of the 69 attendees, Mei Hung, Executive Director of the Chinese Culture Connection, said, "These [films] were so moving and to observe the process of connection was so special." Mayor Gary Christenson was among the attendees to the screening that spanned the globe in attendance.
In interviews after the workshops, the students shared how this experience of working across continents, time zones, and cultures affected them. Heidi, one of the youngest participants and author of her first novel at age 12, said she felt proud about the film she helped create. "I wanted to learn how to make a film. And in the future, I would like to direct one," she said.
"I met a lot of people from other places. That is mind blowing," says Florencia. "I never thought I would meet someone from China. That is just amazing. …The challenges we experienced pushed us to think differently."
Emily Ke, 14, of Beijing, said, "I noticed American students are more active and speak up in class. This inspired me. Now I am more active in my classes and speak up." She also said, "I was a bit nervous about this workshop at first. But I soon felt comfortable. This is an important program for youth. It teaches practical skills about filmmaking. It helps with English. It helps us open our mind and understand different cultures and gives us new ideas about things. I encourage other youth to participate."
---
MATV/UMA, in collaboration with Zoom-In Zoom-Out, looks forward to offering future iterations of this successful pilot, a filmbuilding workshop that demonstrates the power of media to connect people across all barriers.
For details, photo gallery, and to stay updated on future developments, visit the MATV/UMA filmbuilding page. To view the films, visit Zoom-In Zoom-Out.