By Jamie Perkins
"Det finnes ikke dårlig vær, bare dårlige klær."
This common Norwegian saying translates to "there is no such thing as bad weather, only bad clothing."
Malden preschoolers and their families learn to embrace this perspective at the Boston Outdoor Preschool Network's (BOPN) Malden/Melrose location.
BOPN is the brainchild of three local educators: Sarah Besse, Shela Sinelien, and Sara Murray.
Masters-level educators with experience in public and private schools, Montessori education, and special education, the three founders opened BOPN's first program in 2019 at the Arnold Arboretum in Boston.
They've since opened three additional sites, including one at Pine Banks Park, a 107.5-acre park on the Malden/Melrose line. The Pine Banks Park location began in September 2022 and offers a half-day, mixed-age program for preschool and Pre-K-aged children.
As stated by their website, BOPN provides "mixed-age, nature-immersive programs designed to teach resilience, persistence, and problem-solving." Programming runs throughout the year, including during the summer.
According to Besse, the program emphasizes a play-based curriculum that strengthens children's social-emotional skills.
"The research shows that children learn through hands-on, active free play and that social-emotional skills are a big predictor of life outcomes when children are older," said Besse.
Although the outdoors differs from a typical classroom environment, Besse said that the children at BOPN receive the same academic foundation as other preschoolers.
"My philosophy is we need to teach the whole child in all their learning domains. [That] includes physical, cognitive, language, mathematical, and knowledge of the world," said Teri Torchia, the lead teacher at Pine Banks Park.
According to Torchia, she valued outdoor play throughout her teaching career, which began over 30 years ago. She tried to bring her students into nature as much as possible but explained that it was not always simple while teaching at "indoor schools." Then, she found a job opening at the Boston Outdoor Preschool Network in March 2020.
"I am my most authentic teacher self at BOPN because it really aligns with all my beliefs about how children learn … it's the dream job I didn't know I wanted," said Torchia, who, along with the rest of the BOPN community, pronounces the acronym as "boppin'."
With Pine Banks Park as her classroom, Torchia claimed her students have an "increased sense of self-directed learning and an increased sense of ownership."
"I don't have to try to get them to conform, you know, to sit down and be quiet … They can be loud, they can move their bodies, they can learn with their senses," she said.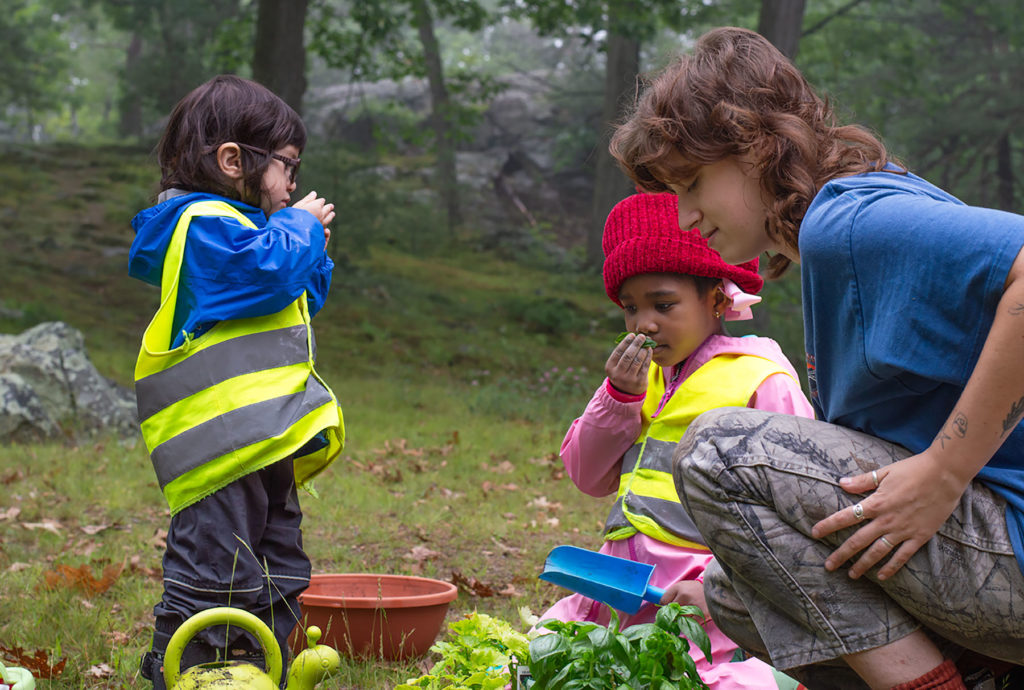 The children also develop their physical skills and learn "how many risks they can safely take," claimed Torchia, describing that the environment provides them with opportunities to climb up rocks and trees and constantly walk on uneven terrain.
Malden resident Ari Taylor said her 4-year-old daughter Phoebe has "grown leaps and bounds" since starting preschool in Torchia's class at Pine Banks Park.
Taylor acknowledged that she was initially "a little bit unsure about what the curriculum would look like, or how it would be learning-wise." But since enrolling her at Pine Banks Park, Taylor said that Phoebe's vocabulary and confidence level have improved.
Karla Orellana's three-year-old daughter Mia began preschool at Pine Banks Park in October 2022. This "changed [Mia's] life," said Orellana.
Mia was born in 2020, what Orellana calls a "pandemic baby." Due to the isolating nature of COVID-19, Mia was not exposed to people outside the family until she was around 20 months old.
Mia was "super shy," said Orellana, describing that when she brought Mia to the zoo for the first time, it was not the animals that interested her but the people.
Now, according to Orellana, three-year-old Mia is ambitious and confident. Mia also loves nature and cares about the environment, sometimes instructing her mother to shut off the faucet because water is "a wonderful home for animals."
The Boston Outdoor Preschool Network's curriculum fosters "environmental stewardship," according to Besse.
"It's not just learning about a tree, in theory. It's hugging a tree, noticing different types of trees … We call ourselves tree protectors. So our job is to take care of nature and to take care of the plants and animals in our environment … Children have to have an emotional connection to nature and love nature before they're going to be willing to step up and preserve it." said Besse, noting that "even little kids can be activists."
To cultivate this love of nature in children, everyone involved must learn to "embrace all kinds of weather," said Torchia. BOPN's programs operate outdoors in all conditions: rain, shine, or snow.
"I think we had one day when we canceled the program," said Besse about the 2022-2023 school year, adding that parents can always opt to keep their child at home.
The organization educates parents on what gear their children need each season.
"When it rains, the children have rain boots, rain pants, rain jackets, rain mittens, and rain hats. So they're coming dressed head to toe in all the gear they need. If a family is struggling to find that gear or pay for it, we're certainly happy to help out," said Besse.
The Boston Outdoor Preschool Network is a nonprofit organization dedicated to equity. According to their website, they "consider it a moral obligation to serve all children, regardless of families' ability to pay tuition."
Additionally, they cite a Natural Start Alliance report, which states that "White children are overrepresented in nature preschools, [while] dual language learners and children with disabilities are underrepresented … In addition, children of color have less access to nature than white children, pointing to yet further injustice in bringing the benefits of nature to all children."
To combat this described inequity, BOPN offers full and partial financial aid. At the time of publication, 30% of families across all locations receive financial aid. According to Besse, that number is around 70% for families at the Pine Banks Park location.
Torchia said that ensuring all students have access to proper gear is a community effort, which includes a "BOPN closet" where kids can borrow items and organized gear swaps for families.
Taylor said that even parents who are hesitant to send their child outside in all weather conditions should consider BOPN as an option. "It's worth giving them a call or coming down and seeing what they're doing … It's worth looking into."
Orellana knows that hesitation well. She acknowledged that as a first-time parent, she had "a lot of concerns" about the weather before enrolling Mia at the Pine Banks Park preschool. Now, when people ask what Mia's class will do when it rains, Orellana has a go-to answer:
"Bring buckets, bring shovels, and jump in the puddles."
You can learn more about BOPN's goal to expand outdoor education access or support its equity initiatives here.