By Heather Barry
Earlier this summer, as the Malden Reads steering committee began its book selection process for 2021, it faced a season and mood in the community and country very different from its previous ten years. On top of the COVID-19 pandemic, the country has been wracked with a coming to terms of 400 years of systemic racism, sparked by the murder of George Floyd, and brought to life by protestors from coast to coast.
These important and ongoing events informed the discussions of this year's books. Once the book is selected, Malden Reads will invite the community of Malden to read the book and participate in a series of events related to the book's themes.
"At the end of the day, we want to point people toward a quality book with an important story that needs to be heard," said Steering Committee member Martha Bezzat. "This particular year, we were open to themes about the ongoing crisis of racism, the trauma of the global pandemic, and resilience in communities."
She added, "The journey to choosing the best Malden Reads book is sometimes a long road, sometimes a bumpy road, but always a road that takes us to the right book."
The committee includes people representing many parts of Malden, varying perspectives and opinions, and different generations and cultural backgrounds. There are educators, librarians, media professionals, activists, artists, and social workers.
Beginning with a list of recommendations from the community and Malden Reads participants, the steering committee initially narrowed a field of 50 to 10 books. In August, that was narrowed to the five finalists, which are listed below.
The committee will consider these selections throughout September before deciding on the final pick. All are invited to send thoughts and comments to maldenreads@gmail.com.
Here are descriptions and reviews (courtesy of Amazon) of the top five:
The Day the World Came to Town: 9/11 in Gander Newfoundland by Jim DeFede
When 38 jetliners bound for the United States were forced to land at Gander International Airport in Canada by the closing of U.S. airspace on September 11, the population of this small town on Newfoundland Island swelled from 10,300 to nearly 17,000. The citizens of Gander met the stranded passengers with an overwhelming display of friendship and goodwill.
As the passengers stepped from the airplanes, exhausted, hungry and distraught after being held on board for nearly 24 hours, they were greeted with a feast prepared by the townspeople. Local bus drivers who had been on strike came off the picket lines to transport the passengers to the various shelters set up in local schools and churches. Linens and toiletries were bought and donated. A middle school provided showers, as well as access to computers, email, and televisions, allowing the passengers to stay in touch with family and follow the news.
Over the course of four days, many of the passengers developed friendships with Gander residents that they expect to last a lifetime. This book recounts the inspiring story of the residents of Gander, Canada, whose acts of kindness have touched the lives of thousands of people and been an example of humanity and goodwill.
Ghana, eighteenth century: two half sisters are born into different villages, each unaware of the other. One will marry an Englishman and lead a life of comfort in the palatial rooms of the Cape Coast Castle. The other will be captured in a raid on her village, imprisoned in the very same castle, and sold into slavery.

One of Oprah's Best Books of the Year and a PEN/Hemingway award winner, Homegoing follows the parallel paths of these sisters and their descendants through eight generations: from the Gold Coast to the plantations of Mississippi, from the American Civil War to Jazz Age Harlem. Yaa Gyasi's extraordinary novel illuminates slavery's troubled legacy both for those who were taken and those who stayed—and shows how the memory of captivity has been inscribed on the soul of our nation.
"'Homegoing'—the title is taken from an old African-American belief that death allowed an enslaved person's spirit to travel back to Africa—is rooted, like the Bible, in original sin," writes Laura Miller in The New Yorker.
The Beekeeper of Aleppo by Christy Lefteri
Nuri is a beekeeper and Afra, his wife, is an artist. Mornings, Nuri rises early to hear the call to prayer before driving to his hives in the countryside. On weekends, Afra sells her colorful landscape paintings at the open-air market. They live a simple life, rich in family and friends, in the hills of the beautiful Syrian city of Aleppo—until the unthinkable happens. When all they love is destroyed by war, Nuri knows they have no choice except to leave their home. But escaping Syria will be no easy task: Afra has lost her sight, leaving Nuri to navigate her grief as well as a perilous journey through Turkey and Greece toward an uncertain future in Britain.

Nuri is sustained only by the knowledge that waiting for them is his cousin Mustafa, who has started an apiary in Yorkshire and is teaching fellow refugees beekeeping. As Nuri and Afra travel through a broken world, they must confront not only the pain of their own loss but dangers that would overwhelm even the bravest souls. Above all, they must make the difficult journey back to each other, a path once so familiar yet rendered foreign by the heartache of displacement.

The Beekeeper of Aleppo is a book for our times: a novel that at once reminds us that the most peaceful and ordinary lives can be utterly upended in unimaginable ways.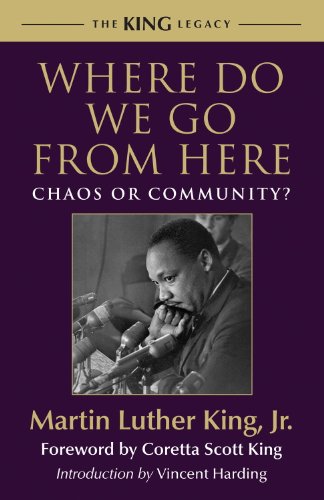 Where Do We Go from Here: Chaos or Community? by Martin Luther King, Jr.
"We are now faced with the fact that tomorrow is today. We are confronted with the fierce urgency of now. In this unfolding conundrum of life and history there is such a thing as being too late. Procrastination is still the thief of time. Life often leaves us standing bare, naked and dejected with a lost opportunity . . . This may well be mankind's last chance to choose between chaos or community." – Martin Luther King, Jr, from the conclusion of Where Do We Go from Here
In 1967, Dr. Martin Luther King, Jr., isolated himself from the demands of the civil rights movement, rented a house in Jamaica with no telephone, and labored over his final manuscript. In this prophetic work, he lays out his thoughts, plans, and dreams for America's future, including the need for better jobs, higher wages, decent housing, and quality education. With a universal message of hope that continues to resonate, King demanded an end to global suffering, asserting that humankind-for the first time-has the resources and technology to eradicate poverty.
In the introduction, Vincent Harding wrote, "Sparked by the young men of Watts, informed by the streets he walked in Chicago, inspired by the magnificently ordinary organizers and community members who faced white rage and fear-filled violence in the Windy City and its suburbs, King was constantly teaching, learning, urging, admonishing— reminding Americans not only of the powerful obstacles in our histories, our institutions, and our hearts, but also calling our attention to the amazing hope represented by Thomas Paine, one of the few really radical, grassroots-oriented 'founding fathers,' who dared to proclaim, 'We have the power to begin the world over again.'"
Born a Crime: Stories from a South African Childhood by Trevor Noah
Trevor Noah's unlikely path from apartheid South Africa to the desk of The Daily Show began with a criminal act: his birth. Trevor was born to a white Swiss father and a black Xhosa mother at a time when such a union was punishable by five years in prison. Living proof of his parents' indiscretion, Trevor was kept mostly indoors for the earliest years of his life, bound by the extreme and often absurd measures his mother took to hide him from a government that could, at any moment, steal him away. Finally liberated by the end of South Africa's tyrannical white rule, Trevor and his mother set forth on a grand adventure, living openly and freely and embracing the opportunities won by a centuries-long struggle.

Born a Crime is the story of a mischievous young boy who grows into a restless young man as he struggles to find himself in a world where he was never supposed to exist. It is also the story of that young man's relationship with his fearless, rebellious, and fervently religious mother—his teammate, a woman determined to save her son from the cycle of poverty, violence, and abuse that would ultimately threaten her own life.

The stories chronicled in Born a Crime are by turns hilarious, dramatic, and deeply affecting. Whether subsisting on caterpillars for dinner during hard times, being thrown from a moving car during an attempted kidnapping, or just trying to survive the life-and-death pitfalls of dating in high school, Trevor illuminates his curious world with an incisive wit and unflinching honesty. His stories weave together to form a moving and searingly funny portrait of a boy making his way through a damaged world in a dangerous time, armed only with a keen sense of humor and a mother's unconventional, unconditional love.

The other five books among the top 10 finalists were: On Earth We're Briefly Gorgeous by Ocean Vuong; The Soul of America: The Battle for Our Better Angels by Jon Meacham; Brother, I'm Dying by Edwidge Danticat; Educated by Tara Westover; and The Water Dancer by Ta-Nehisi Coates.
Readers are invited to send thoughts and comments to the committee as it considers the final choice at maldenreads@gmail.com.
For more information about Malden Reads: One City, One Book, visit maldenreads.org.
Heather Barry is a member of the Malden Reads: One City, One Book steering committee. She is the Associate Director at the Institute for Global Leadership at Tufts University and a Malden resident.