By Martha Bezzat
Bonnie Blanchard contributed to this story.
Behind every cucumber is a vine, and behind every vine is a gardener. Here are stories of Malden gardeners and why they love the green. Some of our interviewees asked that only their first name be used.
Peggy Mixes Flowers and Veggies for Her "Quiet Place"
Walking through Peggy's vegetable garden in Ward 4 brought on salad cravings. Cucumbers vines wrapped around trellises, and green tomatoes seemed to watch as you walked among them. Peggy started gardening 34 years ago and grows her vegetable and flower gardens in her front yard, so they often invite neighborly chats which lead to her sharing her vegetables. Her garden is "her quiet place."
She grows juliet tomatoes, romas, zucchini, summer squash, hot peppers, carrots, cucumbers, pickling cucumbers, early girl tomatoes, basil, cilantro, parsley, romaine lettuce, banana peppers, spinach, swiss chard, kale, green beans, black beauty eggplants, and Japanese eggplants.
She bought raised beds for her vegetable garden from Costco, as well as other gardening supplies, like soil and fertilizer. Peggy rotates her crops and also keeps an eye out for vine borers, a worm that loves squash. Her garden gets "sun all day long" which is great for the vegetables, but she said, "it makes it hard to grow grass."
One of the most challenging things about gardening for Peggy? "I can't come out during the rain, or if it's too hot," so she gardens in the evening hours anywhere between 5 and 9 p.m.
Her flower garden is just as elaborate as her vegetables. She grows hostas, foxgloves, purple moonflowers, daisies, gerber daisies, Columbine flowers, yellow stella d'oro daylilies, dahlias, zinnias, blooming juniper, echinacea coneflowers, rhododendron, azaleas, orange day lilies, purple irises, fuschia thistle weed, lupine, Montauk daisies, phlox, peonies, salvia, and crocosmia.
Peggy's garden renews itself each year. She noted that her "lupine self-sow" and she had to move one with a long root. "The yellow finches get the seeds of the echinacea coneflower," and that while her "yellow stella d'oro daylilies bloom all summer," her "purple irises don't last." She has bouncing juniper as a ground cover at the front of her yard, as well as a fuschia lychnis campion scattered all over, which, she says, "self-sows everywhere." She often tries to buy drought-resistant plants.
Peggy sees lots of bees in her garden, both honeybees and bumblebees. She also appreciates other gardens in her neighborhood, noting, in particular, the changing colors of the hydrangeas across the street. When asked how the community can support gardening, she said she admires when "big companies beautify the intersections" throughout Malden.
The crowning glory of Peggy's garden is the rock wall she built by herself to accommodate a slope in her yard. There's an upper deck and a lower deck, and her neighbor provided a wheelbarrow of rocks with which she formed the wall. She said it's a well-known fact that "Malden grows rocks." It also grew Peggy's "quiet place."
Julie Mangan and a Community of Gardeners
Observing Julie Mangan dash around planting beds and point out ripe vegetables at 7 a.m. on a warm August day, you can easily catch her enthusiasm for, care of, and devotion to the Malden Community Garden. Julie has been the garden's coordinator since 2014, and since 2019, she has received a stipend for her work from Malden Recreation Department. The garden is located along a large stretch of the Bike-to-the-Sea bike path in Ward 5 between Franklin and Faulkner Streets.
In the "Farm" section, one of six sections, volunteer gardeners grow zucchini, eggplant, tomatoes, kale, hot peppers, cherry tomatoes, okra, spinach, mint, collard greens, parsley, and more. These gardeners give 80% of their produce directly to the Bread of Life food pantry and keep the rest. Julie reports that they recently gave 44 cucumbers to Bread of Life, and because the Bread of Life's largest clientele is Asian, they are now growing bok choy, napa cabbage and long beans. There's also a "Snack and Share" area where people walking along the bike path can help themselves to vegetables. The garden is living up to its logo: "Learn, Grow, Give."
The city provides the land for the garden, which is leased from the MBTA, and provides $5,000 annually for supplies, repairs, and tools and stipends. Ward 5 City Councilor Barbara Murphy initiated the idea for the garden, and other important contributions came from Clay Larsen, the project manager for Groundwork Somerville, Mayor Christenson's office, volunteers and Bike to the Sea members, the Malden Redevelopment Authority, Keurig, Inc., and Seeds of Change.
The group has secured several grants, including $500 from Constellation to support the "pollinator" garden and a whopping $30,000 from Blue Cross Blue Shield for educational programs and workshops and to help build the "Farm." The YWCA was the group's fiscal agent for the Blue Cross Blue Shield grant, and moving forward, the Friends of MTEC will assist with grants. "We have complete transparency," said Julie, who has been previously featured on Boston25News for her work and Bread of Life.
The community garden hosts programs for all ages. Its run workshops on the science of gardening, including seeding (which saves money on having to buy plants), tomato pruning, and how irrigation is more efficient and better for the plants. "There's a learning piece for us," Magnan explains. There is now have a gathering space for garden events, with shade, benches, wheelchair accessible tables, and an additional shed.
The garden aims to support Malden's ecosystem. The "native pollinator garden" showcases native plants and flowers that attract pollinators. "If your tomatoes don't get pollinated you're not going to bear fruit," Magnan notes. Programs even teach the importance of pollinators. So even the flower designs "are much more than that," Magnan said.
There are also practical feel-good programs on cooking and food prep, such as a "Garden2Table" cooking class on eggplant parm and a smoothie workshop. And volunteers remember to have fun! They have an annual Haunted Garden, pumpkin decorating, yoga, and a mud kitchen for children. Even children are learning as they garden, Magnan said, reporting that "some children had never seen a worm before!" and one child told her, "This is better than Xbox!"
One silver lining of the pandemic for the Community Garden was it brought them extra help. Teens from the Malden Teen Enrichment Center (MTEC) had nowhere to go during the beginning of Covid-19, so they built the "Farm" plots for the garden. Teens from the YWCA are also very active volunteers, including harvesting and painting the logo of the "Farm" on a cement barrier at its entrance. Other vital groups that support the garden include the Pace Program, Early Birds Gardening Club, Cooperative for Human Services, Chinese Culture Connection, and Eliot Human Services.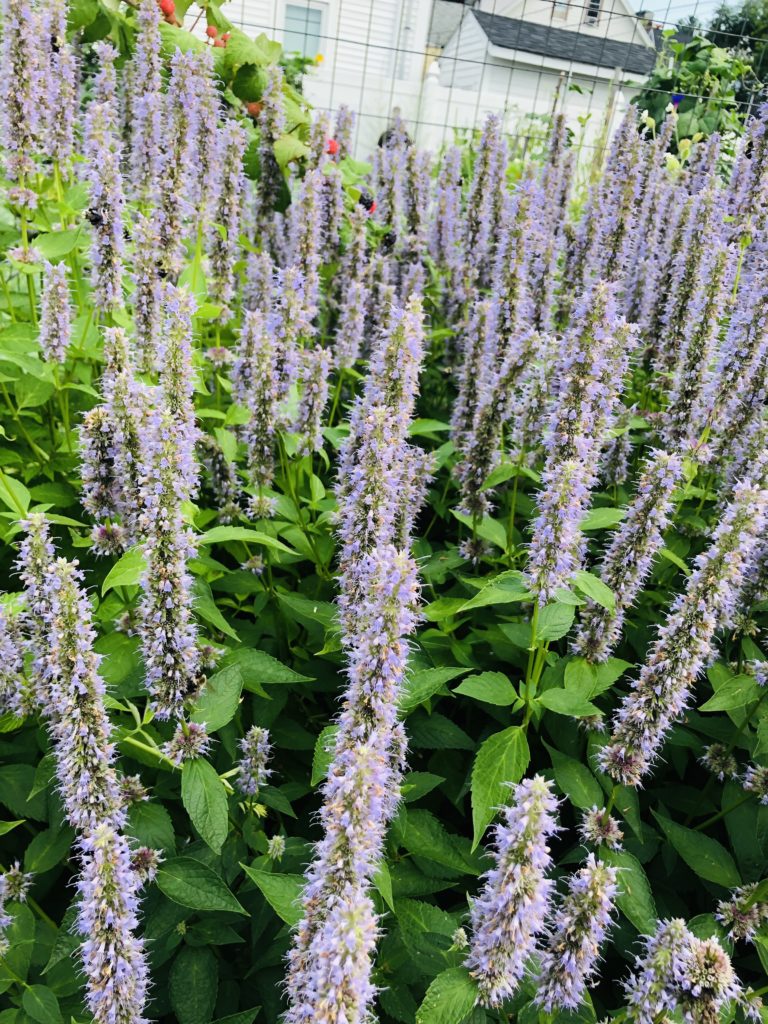 The success of this entire garden is truly in its name: community. "We run on volunteerism….volunteers have passion," Magnan said. Plot renters must agree to a communal obligation of four volunteer hours per season, "but most people come more." Many of their gardeners live in apartments and don't have yards, but have found a second home here. Julie says her husband jokes, "You go down there to socialize and be with your friends," to which Julie acknowledges "I love it here and my daughter grew up here!"
So how does one become a part of this "budding" garden community? A good start is to visit their Facebook page or email Magnan at jmangan@cityofmalden.org. Plots are $30 per season (April-October) and you are provided a plot, dirt, and water. (The garden uses Black Earth Compost and thereby supports an environmentally friendly business.) You supply your own seeds. People generally plant in the fall and come back in the spring.
Although all of the 106 plots are currently full, there's a waitlist and people can expect a plot within two years because of the 10% turnover every year. Julie explains that "Malden is a somewhat transient community, so people move, or don't have as much time to garden every year." People can also volunteer before they have a plot; there are several "Volunteer Days" during the season when they can use help around their two biggest challenges: weeding out invasive species and picking up trash.
But, Julie acknowledges, it "takes discipline" to garden and that the community has monthly meetings where they "talk about costs, and what to do" and they schedule their cleanups and potlucks. Julie loves the process of asking, "What am I going to do this year… it's like a design" and exclaims, "I've got so many ideas, my head's going to burst!"
Roberta/Antonio/Rachele: A Multi-Generational Garden
A treasure of a garden is located in Ward 1 in the backyard of a multi-generational family who have carried the traditions they learned from owning vineyards in Italy. Rachele, her son Antonio, and his wife Roberta have been gardening in Malden for 47 years. "It was a lot of work in the beginning," says Roberta. In the vineyards in Italy they used machinery, but here, they garden by hand.
Antonio is the primary vegetable gardener and grows cucumbers, hot peppers, green peppers, tomatoes, eggplants, celery, onion, basil, parsley, and shell beans. He explains how he "staggers the cucumbers for growth" so that they always have plenty to harvest. He said that when plants are planted at different times — say two weeks apart — they will be ready for harvesting at different times, too. Once, a pepper plant broke in half, so he replanted it amongst the others, and he saw a lot of peppers come out of that plant. He says, "You need time to garden."
Asked how gardening differs in Malden from Italy, Antonio explained that "in Italy, you start planting earlier in March because the weather is warmer, so the soil is ready earlier." He told a story about a giant fig tree his family had planted in a part of their yard. The tree grew so tall, as Antonio tells it, "I would pick the figs off the tree from the 2nd floor!" But they said the tough winters here in Malden were too much for the tree, despite their efforts to save it, and that part of the yard has been paved over.
The precision of their garden reminds one of a vineyard, so it's easy to see the imprint of their Italian traditions. They also have an annual tradition of making their own tomato sauce.
Antonio explained his gardening techniques of frequent weeding, tilling, or turning over the soil, once a year, usually the end of May, or if the weather is warmer, maybe the end of April. He ties up plants during storms for protection and collects rainwater in barrels. Roberta said that "plants are like little babies, you have to care for them." One very important tradition is that Rachele saves the largest cucumbers and tomatoes each year, and after drying out the seeds, plants them, so that it's a self-sustaining garden.
When asked what his favorite part of gardening is, Antonio said, "When I eat!" Roberta explains that "there is satisfaction" when you eat food that you have grown. She says "you can see the difference in fresh stuff" and adds "our tenants can help themselves" and that "every time relatives come, they can take some."
Although the family tradition of gardening and farming didn't interest him when he was younger, Antonio returned to it as he got older, and his children and grandchildren also now garden. Roberta explained that gardening "has to come from the family."
Roberta has her own flower garden, where every year she grows different flowers. She also maintains the plants and bushes in the front yards.
Antonio has chatted occasionally with his neighbors, some Chinese, some Brazilian, about what vegetables they grow. When asked how the community can encourage gardening, he said that they could "teach traditional gardening in schools."
This trio of gardeners shows that motivation, hard work, and some special traditions can lead to an outstanding garden.
Malden Garden Supports Community Building in Guatemala
The backyard, surrounded by tall oak trees that arch forward and sometimes blocking the much needed sunlight, is an oasis in the middle of Malden. A deck that once housed an entertainment area for a swimming pool is now home to dozens of white 5-gallon containers filled with plants. This cheery room of garden plots growing various and sundry vegetables is Ginny-Remedi-Brown's playground.
Curved wooden archways act as support for sweet potatoes, and provide a decorative support system for the beans. A trellis supporting pole beans is nestled amidst various squash and cucumber stations. Alongside this system is a portable raised bed carefully constructed of cementitious bricks and stray lumber without nails. The layered construction resembles a jigsaw puzzle. This bed houses kale, collard greens, lettuces and chives. With one pull of a plank below the soil, the whole garden bed empties onto the ground, thereby making moving the bed so much easier.
A path toward the back garden door is lined with pots of a variety of tomato plants in all stages of development. And in that same corner is a peach tree grown from cuttings of Ginny's father's garden many years ago in Illinois. She has managed to grow and nurture two fruit producing trees.
Gazebos supporting climbing vines built from used lumber spot different places. All manner of crops are produced from seed and gardening in containers can monitor each and every type of plant that may require different growing mediums. Ginny maintains this garden alone with the help of artist/gardener Elena Martinez, who comes in nearly on a daily basis to assist in care. Buckets that catch rain water surround the perimeter to provide water.
There are butternut squash, zucchini and summer squashes, myriad varieties of tomatoes from "Russian reds" to"Little Teardrops." The steady reliable hybrid "1327," cultivated by her father back in Illinois where he farmed, is continued today. Ginny's brother had saved seeds he had harvested one year and she continues to cultivate the seeds every year, and grow them into robust plants. Story has it that "1327" is the tomato used by Campbell Soup. Purple and green peppers, alongside collard greens with kale and lettuces grow in the moveable raised bed.
Ginny enjoys her time in the garden for two major reasons. One, is the joy of eating organically grown fresh vegetables and the gift of quiet meditation that gardening affords. A little time in the garden balances the tensions.
What makes this garden unique is that sales of plants and vegetables go to support a  Guatemala project that Ginny and her wife Fern Remedi-Brown created. Sowing Opportunities, Inc., organized in 2015 and incorporated in 2018, is a project with the mission of cultivating self-sustainability, education, and wellness in rural Guatemala, including the village of Chajmaic, Guatemala. Chajmaic is a remote rural community hundreds of miles from any city. Ginny's and Fern's adopted daughter, Maya, comes from this small community. With the sales and donations from fairs and farmers' markets in Malden and Melrose, Ginny and Fern are raising funds for a greenhouse that would allow the community to be self-sustaining. Ginny and Fern raised $2,000 through sales and donations from three Malden festivals and five Melrose farmers markets
Weekly appearances at fairs and markets also help publicize the urgency of help for this community and its ongoing struggle for existence.
Ginny's garden is an example of mother nature and her ability to help heal on many levels.
This post has been updated and corrected.