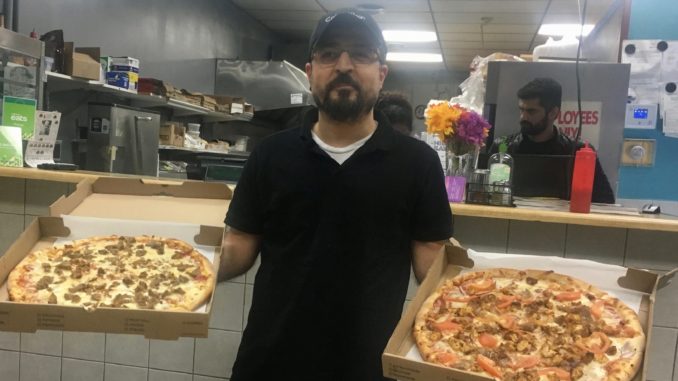 By The Staff of Neighborhood View 
As one of America's favorite foods, pizza has a special place in our collective hearts. Malden is no exception. We estimate there are at least 40 to 45 or shops/restaurants here that sell pizza. Overall, Massachusetts has the 4th highest per capita ratio of pizza restaurants to residents (3.43 per 10,000) of the 50 states, according to Statistica.com.
Pizza is more than a cheesy treat. It is a reflection of the waves of immigration that has shaped America. 
Whether you got your first taste after reading all of your books as part of Pizza Hut's Book It program or during a birthday party, pizza has proved to be a loyal and tasty treat.  It's all the things we love: cheesy, warm, gooey and outright addictive. According to Pizza.com, 94 percent of Americans eat pizza regularly and more than 5 billion pizzas are sold worldwide each year. Americans have typically tried pizza as early as age 2, according to the Chuck E Cheese pizza chain.
Pizza has also become a universal cuisine. Some love thin, crispy New York style, others crave deep dish Chicago style or California style with non-traditional ingredients, like watercress and figs. Pizza styles also range from the Italian styles of Neapolitan and Sicilian to all white-sauce pizza, and Greek-inspired toppings like feta cheese and olives. There are many more variations, often inspired by other food traditions. 
Italian immigrants first brought this old world dish to the United States in the late 19th century.  Many Italians saw it as an inexpensive dish which had been made by relatives back in Italy. This pizza remained relatively unknown to other immigrant communities. That all changed with the opening of an official pizzeria, Lombardi's, in New York City in 1905. Other pizzarias popped up wherever Italians settled (New Jersey, Chicago, Boston, Philadelphia, Connecticut) and quickly made their mark on our taste buds.
Pizza continues to evolve as immigrant and ethnic groups put their spin on an Italian-American classic food choice. Today, ethnic groups ranging from Latino to Lebanese now produce their versions of our favorite food. This reflects changing demographics.  As of 2010, according to Malden's Wikipedia page, 37 percent of our residents were born outside of the United States.
Neighborhood View citizen journalists decided to get a sense of the variety of ways pizza has become a world cuisine here in Malden. It's a tough assignment, but someone had to take a bite. 
Malden's House of Pizza
For brothers, Jean Pierre and Eli El Hachem, who are Lebanese, pizza is in their blood.  As co-owners of Malden's House of Pizza restaurant on Salem Street, making pizza comes naturally to them. Before taking on their own pizzeria, they worked through the ranks at their uncle's pizza shop in the Merrimack Valley while students at the University of Massachusetts, Lowell.
"We had contracts from Merrimack College and our place was number one with them and all the businesses around us," said Jean Pierre. 
After they had managed the business for four years  and were about to graduate from, college, brothers felt they were ready to venture out on their own. With the help of their uncle, they came up with their own unique menu. One pizza reflect Lebanese cuisine: "The Mediterranean" which has a white sauce, cheese, spinach, olives and feta cheese. 
"We make the dough ourselves… We have the highest quality and we use the best ingredients. Our recipes like the Alfredo Bacon Ranch pizza and sweet sauce pizza are original," Jean Pierre said. 
Classic Pizza 
At first glance, Classic Pizza on Ferry Street seems like a typical neighborhood pizza parlor,  but its menu features a twist: a variety of Indian dishes. The scent of both pizza dough and traditional Indian spices engulfs customers walking through the front door. Bollywood music plays dimly in the back. Punjabi artwork and decor line the walls alongside Red Sox posters and Boston paraphernalia.
Krishan Soni, an Indian immigrant and resident of Everett, bought Classic Pizza three years ago and operates the store with the help of his wife, Babita, and his two sons, Ansh and Krish. The Sonis arrived in America in 2009 in pursuit of a "better life," simply "looking for bread and butter." Now they find sanctuary and comfort in the Malden area.
Soni said he had no particular affinity for pizza and purchased the pizza parlor after other opportunities dried up.
A year and a half ago, he introduced Indian cuisine to Classic's already expansive menu to try to make his restaurant stand out from other pizza places. Since Classic is outside downtown Malden, the addition aimed to attract a wider demographic and improve business. By offering ethnic dishes, Soni hoped to bring a piece of his home to patrons.
"Up in Cambridge and the Somerville area, Indian food is very hot right now," Soni said. "But they give you Americanized Indian. That's where the problem is. When someone eats with me, I try to give them what we eat back home."
Soni has been met with requests to use Indian ingredients on pizza, like a chicken tikka pizza. But due to insufficient demand, Classics' pizza and Indian menu remains separate for now.
Soni's recipe for making the best pizzas? "Just be honest," he said. "Make sure you give everybody enough cheese, enough sauce. Don't go too cheap on it. If you're putting more food in it, you're not losing it. You're gaining it back because you're investing into the customer. The customer is your family."
Neapoli Cafe and Pizzeria
Located in Maplewood Square on Lebanon Street, Neapoli Café and Pizzeria has been a neighborhood staple for years. "It's all about knowing your customer's names," said Sehmuz Kaya, who has owned the shop with his business partner since 2009.
Neapoli started off many years ago offering Sicilian pizza (thicker crust) but now the shop offer a more traditional Neapolitan or thin crust style pizza that is made with olive oil and without eggs to make the dough.
Kaya, who lives in Malden with his family, has watched the neighborhood change since 2006 while he made pizza and managed Neapoli. Kaya is of Turkish descent and immigrated from Adana, Turkey, a major city in Southern Turkey known for its kebab.
"I learned the pizza business from my uncle who had a popular pizza shop in Packard's corner in Brighton. At breakfast  [there was a] line  of college kids was out the door and around the corner on Saturdays."
Neighborhood View asked Kaya why he didn't encorporate Turkish cuisine into his pizzeria. "It [Turkish food] just wouldn't taste the same. Also [it would be] too expensive to import the right spices and flavors to do it [authentically]. Kaya said he learned that you have to "focus on what you do best and have a good team" to be successful in this demanding pizza business. He typically works seven days a week to make his business successful.
Popular pies with Neapoli's customers are the Santorini: with fresh spinach, roasted zucchini, caramelized onions, ricotta and fresh mozzarella and the Bourbon Street pizza: blackened grilled chicken, sausage, fresh garlic, tomato and onion. Neapoli is located near many schools and Kaya reports that lunch-time salads and burgers are hugely popular with area teachers and staff.Bra
Kaya's own three kids go to school around the corner. "They come in after school and I give them chores. I want to teach them what it is to own and run a business," he said.
As Kaya was being interviewed by Neighborhood View, regular customer Jennifer Magrone who lives in Maplewood came by to pick up an order for her daughter. "This is the best," said Magrone. "The pizza is affordable, not too much cheese; my husband likes it and my daughter loves the buffalo chicken. They have great customer service and they're friendly."
Casa dos Sabores 
At Casa dos Sabores (House of Flavors) on 298 Lebanon St., you can order traditional pizzas such as cheese, pepperoni and margherita. There are also Brazilian specialty pizzas ranging from Bauru with ham, onions and oregano to Moda da Casa, with kielbasa, chicken, onions, corn, peas, bacon, olives, eggs, and cream cheese.
Our tasters also tried the chicken wings which were  accompanied by piles of  traditional and authentic Brazilian rice and beans. This is a place to go for Acai Bowls, Kibe with Quinoa, savory tapioca, as well as pizza. 
Owner Adailton Costa took over the restaurant about a year ago from another Brazilian owner. Costa had run a restaurant in Brazil prior to taking the reins at Cas dos Sabores. Speaking through his daughter, Hannah, as an interpreter, Costa says, "In Brazil, we have the best pizza with load of toppings. That's why I offer so many toppings on our specialty pizzas." The restaurant attracts a lot of Brazilian customers, but also many Americans and customers of all backgrounds.
Casa de Sabores is also the place to go for late night delivery. The restaurant opens at 5 p.m. but at midnight does delivery until 3 a.m. Costa asserts that the late night deliveries are popular. "It's better for our business," he said.
Reporters Antonia Sheel, Diti Kohli, Karen Buck and Felicia Ryan contributed to this story based on an idea by Antonia. Edited by Anne D'Urso Rose and Stephanie Schorow 
What is your favorite pizza place in Malden? Tell us why by commenting below.