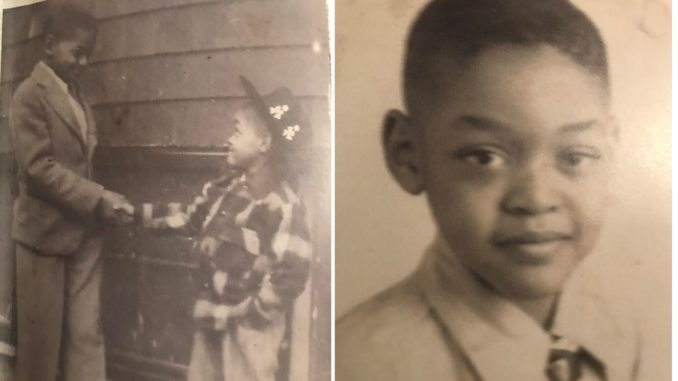 In May 2020, Malden Reads planned to host the Malden Mass. Memories Road Show (MMRS), a statewide, event-based participatory archiving program that documents people, places, and events in Massachusetts history through family photographs and stories stored in a digital archive at openarchives.umb.edu.
Due to the pandemic, the in-person event could not be held. This summer the MMRS team invited anyone with a connection to Malden to contribute photographs and stories online as part of the Malden Mass. Memories Stuck-at-Home Show. Till January 7, you can take part in the online version and submit your own photos via this link.
This is the fourth profile in the series.
"Nothing can stop the power of a committed and determined people to make a difference in our society."
–John Lewis, congressman and civil rights icon
By Marielle A. Gutierrez
The words of the late Rep. John Lewis aptly describe City Councilor Neal Anderson's motivation for entering a life of public service and his dedication to serving the city of Malden. Anderson has served as Ward 7 City Councilor for a total of 26 years but how did he get to where he is today?
Anderson's story begins with his birth on March 22, 1944, at Malden Hospital. For the first two years of his life he lived in the neighboring town of Saugus, but later relocated with his family to the city he calls home —Malden. "Malden was a wonderful place to grow up," Anderson recalled fondly.
During his early childhood, Malden's inhabitants were predominantly white, but this had no negative impact on Anderson, an African-American. . According to Anderson, "Color wasn't a major defining factor in growing up in Malden." The city was filled with immigrants trying to make their way in America and he and the other children got to play with a variety of people.
Anderson's best friend was named Warren George. When Neal turned four years old his family began to let him play in the front of their house and Warren's parents did the same. The two immediately became close friends. They did everything together they joined the YMCA together; they were both on the YMCA's swim team, and when they grew older, they went on double-dates together with their future wives. All in all, they regarded each other as family. The two remained close friends until Warren's passing in 2017. A bittersweet image of young Neal and Warren reminds Anderson of the beautiful friendships he had in Malden.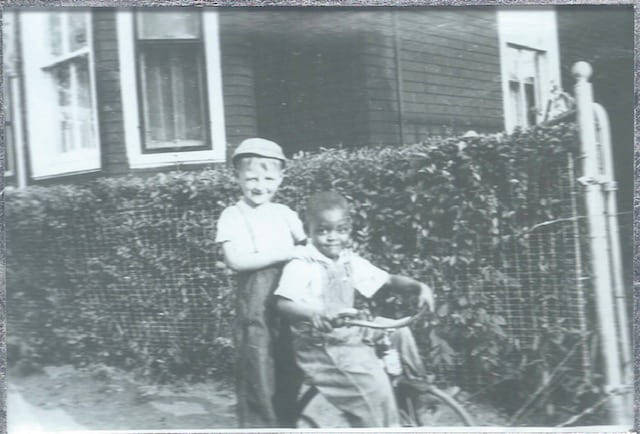 Despite the beautiful friendships and Malden's welcoming energy, the United States and the rest of the world were living in tumultuous times. As soon as Neal became old enough, in 1965, he enlisted in the U.S. Navy. The United States was in the beginning stages of the long war in Vietnam. He was sent to Millington, Tenn., for training in the Navy's aviation division. This was the first time he set foot into the South. This was during the fight for civil rights as marginalized Americans pushed for their rights as citizens and fought against injustice. Culture shock could not even begin to define Neal's Southern experience.
While in Tennessee, Neal made friends with another Black serviceman named Bobby Burns a native from Baton Rouge, Louisiana. The two were heading back to base after a day spent attending church services and hanging out in Memphis. As they exited the freeway, they were pulled over by a police officer. Anderson laughingly admits, "I was probably speeding." When the police officer began to question them Anderson informally responded to his questions. Bobby, frightened by his casual demeaner, said, "Are you crazy? You're not in Boston now. When a police officer talks to you don't answer with 'Yeah'." At that moment Anderson realized how lucky he was to have been raised in a tolerant, welcoming area. He never had to worry that he was a Black man, but others did. They were reminded of that fact every day of their lives.
This encounter and the other injustices, like poverty, he saw during his travels would stick with Anderson even as he entered back into civilian life. Determined to do something to help the poor he started working in human services for a community-based organization, Opportunities Industrialization Centers (OIC). This nationwide self-help organization was founded by Reverend Dr. Leon Sullivan who led boycotts in Philadelphia convincing the community to not buy products from employers that won't hire black people. This selective buying campaign forced employers to open their doors and work with Rev. Dr. Sullivan in creating employment opportunities to those that had been shut out. The Boston branch was one of 140 OIC's throughout the country that provided training and job placement for unemployed and underemployed adult. OIC's motto was "we help those that help themselves." Anderson's first job was to meet with employers and convince them to hire the retrained graduating OIC students. Anderson went on to become the Deputy Executive Director of the Boston OIC that served hundreds of students per year. While working at OIC Anderson enhanced his zeal for social work after he received his degree from the College of Public and Community Service at University of Massachusetts, Boston. All of these events formed the basis for Anderson's passion to become involved in the city of Malden via politics.
Anderson first ran for City Councilor of Ward 7 in 1983. At this time, he strongly believed that, "There is a role for [people of color] in shaping the regulations and shaping the ordinances, and rules, and laws," and this belief heavily influenced how he ran his campaign. Anderson never felt out of place while running for office in Malden. This was home. When he knocked on the doors of white residents, friendly neighbors and lifelong friends opened the doors. The only nerve-wracking part of campaigning was finding the funding to do so. This issue was easily remedied by his friend John McNeil, a seasoned politician who knew the ins and outs of campaigning. Anderson was elected and sworn in in 1984. He served the people for the next 14 years.
Serving the community quickly became a family affair. Neal's wife, Paula, and three young daughters, Joy, Kristy, and Wendy, helped. Neal fondly remembers Paula helping him with campaign designs, color schemes, food selection, and the organization of his city events; she would make sure the citizens of Malden were treated like guests in their home. He also distinctly remembers his daughters helping him at his events: a gathering for the senior citizens at the local senior center. They happily talked to the seniors and catered to their requests and the seniors happily doted on them.
Another event that his family took part in, and has taken part in ever since, Malden's Fourth of July Celebration. Anderson submitted a photo of their first Fourth celebration to showcase his family's involvement in politics. The festivities took place at the Ferryway Green, now the location of Ferryway School; there were pony rides, races, bounce houses, water balloons, and water slides for the children. "It was just good old-fashioned Fourth of July fun."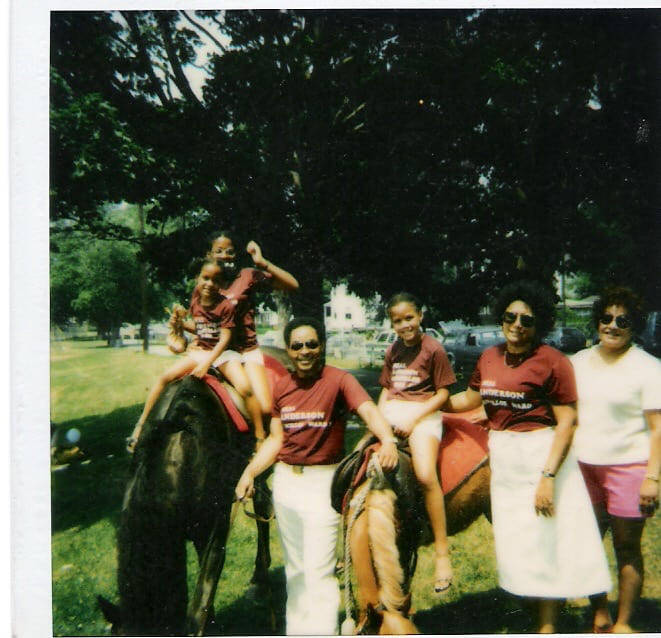 The tradition of having family involved in politics and community affairs continued for decades—even during his 10-year hiatus from politics (from 1998 to 2008), after he lost to another candidate. His daughter Kristy, now a Medford resident and a guidance counselor for the Malden Public School system, continues to participate at these community events. Most recently, she led the 2019 Malden Holiday Parade with her father; helping warm up the crowd for the elves passing out candy and the holiday-decorated floats. They were joined by the next generation of the family, Kristy's daughters: Kendra and Kyla.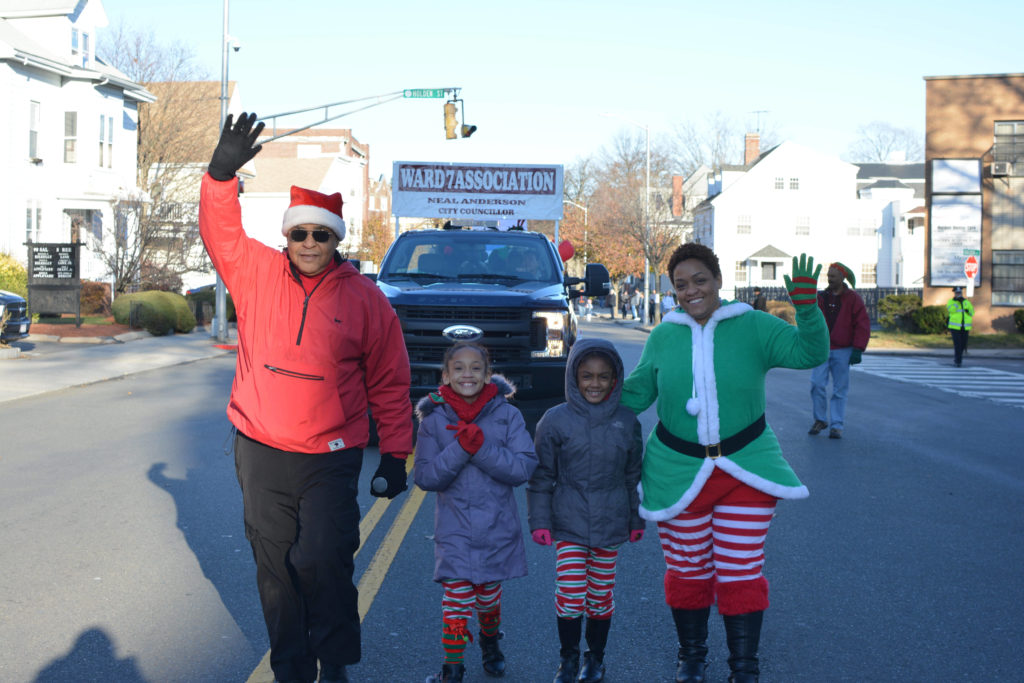 Neal's photos submitted for Mass. Memories capture his childhood , the amazing friends he made over the years, the hard life lessons he learned outside of Malden, and the support of his family.
Read previous profiles in this series:
Malden Memory Makers: Birukti Tsige on culture, family and community
Malden Memory Makers: Ron Cox stands up for history at a young age
And related to the Mass. Memories Road Show
From San Francisco to Malden: My Father's Journey
As soon as it is safe to do so, the MMRS will visit Malden to collect more materials at a live, in-person event. Till January 7, you can take part in the online version and submit your own photos via this link.The program is produced by University Archives and Special Collections in the Joseph P. Healey Library at UMass Boston.