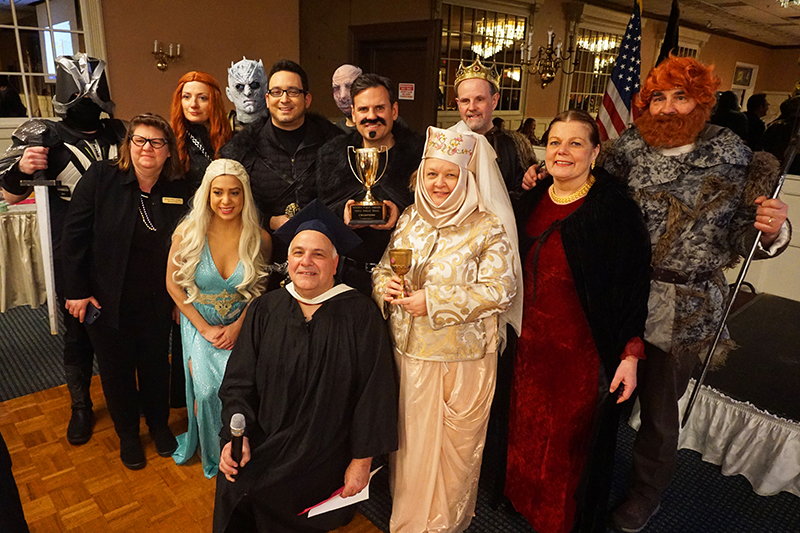 The team from the mayor's office chose a Game of Thrones theme and won the competition as well as an award for Best Dressed Table. Photo by Ziping Wu.[/caption]
By Vekonda Luangaphay
Here is a heads up for the hundreds of Maldonians who turned out to play trivia on Jan. 23, 2020 to support the Malden Public Library at the 22nd Annual Triple Threat Trivia. Reserve your table for next year's competition by Saturday, Feb. 29, and your team will get two bonus points. In this popular and fiercely fought competition two points can make a difference!
"It's a great way to support the library and it's always a fun night," said Frank Russell, a life-long Malden resident who says he is among the first to win the very first Triple Threat Trivia 22 years ago, and has returned for more trivia ever since. Although the game was held in the spacious ballroom of Anthony's of Malden, the large crowd packed the room and bumped elbows with each other. "They're all supporters of the library which is a great thing. I wish we could double this room," Russell said.
Twenty-two tables were set up for 22 teams. Each team represent a local organization or nonprofit, ranging from the Immigrant Learning Center to the Malden Girl Scouts. Teams also dressed in pop culture costumes that ranged from commonly used text emojis and silly farm animal onesies to characters from Black Panther and Game of Thrones. Teams further highlighted their themes with handcrafted centerpieces for their tables. The office of Malden Mayor Gary Christenson won the Best Dressed Table for their Game of Thrones depiction.
"We're here to win. We're always here to win," said Kathleen Manning Hall, the administrative officer for Mayor Christenson. "Our whole crew had so much fun with our costumes. Everyone worked very hard. We work together on the table decorations, and everyone was so looking forward to tonight because it's just fun."
Hall was dressed as Game of Thrones' Sansa Stark, the queen of Winterfell. "We like to participate. It's a lot of fun. It's about community and getting together, community spirit, and just having a good time all around," Hall said, also noting that having fun for a good cause is what gets them coming back every year. "We support the library and we think it's vitally important to our community. So many people utilize it."
The Malden Public Library, designed by Henry Hobson Richardson and built in 1885, is known to be the among the most notable landmarks in Malden. Paul Solano, a longtime resident who co-chaired the library committee until he retired last year, has continued on supporting the library as the Trivia Master for this fundraiser.
"It's a great way to support the Malden Public Library, have a fun time meeting new people, and just making it happen for the public library," Solano said. Having spent many years raising awareness of the Malden Public Library and its abundant resources in the Malden community, he admired the great enthusiasm and spirit for a great cause in the ballroom in the totally packed ballroom.
Although it would be tough to squeeze more than 25 tables in the ballroom, Solano said he would be open to seek out options. "The more the merrier. If we have to expand then we'll do it, because it supports the Malden Public Library."
The Triple Threat Trivia fundraiser is always held on the 4th Thursday in January; Solano says this is one of those great things to break up the winter. "We've never been cancelled actually. People have come here through snow and ice and the show has gone on," Solano said.
Outside the ballroom were collages of photographs showcasing previous Triple Threat Trivia nights and its past winners. During dinner and intermissions, Maldonians gazed at the pictures that dated as far back as 2007.
"Everyone is having a fun time and we look forward to number 23," Solano said.
Are you ready to match wits with the best of Malden? The 23 Annual Triple Threat Trivia will take place on Thursday, Jan. 28, 2021. To receive two bonus points for next year's game, mail or drop off your check of $380 for your team by Saturday, Feb. 29. Please note the $20 price change to cover increasing costs for the event. Checks should be made out to "Malden Public Library" and mailed to: Malden Public Library, 36 Salem St., Malden, MA 02148. Call 781-324-0218 or email Jean at jslavkovsky@maldenpubliclibrary.org with any inquiries.