By Martha Bezzat, Fern Remedi-Brown, Laura Cummingham, Susan Margot Ecker, Nikita Sampath
On Saturday, Dec. 4, the sidewalks of Pleasant Street were lined with about 55 local artists and craftspeople, eager to share their wares with Malden residents as part of the first Winter Festival, sponsored by the City of Malden.
Malden Reads held its 2022 season "kick-off" event during the festival in the J Malden Center lobby. The group hosted poetry readings from local poets, children's activities, dance videos from local dance group Monkeyhouse, and a raffle. J Malden Center also hosted the Chamber of Commerce's 130th Anniversary closing event, which provided history and hot chocolate for crowds seeking warmth and nourishment from the cold weather.
The event had the dual goal of "bringing customers back to our downtown to support our businesses and [giving] our residents an outdoor activity to enjoy themselves safely," said Kevin Duffy, the Strategy and Business Development Officer for the City of Malden.
However, a runaway car parked on Pleasant Street momentarily shook up the festive atmosphere when it began to roll, went through a red light, crossed the Commercial Street intersection and hit several parked cars. Bystanders screamed and shouted, but co-owner of Paws and Purrfection, Ralph Long III, jumped into action, chased down the vehicle and managed to bring it to a stop. No one was hurt. Long was hailed as a "hero" by a festival-goer and Ron Cox, Executive Director of UMA, interviewed him. A festival goer, unaware of the incident, later commented to Neighborhood View that: "It would have been nice if they closed the street to make it more friendly to families and more handicapped accessible."
Despite that incident, festival-goers enjoyed shopping at stalls that had everything from scented soaps and holiday decorations to hats and scarves, as well as fine art and pottery. Malden Reads kicked off its new season with poetry readings, children's activities, and sales of the book selected for 2022, An American Sunrise by Joy Harjo, the first Native American poet laureate.
On hand were experienced and new artists. Daniela Cho, who moved to Malden in June, started making earrings as a pandemic hobby, but started selling at markets in Boston this year. In September, she turned her craft into a full-time business, Bezalel and Company. At the festival, she was selling her earring designs.
Another booth was a family affair. Two sisters, Hannah and Zazu Janoowalla, and their mother were selling vintage and handmade Kenyan art and brightly colored upcycled clothing, with African fabric cutouts in the shape of the continent embroidered onto their apparel.
Linda Dolph, a printmaker and scarf weaver who is one of the artists at The Gallery@57, braved the cold, well-equipped with warm clothing, commenting that since the COVID-19 pandemic started in 2020, she is now eager to interact with people again.
One of the attendees who came to Dolph's booth, Malden resident Becca MacKenzie, said, "It feels really good to know you're buying things from people who made it." MacKenzie was dog-sitting Rangeley, age 6 months, who also seemed eager to be there.
Referring to Dolph's cards generated from her prints, Naomi Kahn who runs a print shop said, "Linda is part of my card stock!"
Carolers, dressed in Victorian-era clothes, and people costumed as Elsa from "Frozen," Jack Frost, and the Grinch mingled with stilt walkers and jugglers. A DJ played pop Christmas songs and festival-goers could memorize their attendance with a free SelfieBox. The event finale was a short performance by international opera star and Malden resident Natalja Sticco, whose voice swept through the air in the late afternoon.
Via Instagram, Mayor Gary Christenson said, "Malden's own @natalja.sticco was the perfect ending to the first annual @cityofmalden Winter Festival!" 
Check out the video playlist for Malden Winter Festival on UMA's YouTube channel!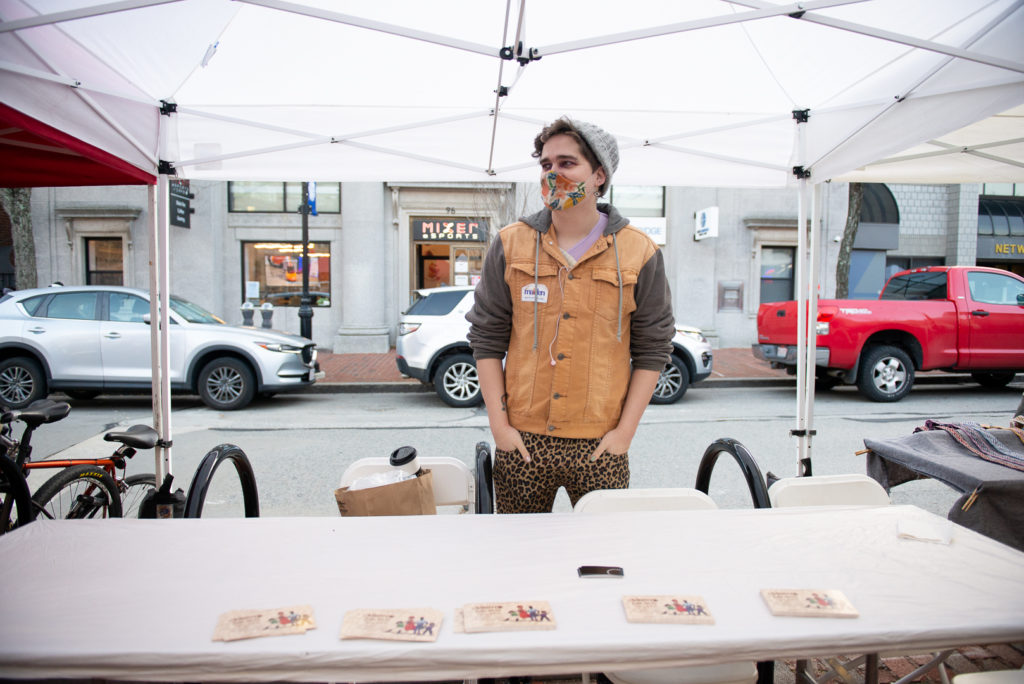 This article was co-written by students in an Intro to Citizen Journalism class offered by UMA (Urban Media Arts) and edited by Stephanie Schorow and Saliha Bayrak. To join our citizen journalism team, contact anne@umaverse.org for more info.