By Jack Drees
The Haitian community in Malden has a heritage rich in tradition, art, and food and a culture built on resiliency and determination.
Massachusetts now has the third highest concentration of Haitian-born immigrants in the United States, after Florida and New York. Of the 86,000 Haitians in Massachusetts, most live in Malden, Somerville, Boston, Randolph and Brockton.
This city is home to many Haitian-owned businesses, ranging from restaurants to retail to cultural expression. These are the stories of three of them.

"THE ISLAND" RESTAURANT: CHANTAL QUESSA
Chantal Quessa, the owner of The Island. Photo by Jack Drees
Malden is not just home to one of the larger Haitian populations in Massachusetts, but to various Caribbean restaurants, including The Island, located on 118 Ferry St.
Opened in April 2018 by Chantal Quessa, this restaurant calls itself "A paradise for everyone!". "Everyone" refers to those in Malden, Massachusetts, her family and others.
The front exterior of The Island, located on Ferry Street. Photo by Jack Drees
Quessa's passion for cooking started when she became a parent. Every week, she would provide "a big Sunday dinner" for her family and friends. In response, those who enjoyed her meals gave Quessa a bold idea to take her passion and turn it into a business. She went back to school and earned a master's degree in management.
As the master of The Island, Quessa serves her customers with pride. Her customers savor dishes like pork, goat, and jerk chicken.
A dining room, complete with tables and a half-booth. Photo by Jack Drees
"One restaurant: One city" serves as The Island's motto. Quessa has owned her restaurant for less than four years, but she has lived in Malden for 25 years. She hopes to share the joy of community in her restaurant. "Malden feels like home, because I spent most of my time here," Quessa said. She has as much community ties to Malden as she does to her home country of Haiti.
Quessa would take her kids to a restaurant every Friday night. Her family was hesitant to commit to eating at a Haitian restaurant. Part of the reason was the atmosphere. One reason why Quessa is proud of The Island is for its commitment to not only serve customers quality Haitian food, but the opportunity to immerse themselves into a lively, fun environment where they can be by themselves, with friends and family. She uses the atmosphere as a selling point. She says The Island "is the first Haitian restaurant in Malden to have a full bar."
The full bar sets The Island apart from its competitors. Photo by Jack Drees
Restaurants like this come few and far between, because while there are other Haitian restaurants in Malden, the only other nearby Haitian restaurant with a full bar is in Brockton, according to Quessa.
Quessa recommends one night of the week above any other to experience nightlife at The Island. "It's lit on Saturdays," she says. Saturday nights are not just for enjoying local Haitian cuisine, but for jamming it out while listening to a DJ. Partygoers and hungry customers alike are welcome as long as they are at least 21 years old.
The party was crashed in 2020, by COVID-19, which affected the business model of restaurants like The Island, which is primarily set up for in-person dining.
COVID-19 has taken a hit on The Island, but Quessa finds ways every day to satisfy her customers. The restaurant is open for indoor dining but the food is also available through Doordash and Grubhub for those who want to stay home. Even though the restaurant has a customer base that likes to come in and sit down, Doordash also has regulars for take out. "I've never seen their faces, but I've seen their names all the time," she said.
Floor stickers indicate COVID safety protocols. Photo by Jack Drees
Quessa does not see a return to the past. She sees each day as a sign of the new normal. One switch she sees as a positive is the change in hours. Prior to COVID-19, The Island would be open every day until 11 p.m., but now they shut doors at 9:30 p.m., with the kitchen closing 30 minutes before.
"One restaurant: One city" may appear to be a marketing slogan but has more meaning than meets the eye. Quessa considers Malden her home, and in a way, an "island" of hers. The Island has a singular location in Malden, and the local roots are part of why Quessa would not want to open a second spot anywhere else, despite push from others. She also says that opening and operating a restaurant is "a lot of work."
Haitian pride hangs high at The Island. Photo by Jack Drees
In the first two years of running The Island, Quessa remembers being incredibly busy. She was never home or with family. She spent so much time committing to her craft that it got in the way of her personal life.
The Island is soon approaching its fifth year in operation, which excites Quessa because not only is her passion still in the business, but she believes that "things kind of settle down" in year five.
Referring to her cooking, Quessa says, "Everybody used to say, 'You do this all the time, why don't you make something out of it?'"
That "something" became The Island.

NATRALEE: EUNICE CHARLES
Eunice Charles, Founder of Natralee. Photo by Kevin Thai. Used with permission.
Eunice Charles founded Natralee, her skin and body care company, in part as a solution to her own personal health problem.
When she woke up to patches of altered skin all over her body, a doctor diagnosed her with eczema. While Charles said that eczema is not something you can entirely control, the breakout was based on stress from living 500 miles from home, working many hours and living an overall unhealthy lifestyle.
"My life choices had these impacts that I was not aware of before. …A lot of the products I was using on my skin did not really align with my values," she said.
Charles's values were to feel and look healthy, and also to preserve the environment. So she began tinkering with skin products and shared them with friends. They asked for more and eventually Charles launched her company, Natralee. Her values are attached to each product she makes today.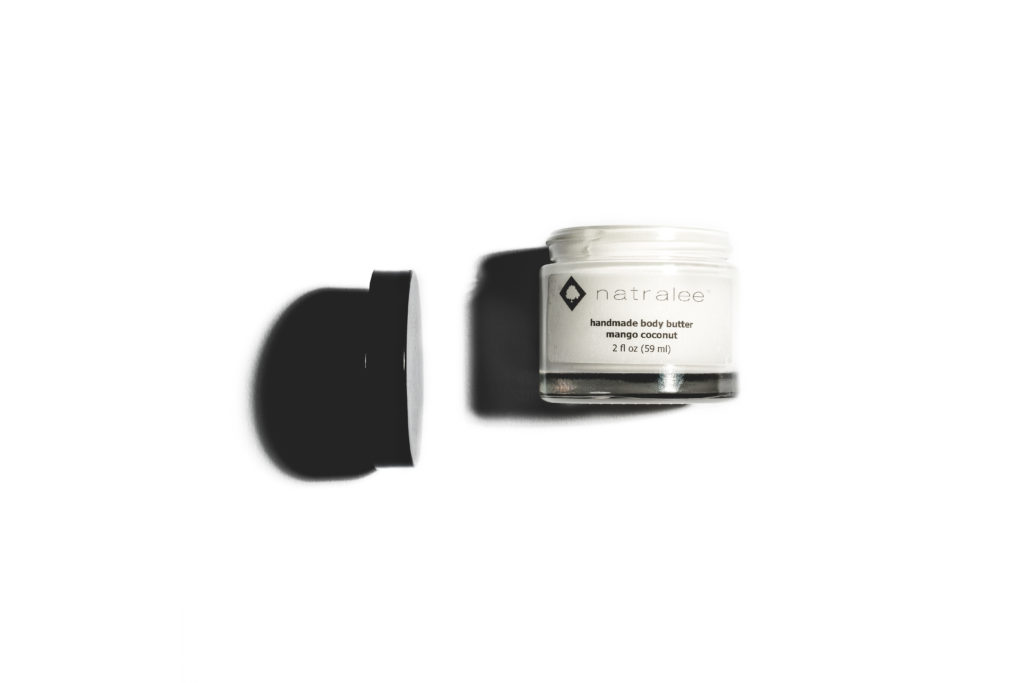 One of the many handmade body-butters Charles sells both in-person and online. Used with permission.
As the website suggests, "all-natural," "sustainable," and "community centered" are three elements that make Natralee a go-to source for body butters. Charles has sold her products with the intent of preserving the environment while also doing the same for Haitian traditions. Herbs and spices, which Charles uses in her lineup of products, are a part of her Haitian lifestyle.
When Charles is not busy infusing local ingredients , she sprinkles in others from around the world. Her shea butter comes from Ghana, her sandalwood comes from India, her lavender comes from France and the United States.
"Even though they come from different parts of the world, most of the ingredients arrive by ship," she said. This allows for a lower carbon footprint than that of a plane, fulfilling Charles's promise to sell her products and her message to keep the world green.
Natralee reflects Charles's Haitian descent and she looks for ways to partner with people from Haiti, either through the ingredients or manufacturing.
For Charles, it has been a challenge to maintain the quality of her product given political issues in Haiti. although she gives back to the community by supporting non-profit organizations that support people in Haiti.
Lavender body butter, from the top, the side, and the stained. Used with permission.
Like a new pair of shoes, Charles hopes her products help customers not only look and feel better, but feel transformed, while remaining the same person.
"If I am able to do something to help someone feel really comfortable or beautiful in their skin, they can step out in the world and just be an ideal version of themselves. That is amazing," Charles said.
While Natralee products are primarily sold through online venues, it is available in multiple stores around Massachusetts. Whether it is a pop-up shop at Assembly Row in Somerville, the Emerald City Plant Shop in Norwood, or CONRADO Studio located on Martha's Vineyard, Charles welcomes any way she can grow her business.
Before COVID-19, Charles says most of her sales happened at in-person events. COVID-19 brought cancellations to Natralee's in-person events, therefore affecting the company's projected income. However, the company had already created a loyal base of customers that continue to support her.
"People were intentionally ordering and supporting the business because they knew it was a hard time. It was beautiful to see the Natralee community come together and seeing people want this business to succeed. There was a huge impact," Charles said.
The unpredictability of COVID-19 has taught her to be nimble. Charles hopes to increase the number of physical locations that carry her products and sees taking her products to stores, farmers markets, or conferences. While she would like to have a more permanent space in the future, she also hopes to have more locations in Malden where people can buy her products.
Used with permission.
"I often think of myself as a social entrepreneur. I want the work that this company does to specifically, directly impact communities in a positive way," Charles said.
That impact has also been delivered to her loyal customers, who have helped Charles during hard times. On days when she wonders why she is running her business and why she did not take her life in another direction, a customer will send her a note that will remind her of why she does what she loves. Charles wants to make her customers feel better, and when a customer reminds her of what she has accomplished, she feels she is doing the right thing.

JEAN APPOLON EXPRESSIONS: JEAN APPOLON
Jean Appolon, Artistic Director and Co-Founder of Jean Appolon Expressions. Photo by Stephanie Scherpf. Used with permission.
Few traditions bring people together, both physically and spiritually, like dancing. It is an art that combines music, movement, and for Jean Appolon, healing. Appolon, owner of Jean Appolon Expressions, finds healing in traditional Haitian dances as it helps mend his wounds from the major events of his life.
Between the death of his father, the events of Sept. 11, 2001, and an earthquake in Haiti in 2010, Appolon used dance to heal himself and forget the problems from one day to another. To him, dance is more than an escape, it is "therapy of understanding how I can move on," he said.
"I felt like dance really helped me to keep on moving and keep on rehabilitating my life," Appolon said.
Jean Appolon has taught his Haitian dance traditions throughout his adult life, bringing a personal touch into a traditional art form.
Dancers perform for a crowd at Ouveti, October 2021. Photo by Keren He
Appolon teaches his dances rooted in Haitian traditions to participants in a Cambridge studio, but he occasionally leaves the studio to engage with other parts of the public, allowing for a potentially wider audience. Maldonians may already know Jean Appolon's Expressions as a highlight of the city's Ouveti event, which happened in October, 2021. Malden is not the only city where Appolon shows off his dance traditions; he often takes himself and his dancers to the streets of Cambridge, Boston, or anywhere else they can go.
Appolon enjoys sharing his roots across the United States, but as the saying goes, there is no place like home. "We also go to Haiti every year to do this kind of programming," Appolon said.
The unpredictability of the COVID-19 pandemic reminded Appolon of his time in Haiti. Appolon's father was killed in Haiti in 1991. COVID-19 harkened Appolon back to this tragic day as his mother became ill with the virus that had not yet been named.
During the pandemic, Appolon had to spice things up for his business. Similar to every other educational environment that normally took place in a physical location, Appolon Expressions had to transition to the virtual space of Zoom. Appolon also utilized social media platforms including Facebook and Instagram. Appolon's new virtual presence allowed international students to learn Haitian dance, with people tuning in as far as Iceland, Ireland, and Spain. When he was not teaching people through screens, he would also teach people outdoors, either in the park or on the street.
A student partakes in the Jean Appolon Summer Dance Institute. Photo by Stephanie Scherpf. Used with permission.
During his classes, the attendance levels, whether in person or virtual, were good. On a bad day, 55 people would show up. On a good day, usually on Saturdays, he has seen up to 125 eager dancers willing to participate. Age has no boundaries in Appolon's class. Some classes feature students as young as two months old, and people in their 90s also show up to classes.
On Appolon's website, jeanappolonexpressions.org, there is a GIVE page where people can donate and support the organization. According to Appolon, the donations go toward Haitian causes, keeping the dancers alive, and apprenticeship programs for children and teenagers, among other things.
Two dancers stand apart and mirror each other in a routine at Ouveti. Photo by Keren He.
Despite his success, Appolon does not see what he does as a business. To him, it is a culmination of his culture and passion.
"Sharing is knowledge, and being able to come to dance together and share space together, it is something that will bring us closer to each other, and brings a community better," Appolon said.
As part of Global Arts Live, Jean Appolon Expressions will be performing at the Institute of Contemporary Art in Boston on Friday, May 13. Appolon will join a livestream on Thursday, May 5th discussing historical trauma through slavery and healing the body and mind through expression.
This article is part of a Community Spotlight series exploring the contributions of cultural communities in Malden. See:
Community Spotlight: Brazillian businesses and organizations
Community Spotlight: Asian business and organizations
Other related stories in Neighborhood View:
Why do Haitians eat squash soup on New Years Day?
For local Haitians, the pain of tragic events in Haiti continues