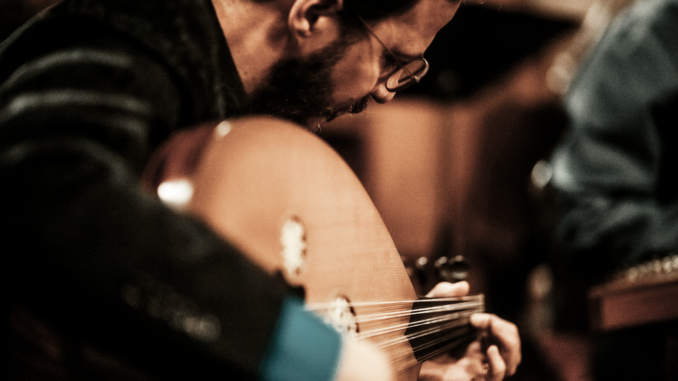 By Madiha Gomaa

Earlier this summer at St. Paul's Parish in Malden, upright bass and trumpet collided with zikr, a Sufi tradition based on repetition, creating mesmerizing music from internationally renowned percussionist and composer George Lernis.

The occasion was a June 16 concert that launched Lernis' new album "Between Two Worlds," which weaves his Middle Eastern/Mediterranean musical traditions into his jazz composition. He has been dreaming about creating this fusion for years. Finally, he got to see his dream come true. Lernis chose Malden for the album release concert because of the city's long history of welcoming immigrants from all over the world, making it one of the most diverse cities in the Commonwealth.

The album's metaphoric name, originally inspired by a Sufi poem from the 15th century, holds more than one meaning. The two worlds could be jazz and Mediterranean music, or home country and the U.S, or both of these. For Lernis, this album is about his journey as an immigrant. "It's about depicting my journey and rediscovering myself as an immigrant and artist," Lernis said.

Lernis, a native of Cyprus, has been into music since he was a kid. He grew up surrounded by traditional Mediterranean music and percussion instruments. But he fell under the influence of a completely different kind of music: jazz. His love for jazz started when he attended a performance of an American jazz musician in Cyprus. Lernis was 13 then; it was the first time he was introduced to jazz. "I really liked the sound of it. The texture was completely different," Lernis said.

He took this music crush seriously and started jazz lessons with a private instructor, which made him like jazz even more. In 2001 at age 20, he decided to pursue his passion and study jazz for his bachelor's degree in the United States.


He received his bachelor's degree from Berklee College of Music. Now he's teaching music at the same institute. Two years after receiving his bachelor's, he recorded his first album, "pure jazz" as he described it. At this time, Lernis focused only on studying jazz and performing jazz. Later, he started thinking about the music of his home country and what it meant to him as an immigrant from the Mediterranean region, and how much it contributes to his identity. This realization led Lernis to merge his love for jazz with his appreciation for Mediterranean traditional music.

Creating this fusion became Lernis's new passion. "Jazz is a fusion of two musical traditions: African and Western. So why not do the same thing with jazz and Mediterranean music," Lernis said.

Lernis moved to the U.S. before the attacks of 9/11. Although Cyprus, located in the Mediterranean Sea, has much in common with countries in the Middle East, especially music. Lernis acknowledges that he was still a white European Christian immigrant whose first name is George, making his immigration experience at that time relatively easier compared to a brown Muslim immigrant from the Middle East. Yet, he was aware, concerned, and mindful enough to the point that he was triggered by false stereotypes, distorted narratives, and shallow representations of the Middle East in Hollywood and the mainstream media. He was dismayed at how the film industry portrayed the region as a desert and would incorporate random, irrelevant music and soundtracks, anything that would sound Middle Eastern without considering the correct microtonal scale and without real knowledge of the music that would actually fit there.

This made Lernis cautious when creating his fusion. He wanted to be as respectful as possible to both musical idioms: jazz and Middle Eastern/Mediterranean music, and not to misrepresent it or misuse it in a way that would feed the stereotypes he hated. "I read, studied, and did thorough research. Suppose someone from the Middle East asks why I am mixing Islamic practices-related music with jazz. At this point, I can comfortably explain that I'm doing this out of respect and appreciation for both traditions," Lernis said.


Another reason that encouraged Lernis to create this fusion was that he noticed that his international students who come from different countries often try to cut all ties with their musical traditions and heritage, believing that abandoning all of that is part of the process of learning new types of music, something that young Lernis did at the beginning of his career as a musician and described it as "immaturity."

"When they come to Berklee to study music, I ask where they are from, then ask them to play something, and they intentionally play something that has nothing to do with where they come from," Lernis said. "I be like, now bring me some of that stuff from Morocco, and when they do, it's amazing. I get to see their personalities."

So, when Lernis introduced his students to this new recipe: marrying these two types of music, they loved it, and it encouraged them to embrace their culture, music, and traditions. Not only did his international students realize how important it is to hold on to their musical traditions, but many of his American students who heard Middle Eastern music for the first time liked it so much that they wanted to pursue it. This has always made Lernis proud because one of his primary goals is to introduce the west to the rich Middle Eastern music. "If someone comes to Berklee to study jazz, and then you have him study something completely different like Middle Eastern music, that's an achievement," Lernis said.

After a lot of research, writing, composing, and reaching out to artists, Lernis launched "Between Two Worlds." The album features artists from different musical traditions and backgrounds, including his mentor, Turkish pianist Mehemet Ali Sanlikol.


Lernis believes that he would not have been able to work on his album anywhere else other than in the U.S. He explains that it's challenging to find talented professional musicians who are bilingual and aware of different musical cultures to the point that they would understand what he is trying to do and be able to add and contribute to it. But because of this country's diversity, he found artists who, without them, "Between Two Worlds" would have not have seen the light. "We live in a country where we can find talented artists capable of anything. It's a great musical environment for ideas to grow. It's amazing," Lernis said.

The Cyprian artist considers his new album a combination of music and social activism. He seeks to introduce the western audience to a better representation of the Mediterranean musical tradition and highlight the contributions of immigrants to this country by having an immigrant guest speaker at each of his concerts. The guest speakers at his concert at St. Paul's Parish in Malden were Souad Akib, Founder of the American Association for Arab Women (AAAW), and her husband Abdessamad Zouhir, who is also a part the AAAW.
He also hopes, through his music, to bring people's attention to important causes. "My first song on the album is a poem dedicated to Syrian refugees. It's called 'Prayer,' " Lernis said.

Lernis hopes to promote this album around the U.S. to highlight the Middle East's beautiful musical traditions and cultures. It's important for him to reach out to immigrant communities in different states and give them a platform to talk about their journey and introduce the audience to their community and culture during his concerts. He also seeks to collaborate with different universities and academic institutions with music programs hoping to give workshops and sessions to introduce students to Middle Eastern music.

"I want to involve immigrant communities in my music and give them a voice. I want them to be able to talk about what they bring to this country," Lernis said.
You can listen and purchase the "Between Two Worlds" album here: https://dunya.bandcamp.com/album/between-two-worlds
Listen to George Lernis's interview with WBUR's Radio Boston here: https://www.wbur.org/radioboston/2022/06/16/george-lernis-between-two-worlds-jazz