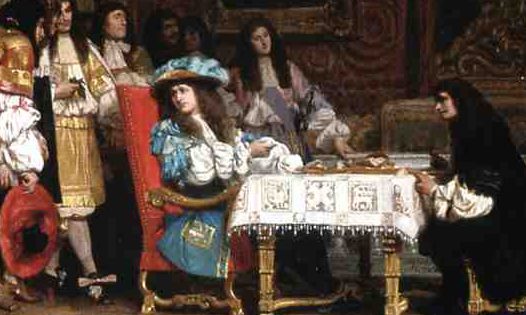 By Jennifer McClain
This is  another in a series on "Treasures at the Library." Please note that direct photographs of artwork at the library is not permitted.
The Malden Public Library's art collection continues to astound us with an imaginary meeting between two of France's luminaries: its most famous playwright and the monarch known as "The Sun King." In the painting "Louis XIV and Moliere," by Jean-Leon Gerome, Louis XIV is pictured as sharing a meal with Moliere. This remarkable work was purchased by the library in December 1940 with funds from the Elisha and Mary D. Converse Art Fund and represents one of the library's most notable acquisitions.
Gerome, born in 1824, used his imagination for this painting as  Moliere died in 1673 and Louis XIV in 1715 and he  completed this painting in 1863. Yet the two imposing figures in French history did have a complex relationship.
Louis XIV benefited greatly from the belief in  divine monarchical rule. At the very young age of 4, he became France's supreme ruler and went on to make France the leading European power. Louis XIV, placed in the center of this painting, is bathed in light as if he was the center of the universe with an engrossed audience behind him straining to catch every word.  By contrast, Moliere seems isolated at the table, dressed in dark colors and seemingly in shadow.  Yet this raised a paradox, Moliere wrote many farcical plays that poked fun at the bourgeoisie and derided those who were pompous. The king who was believed to be descended from heaven would seem a prime candidate for that derision.
But due to this or despite this,  every year for at least 10 years Moliere's works were staged in Louis XIV's court. The painting may be depicting Moliere explaining his latest work to Louis who used culture to create a community among the wealthy and powerful that left many artists feeling indebted to him. Yet, it is historically obvious that Moliere was very comfortable with the king so much so that he used Louis's liaison with Mme de Montespan as the subject of the couplet in his Amphitryon.
Although  Moliere appears outnumbered on his side of the table, he is leaning in while the King seems to be seeking council from behind. Moliere was very astute at adjusting his works to please the king and would allow the king to make suggestions; he also recognized what type of performance would please him. In turn, this allowed Moliere to have favorable patronage and lavish costumes, sets, and large performances at his command.
The king, himself, was sometimes  an actor in the plays and at other times the play referenced his majesty. The king enjoyed blended works like ballet and a play or opera inside of a play. These blended works forced Moliere to work with other artists which proved difficult. The way Moliere is slightly leaning suggests that he was getting ready to pull back and demand more of his art take center stage.
The height of theater in King Louis's court was in the 1660s. Therefore, we could assume that this dinner was around that time which makes Louis around 22 and Moliere around 38. Being older, Moliere may have given the king more confidence when he agreed with the monarch's ideas for his productions and in turn, Moliere, was paid handsomely and allowed to keep a large troupe of paid actors.
Jean-Leon Gerome (1824 – 1904) was also at the height of his career in 1863 when he completed this painting. Finally elected to the Institut de France and already a knight in the Légion d'honneur. He became an officer of the Légion  in 1867, honorary member of the British Royal Academy and the Grand Order of Red Eagle, Third Class of Prussia. His fame went beyond his home country of France. He was also married in 1863, the same year that he painted "Louis XIV and Moliere," to Marie Goupil. She was the daughter of a dealer and print editor and that most likely enhanced both his personal and business life.
Gerome's paintings had a photographic realism that had greatly matured by the time of this painting. With his success as an artist in the mid to late 1860s; he moved on to creating more sculptures starting in the 1870s. So not only is "King Louis XIV and Moliere" at the height of Gerome's fame, and the happiest of his personal life, it may be one of the last paintings he created.
"Louis XIV and Moliere" has been exhibited Musee d'Orsay in Paris, the Dahesh Museum of Art, in New York City,  the Hong Kong Heritage Museum in Hong Kong, and the Norman Rockwell Museum in Stockbridge. Its image has appeared in many published catalogs and books.
The Malden Public Library owns a varied collection of artwork, which is housed in three art galleries in the Converse Memorial building. For more information, visit the library's website. 
For other stories  on art at the Malden Library see here, here, here, and here,