Generations are often defined by key moments in history. How will the global pandemic we are now experiencing shape this young generation? What will they – and the rest of us – remember in the decades to come?
With the help of an energetic group of interns, Neighborhood View embarked on a project to interview young Malden residents about their life during the pandemic. These citizen journalists interviewed residents in their late teens, 20s and 30s, and collected stories that crystalize this moment in time, from the mundane to the momentous.
Here is part three of an ongoing series. Read part one here and part two here.
Matthew Mijares: Graduation by parade
By Masio Dotson and Kamila Rodrigues
For Matthew Mijares, May 31st was to be the day he walked across a stage and celebrated completing high school with his fellow classmates. Due to COVID-19, May 31st will look a bit different. Seniors will put on their caps and gowns, stand outside their homes, and wave to their teachers as a parade passes through the streets of Malden, congratulating Malden High seniors for their once in a lifetime accomplishment. Graduation is one of the many events that have been made unconventional for Matthew and his classmates.
Matthew, an 18 year old from Malden, is a YMCA leader who promotes leadership and community involvement within one of the biggest extracurricular clubs at Malden High School. When he's not doing schoolwork or participating in his extracurriculars, he's working at Domino's. Before COVID-19, Matthew had a vision for his senior year of high school. He planned to perform at the MHS show: "Dancing With The Teachers" and participating in Mr. MHS. He planned on attending his senior prom. Now, prom has been unofficially pushed back to August.
In a normal world, Matthew would start college in the fall at Boston University. Like most universities, Boston University administrators are unsure if the university will return to in-person classes in the fall. With his semester up in the air, Matthew now plans to go to BU for the spring semester that starts in January 2021, and will spend his fall semester taking classes at UMass Boston. Come winter, he'll have his orientation, which may be moved online. Once at BU, Matthew will start on an undecided track, and move towards Biology and Environmental Science programs.
Until then, Matthew, like so many other teenagers, is finding creative ways to fill up his time. He has been exploring more of his Filipino culture through food. Matthew is also staying active by finding various ways to work out. "It's really hard to get motivated to do it because you're home and there's so many other distractions," says Matthew. Matthew purchased a resistance band set and is looking to get creative with lifting weights around the house. He's taken up running and goes for jogs when he's bored or when his video games have lost his attention.
When speaking about the difficulties of social distancing, Matthew says, "It's harder to keep social relationships because I'm talking to fewer people. Just the people I was the closest to, whereas in school you see more people and are able to keep more relationships with being in contact with them." His friend group keeps in touch and each week picks a night or two to play online games. Usually they begin around midnight and end up not getting much sleep. It's not the same as person to person interaction, but it's a great way to connect.
When asked about coronavirus, Matthew says, "I'm optimistic that it will clear up soon and the numbers are dwindling and as states reopen. I believe we may see another spike so I think that it is way too early for that to happen."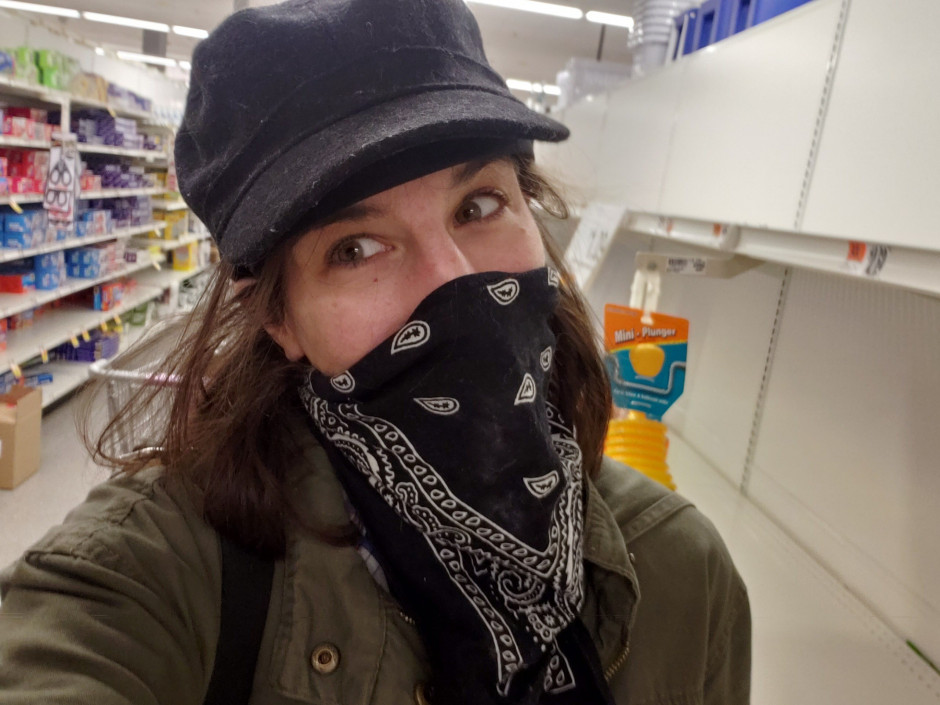 Liz Kelley: "I feel like I'm living in fear"
By Masio Dotson
Working in quality insurance has had its ups and downs for Malden resident Liz  Kelley, 37, since the coronavirus outbreak. Liz was fortunate enough to have a job that allowed her to work from home and attend to her 3-year-old son. Her company is practicing working from home company wide, with essential employees still in the office. COVID-19 has provided challenges for health insurance due to the high demands and the need for protocols to be compliant with Medicare and Medicaid standards, which affects people with little to no insurance. Because of HIPPA laws, Zoom meetings and Google chats aren't considered secure enough, so everything has to be done online or over the phone.
After a recent trip to the supermarket, Liz saw people not practicing the social distancing orders, not wearing gloves and masks, and not to mention, standing in long lines leading out of the door. She also empathizes with the elderly who have been the first affected by the outbreak. She worries that the public doesn't account for the elderly when they bulk-purchase.
The virus hit close when one of her coworkers was tested for potential outbreak symptoms, she also fears for high-risk parents and in-laws.
"I feel like I'm living in fear, [from a] lack of tests, worries about, 'Did I already have it?' 'Did I have it and never show symptoms?' It's a lot to worry about."
One of the upsides is that she's able to spend more time with her son. She admits that connection and socialization is integral for his development and empathizes with his need to bounce ideas off of someone his age. She enjoys being able to assist him with learning new words and expanding his communication skills. Another positive that she has developed is a self-care routine that includes writing in her journal, indulging in games and having talks with her husband, who still has to work on location from time to time.
While she is worried about the uncertainty of the future and doesn't have much faith in our political system, she is hopeful that things will return to normal soon. "I'm trying to turn every moment into a short term opportunity," she says.
Michelle G: Frustrated yet blessed to be working from home
By Masio Dotson

Michelle Glaser is a long time Malden resident, an underwriter for Insurance and a wife.
Many of the agents that she deals with have been furloughed, making the communication between her and the consumers even more challenging; many of her clients have been worried about being able to make payments, asking for suspensions on payments or raises on limits.
Since the outbreak of COVID-19, Michelle has seen the affects of the virus in most of her daily life. Mainly she's been out of the office for weeks now but has fortunately been able to get all of her work done from home. She says that she has been busier than ever working from home, as an underwriter for car insurance.
She admits to feeling at times frustrated with how the current government has been handling the outbreak. She also realizes the blessing she has from being able to work from home while so many others have lost their jobs and all of their sources of income.
She's also worried about the affect this all will have on human communication, admitting that she's been trying to stay sane by committing to routines and schedules to keep a sense of normalcy as well as binging "Rectify" on Netflix. She also enjoys being able to spend more time with her three cats.
As the pandemic has continued, she tries to look at this time as an opportunity to practice "acceptance" of situations & circumstances that she can't control
"I try to maintain a routine of exercise & yoga. I try to focus on gratitude & what I do have, rather than what I don't have. And I try to think of ways to be of help or service to others during this challenging time."
Considering herself a friendly, communicative person, she says that this time period is very "weird for her." She tries to stay connected with her friends regularly via telephone, FaceTime and other social media forms and says that "the more resistance toward this change, the worse."
Amanda LaForest: Cabin Fever
By Masio Dotson
Malden resident Amanda LaForest, 27, admits to not taking the virus seriously at first due to her age and the initial belief in the unlikelihood of being affected. As time progressed and more reports came out reporting the opposite, she then began to take it seriously.
She works as a Manage Care Referral Coordinator for Partners Healthcare, located in Assembly Square. As of March 16, almost everyone has been working from home as the entire department has transitioned to remote working. However many essential workers are not able to work from home.
Partners Healthcare has been greatly affected due to the outbreak. As one of the state's largest health care organizations, the company generally dealt with about 1,500 to 2,000 clients daily; that number has dropped to about 700 to 1,000 daily, she says. Amanda says the drop comes from a large amount of cancellations from clients who don't have COVID-19 and fear coming in contact with the virus.
While she hasn't been personally affected by the virus, she knows that there was exposure at a partner site at Cambridge Health Alliance, which affected some parts of her organization's responsibilities. One of her roommates is a teacher and has since been out of work without pay since the outbreak. Another of her roommates luckily is able to work from home.
While Amanda is grateful to still be employed, she admits that this is subject to change if the outbreak worsens. A student of Walden University, her schooling has also been affected as the university has transitioned completely to remote learning. However, professors have been very lenient with deadlines and assignments, she says.
Amanda confesses to having "cabin fever" being stuck in the house. Yet, if she could leave the house, she probably wouldn't due to fear of catching the coronavirus. She also worries that her sister will have to cancel her birthday, but is also excited to celebrate with her. Remotely, of course.
Interviews for this project were conducted by Masio Dotson, Kamila Rodrigues, Allie Thompson, Avion Katisho Manon, and Jayana Burdine. Copy was edited by Stephanie Schorow. Overall supervision by Anne D'Urso Rose.