World-famous contemporary artist Frank Stella is a Malden native, but his work has never been part of the treasured art collection of the Malden Public Library. That is, until now. In an exemplary display of local generosity and a full-circle story of returning home, the library has now acquired three works by Stella.
Those works were unveiled during a private reception on Sunday, Nov. 4, at the library. In attendance was Stella, who was visiting his hometown – and one of his favorite places of his childhood – for the first time in many decades. One of his works had been purchased through the generosity of local patron John L. Giso and two were donated by the artist himself.
"This is more than we could have hoped for," said John Tramondozzi, President of the Library Board of Trustees and Chair of the Trustee's Art Committee. "We have wanted to acquire a Frank Stella piece for years."
Stella is one of the foremost living artists in the world today. He is known for his innovative styles over six decades in painting, sculpture, and printmaking. His minimalist paintings helped give rise to new forms in the American modernist movement, in which the picture as object is emphasized over the representation of something physical or emotional. From paintings that are all black with thin white lines of unpainted canvas to bold colors in concentric circles or geometric forms, his early works in particular hold an iconic place in the art world. His work has been exhibited worldwide and is held in permanent collections in premier art institutions.
Stella was born in Malden to first-generation Italian parents, the oldest of three children. He grew up on Main Street across from Bellrock Park where his physician father also had his medical offices on the street level attached to the family home. His mother was a landscape painter. Stella attended Belmont School and Beebe Junior High, but switched to Phillips Andover Academy for his high school years. After graduating from Princeton, he burst onto the New York art scene and has been there ever since.
An exhibit of Stella's work at the library in 1959 sparked a cross-section of reactions typical of the time. A Malden Evening News article on June 17 of that year reported, "His work caused a mild uproar in Malden and small groups of serious-minded devotees of modern art are gathering together in quiet and not so quiet groups all over the city to discuss his paintings." The article also noted: "Although controversial, his artwork is definitely unique and has caused many a raised eyebrow."
Stella went on to become arguably the most notable internationally recognized person to come out of Malden.
In 2012, local artist and Malden resident Sharon Santillo reached out to Stella to reconnect with his hometown. As the chairperson on the newly formed Mayor's Advisory Committee on Walkability, Santillo came up with the idea of incorporating Stella's artwork into wayfinding signs throughout the city; these signs tell how long a walk it is to key city destinations.
"I contacted his office requesting copyright permission and at first his office was unclear on what I was asking," said Santillo. "So I sent him a mock-up of the idea using downloaded images of his artwork. I know the copyright rules, so I was holding my breath that they would understand it was just for them to get a visual!" She was thrilled that her efforts over many months resulted in a resounding "yes" from the artist, granting permission, free of charge.
When the signs received recognition from WalkBoston for being the first to combine fine art with wayfinding, Santillo again reached out to the artist to invite him to the "Golden Shoe Award" ceremony at MIT. (The New England Resource and Development Center at MIT holds several of Stella's works in its gallery collection.) To her great surprise and delight, he accepted the invitation and attended the ceremony where he was presented with his own Golden Shoe. A cadre of Malden arts enthusiasts came out for the event and met with Stella, including Dora St. Martin, the Executive Director of the Malden Public Library. (A video interview from that event can be viewed at the bottom of this article.)
In spring 2017, the Addison Gallery of American Art presented Frank Stella Prints, a retrospective of Stella's innovative printmaking over his lifetime. Malden Arts sponsored outings to see the opening on April 21 and to hear Stella speak on a panel the next day. A  troop of Maldonians and members of Malden Sketch Group headed to Andover. They were able to meet with Stella in the galleries at the opening and visit after his talk the following day. Stella teased the group after someone standing behind asked, "Are you done?" He replied, "Malden is never done."
These events, in conjunction with the inspiration of a generous donor, may have paved the way to the library's acquisition of not one, but three pieces of artwork by Stella.
The generous donor was John L. Giso, the life partner of deceased Wilfred J. Carr, a major benefactor of the library's art collection. (The Carr Gallery in the library's Converse Memorial Building bears his name.) "In Bill's honor, on the occasion of what would have been his 100th birthday, I wanted to make a very special donation to the library's art collection," said Giso. "I knew a Frank Stella print would be very meaningful and significant."
Originally proposed as an anonymous donation, the library was asked through an intermediary to reach out to Stella's office and ask for advice in purchasing a print, noting that this donation was for the artist's hometown library. Word came back that not only would the office arrange for the sale of a print but that the artist would also donate two other pieces of artwork.
In response to the exciting news, Giso's current husband, Michael Nutall, donated the framing of the two unframed pieces, and both he and Giso presented a $5,000 check at the Nov. 4 event for maintenance of the artwork over time.
"We couldn't be more thrilled," said Dora St. Martin, the Executive Director of the Malden Public Library. "This is one of the most major acquisitions for the library's collection. Students and residents will be able to be inspired by the great work displayed from someone who started right here in this city." She added, "The library has several works created by Frank's mother, Constance Stella, so it is extra special to have both artists here in the same place."
A visit by Stella and his wife, Harriet McGurk, was an added surprise to the Nov. 4 festivities . "I found out only a couple of days before that Frank would be coming," said St. Martin. He arrived an hour before the event and was given a full tour of the historic building. St. Martin even pulled out a painting of the children's librarian who Stella remembered from childhood.
The 82-year-old artist, who is still creating and pushing the boundaries of his art, spoke a few words at the unveiling reception. He recalled fond memories of the library during his youth, including Children's Storytime, and spoke of being inspired by the art and architecture of the building. He described the paintings and the architecture of H.H. Richardson as being "a really powerful aesthetic force."
"There is something about the library, the feeling of the paintings, the Richardson architecture…it emanates from this library into the community. And my mother being part of the collection adds too for me," said Stella.
The Malden Public Library will offer a public art tour on Monday, Nov. 19, at 6 p.m. entitled "New Acquisitions: Frank Stella" at the Converse Memorial Building Art Galleries, where the three works have been installed.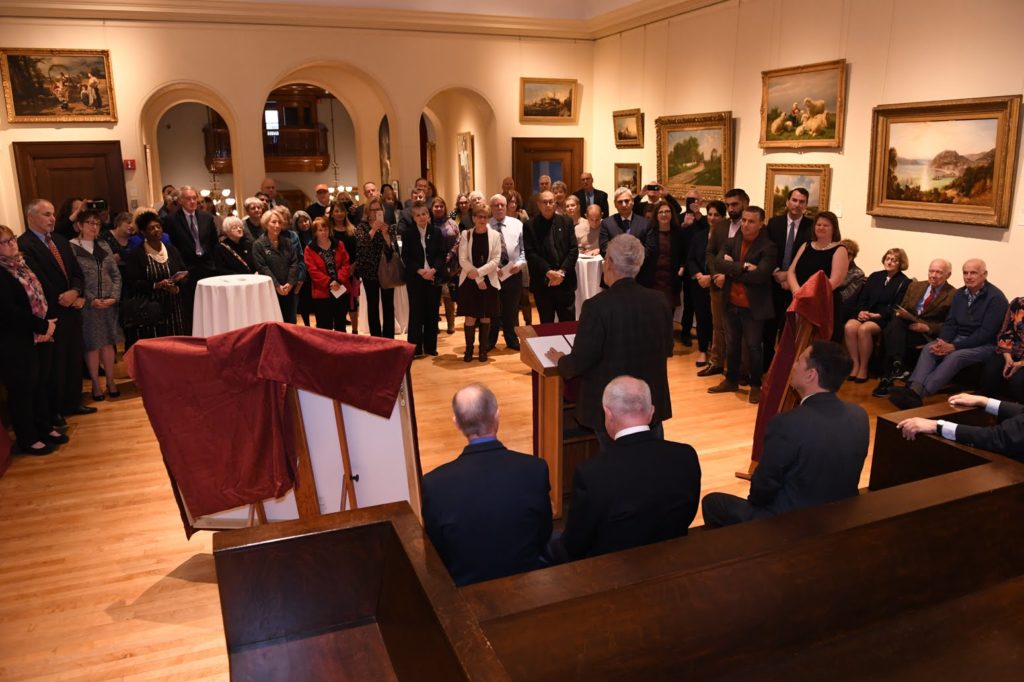 Please note: that the artist owns the copyright to all of his work. Images of the acquisitions are not displayed in this piece for copyright reasons.
Listing of acquisitions:
Louisiana Lottery Co., 1972
offset lithograph, 16 X 22 in
The Pacific, 1988
silkscreen, lithography and linoleum block with hand-colouring, marbling and collage, 75 X 54 5/8 in
Shards IV, 1982
offset lithograph and screenprint, 45 1/4 x 39 3/4 in
Article by Anne D'Urso-Rose, with additional reporting by Sharon Santillo. Event photos courtesy of Paul Hammersley (3MG).
Watch a video from the "Golden Shoe" reception at MIT in 2014 which includes an interview with the artist Frank Stella, produced by MATV.