Hello stranger,
It seems so good to see you back again.
How long has it been?
It seems like a mighty long time…

From "Hello Stranger" written by Barbara Lewis
By Sky Malerba
Barbara Lewis sings this song as backdrop to a scene in the 2016 film Moonlight, where the characters of Chiron and Kevin reunite after a decade-long separation. The Academy Award-winning film was screened on June 6 as part of the first Malden Pride Week. Running from June 3 to June 7, the event was held entirely online through Zoom and Discord. The lyrics seemed appropriate. Like Chiron and Kevin, people in and around Malden were able to reunite – albeit virtually – to "Show Your Colors" and celebrate LGBTQ and transgender lives.
Despite the restrictions of the COVID-19 pandemic, the Malden community, sponsored by First Parish, Malden, hosted a string of virtual events for people to join in solidarity for Pride Week. Events ranged from church services, bingo, dance parties, movie screenings and to a Saturday brunch; they were not limited to gatherings by way of a mosaic of faces on a video-sharing screen.
A Family Dance Party was held on Friday, June 5, followed by an "After Hours" Dance party where organizers streamed "the Malden Pride Playlist" so participants could dance the night away in the comfort of their own homes.
A "brunch" on Saturday featured a talk by Alex Kapitan of the Transforming Hearts Collective and a keynote by international lecturer, author, and filmmaker Aishah Shahidah Simmons. Workshops followed.
A workshop on the advocacy of queer healthcare was hosted by Kelli Dunham. The workshop explored resources for LGBTQ plus peoples to seek out health care and therapy. Another workshop featured an educational panel on the terminology of LGBTQ identities. Examples of these terms consist of pansexual, demisexual, gender-fluid, non-binary and more terms that to date have evaded mainstream recognition.
The last workshop was perhaps the quietest affair: Malden's LGBTQ committee sponsored a Queer Youth Hang Out. The event was hosted by Ivy Stanton, commission vice chair and a student at Braintree High School, and Katherine O'Connor, member of the Cayman LGBTQ Foundation. While there were no confetti flying, loud music playing or glamorous outfits, this virtual gathering managed to capture the simple essence of what Queer Pride is for. It was community coming together to validate and uplift one another. Halfway through, the panel became an educational webinar, discussing the concept of heterosexual ideals and non-binary reality.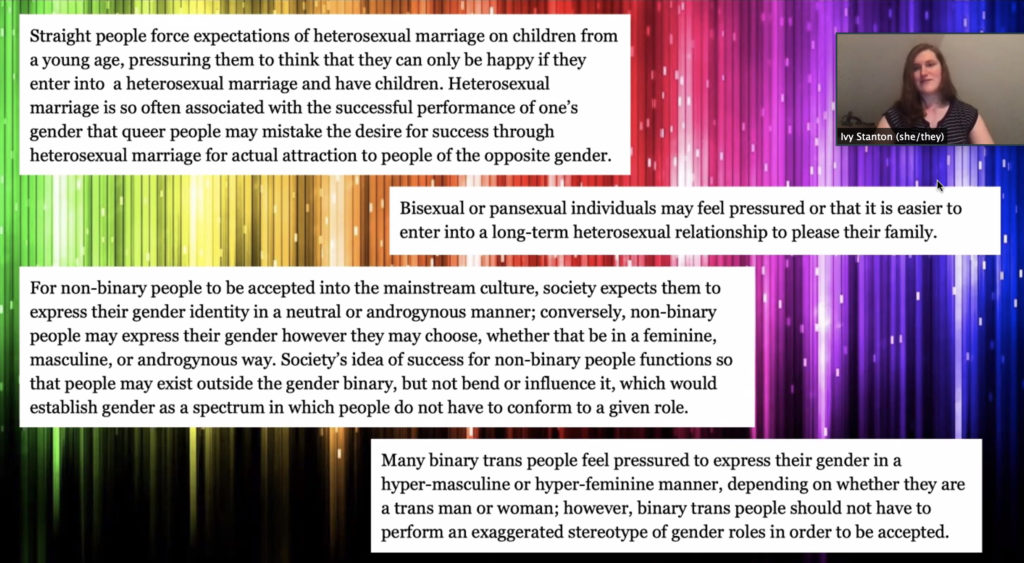 "Heterosexual marriage is so often associated with the successful performance of one's gender that queer people may mistake the desire for success through heterosexual marriage to the actual attraction to people of the opposite gender," Stanton said. "For non-binary people to be accepted into the mainstream culture, society expects them to express their gender identity in a neutral or androgynous manner; conversely, non-binary people may express their gender however they may choose, whether that be in a feminine, masculine, or androgynous way. "
In an ironic twist, Pride Week was followed by two major events concerning gay and transgender rights. On June 12, the Trump administration finalized a rule that overturned Obama-era protections for transgender people against sex discrimination in health care. The Department of Health and Human Services said it will enforce sex discrimination protections "according to the plain meaning of the word 'sex' as male or female and as determined by biology." The Associated Press reported that this rewrites an Obama-era regulation that sought a broader understanding shaped by a person's internal sense of being male, female, neither or a combination.
A few day later on June 15, the U.S. Supreme Court ruled that workplaces cannot discriminate against homosexual and transgender individuals. Justice Neil Gorsuch wrote in his opinion: "An employer who fires an individual for being homosexual or transgender fires that person for traits or actions it would not have questioned in members of a different sex. Sex plays a necessary and undisguisable role in the decision, exactly what Title VII forbids."
Malden Pride Week was a safe space in a time where there may be few of them. Whether the people attending these events knew each other, were vaguely acquainted, or had never met before, the event maintained a sense of community that is so needed in turbulent times.