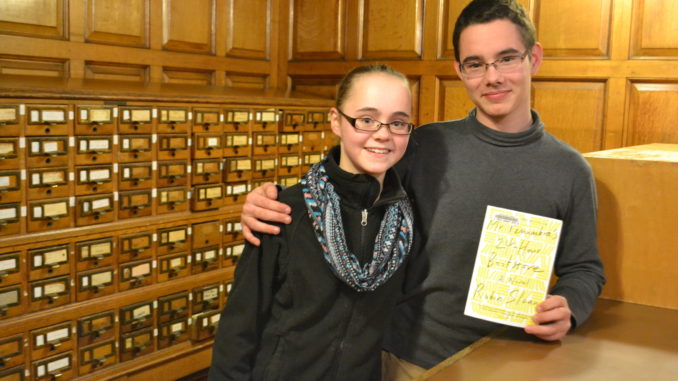 Malden Reads kicked off on Thursday, Feb. 19 in the historic Converse building of the Malden Public Library.
Malden Reads, whose motto is "One City, One Book," started in 2011 and features a new book every year. The hope is the community of Malden will read the same book and participate in community events and dinners that feature discussions of the book's themes. The event attracted residents and readers of all ages, some first-time attendees, and others who have been coming for years and have consistently read the featured book. Those who hadn't yet read this year's selection, "Mr Penumbra's 24-Hour Bookstore," seemed eager to pick a copy up at the library.
Siblings Rowan and Sunny Marcus been coming to Malden Reads since its inception. "Our mom brought us," say the Rowan siblings, and she strongly encourages reading to her children. "It was good," says Rowan of this year's selection. "But the ending was annoying," he says. "It wasn't a nice ending. It was too abrupt." Sunny says she plans to read the book soon, and she knew lots of kids at the event both from the Beebe school, and from MATV, where she has participated in kids classes and programs.
From school-aged kids and Mayor Christenson himself, all who attended clearly enjoyed a pleasant evening of culinary offerings from local restaurants, music by guitarist Sam Mulligan, and a chance to mingle and connect with their community.
Inspired by the old-school aesthetic found within the pages of "Mr. Penumbra's 24-hour Bookstore," Neighborhood View set up a makeshift photo booth in front of the Malden Public Library's historic card catalogue. Here are a few photos by Neighborhood View's Elizabeth Scorsello.