By Jack Drees
Want to play a game? Malden has you covered.
Within the confines of Malden's Gaming District, gamers and hobbyists alike are treated to a variety of concepts that allow people to enter another reality. From technology-infused experiences to role-playing games to athletics, it is game on, all the time.
Gaming is often viewed as an escape to another world. Some of these escapes involve immersive experiences that put you in the eyes of your character. Boda Borg offers the video game experience, only without the video.
No consoles. No controllers. No save files. At Boda Borg, you are the protagonist.
The gaming experience chain traces its start back to Torpshammar, Sweden. Today, that is one of the country's seven locations. Worldwide, Boda Borg has ten locations in four countries, including Ireland and Switzerland. This also includes its only United States location, Malden's Pleasant St establishment known as Boda Borg Boston, which opened in 2015.
With its strong community feel and thriving restaurant scene, Malden was "just the right kind of location," said co-founder Chad Ellis. "We did not want to be in a warehouse district somewhere." Being close enough to downtown for company outings was also important, as was proximity to the T. Though Cambridge and Dorchester were considered as possible locations, Malden won out. "The city government was a great partner and still is. It was a very natural fit."
Boda Borg is centered around questing. In questing, customers enter a room and try to complete whatever challenge lies inside. The objectives vary in physicality and difficulty. For newcomers, Farm is a must try. "Farm might be our most popular quest. It is a relatively easy one, but it is super friendly, and a lot of people when they come back, start off with doing Farm almost as a warmup," Ellis says.
Sometimes quests defy reality. For instance, in the Rats quest, one must avoid poison and cats to survive. At Boda Borg, failure is inevitable. Although like a video game, there is always an extra life on the table. "You are going to fail because it is totally unfair, but you get to try again as many times as you want using what you have learned to do better," Ellis says.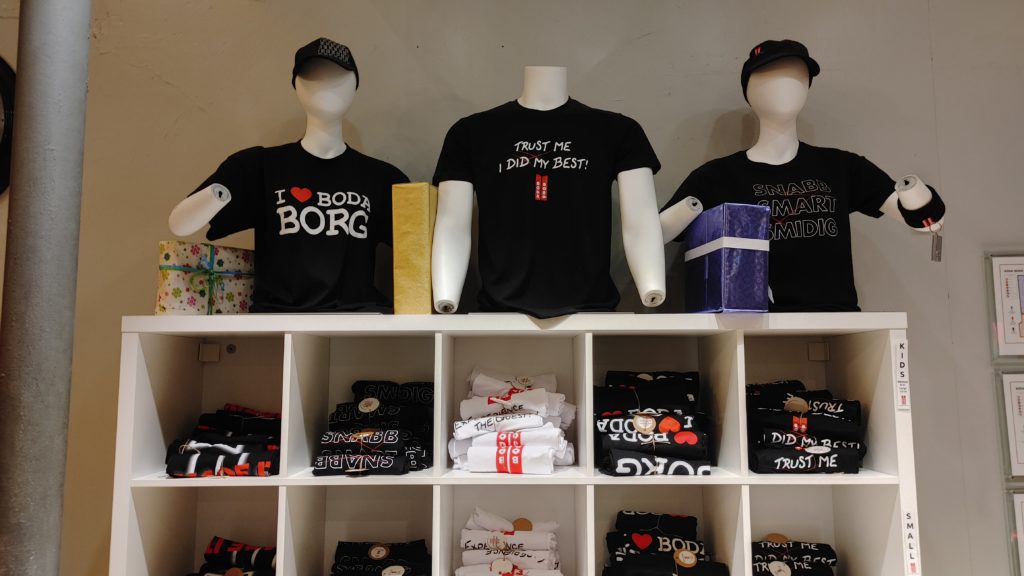 Boda Borg Boston added enough space for 25 quests prior to the COVID-19 pandemic. Ellis hopes to have all 25 spots filled by summer 2023. He also notes when the building hits 25 quests, additional quests are fair game. However, that also means replacing an old one. Currently, Boda Borg replaces "typically three to four quests a year," Ellis says. There are no plans to bring back old quests after they are replaced. While Ellis says "there could be a nostalgia factor of bringing an old one back," the only way Ellis could see an old quest returning is if he or someone figured out a way to reinvent it.
Most of the quests at Boda Borg Boston are designed by a specific, localized team. However, there have been times where people would be sent to Sweden and Switzerland, which would inspire ideas for quests to use in Boston. One example, based on a concept from a Swedish location, is Lava. It takes an idea from other quests, lava floors, and "has a particular twist on that idea," Ellis says.
Boda Borg not only offers a unique gaming experience, but also exercise. Speaking of exercise, the nearby Rock Spot Climbing is a perfect spot for anyone who wants to reach the heights of the great indoors.
With locations already spread throughout Massachusetts, in addition to neighboring states Rhode Island and Connecticut, Rock Spot has made its presence known throughout New England.
Located on 195 Pleasant St, Rock Spot brings the game of climbing to the district. This latest addition is the rock climbing venue's seventh location and its first north of Boston. According to a press release, the venue features bouldering, a no ropes climbing sport also featured in the Tokyo 2020 Olympics.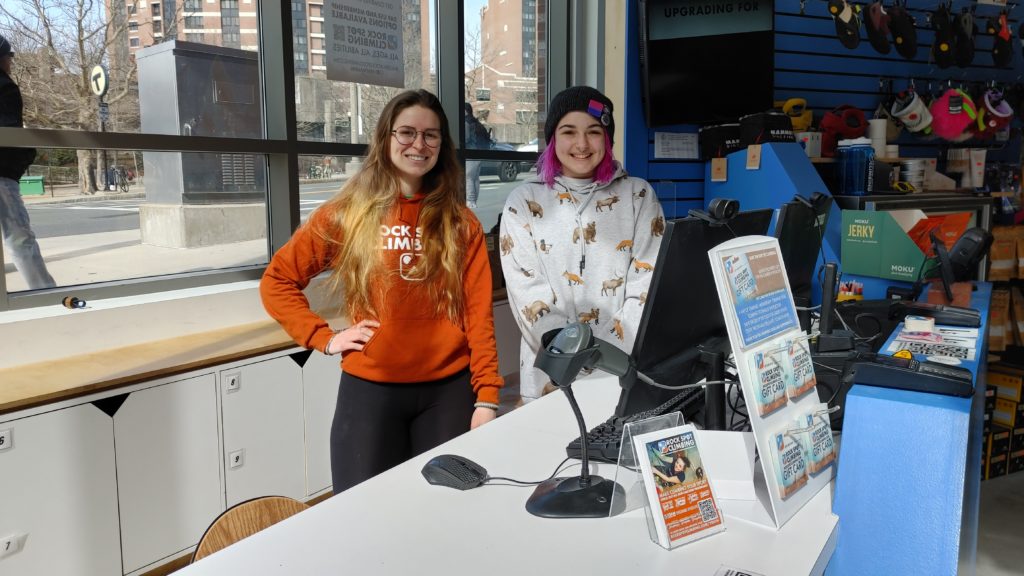 Audrey Meyer is the manager of the brand new Malden location. Meyer decided to be a part of the team because "climbing represents unique challenges and opportunities for individuals to grow," she says. In addition to climbing at some of the other locations Rock Spot has to offer, Meyer previously worked at their South Boston venue. She gained her footing behind the desk all the while assisting with youth programs. When the Malden location reached out to Meyer about being the manager, she happily took the opportunity.
According to Meyer, compared to other rock climbing formats like top-roping and big wall climbing, bouldering is "more accessible," she says. "Generally, routes last anywhere from 45 seconds to five minutes. It is more accessible in terms of time."
Meyer's current goal at Rock Spot is to make customers feel confident in accomplishing goals of their own. To do so, she harkens back to her past fears. "I myself, when I first bouldered, was scared of heights. And I used it as a tool to overcome that fear," she says. "A lot of people come in, and if they are a little bit nervous about what they are doing here, they usually leave pretty content and with some sense of personal victory."
Many of the people who come in are dazzled by Rock Spot's colorful and poppy visual aesthetic. Most of the visitors are local to the area, but the gym is also a draw for those away from the city based on its freshness. Those who come in and choose to stay may end up as members of the facility, and therefore, the chain.
When asked about being part of the Malden Gaming District, Meyers says, "it is really great to see the businesses in this area have developed this relationship where everybody kind of supports each other." She appreciates having a variety of similar businesses, in addition to her own Rock Spot, that can push people out of their comfort zone. As for the Malden community, Meyer has grown to love it. "Malden is such a growing part of Boston right now, and people are feeling that kind of energy," she says.
Rock Spot is a solid option for anyone spending the day in Malden who aspires to get lost on a wall. For those who choose to find themselves in front of a graphic novel or a card game, New England Comics, which has multiple Boston area locations, is the place.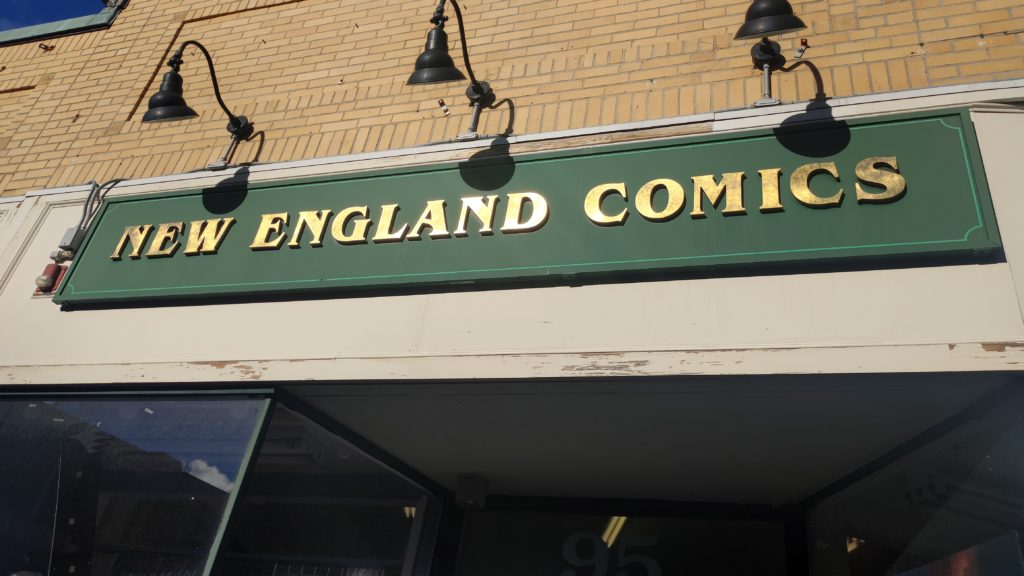 Despite how many people are flocking to digital platforms to experience their favorite content, New England Comics continues to have a place in a shrinking retail environment.
While "Comics" is in its name, gaming remains a prominent tradition in New England Comics's Malden location, located on 95 Pleasant St. The store brings people out to bond for extended periods through Magic: The Gathering. One such location, specifically on 95 Pleasant St, gets their game on Saturdays and every other Sunday.
T.J. Porter, a Malden resident, brings people together through Magic: the Gathering, a role-playing card game that players have enjoyed since 1993.
Magic: The Gathering was invented by Richard Garfield, who worked alongside Wizards of the Coast, the company also behind Dungeons & Dragons. Wizards of the Coast has a locator website listing places where people can get together to play Magic: The Gathering. Malden's New England Comics, in addition to other local comic book and related shops, are officially listed on the website. Since Magic: The Gathering was created, Wizards of the Coast has been bought by popular game and toy manufacturer, Hasbro.
In short, Magic: the Gathering follows planeswalkers as they battle using magic. Porter says "it is very much the same thing" as Pokemon, another popular trading card game.
Porter first played Magic: the Gathering in high school, but ended up taking a break in college. After college, Porter moved to Malden, where he joined the New England Comics's Magic-playing community a couple years later. After COVID-19 hit, the original runner of the gatherings wanted to stop, at which point Porter kept the community going.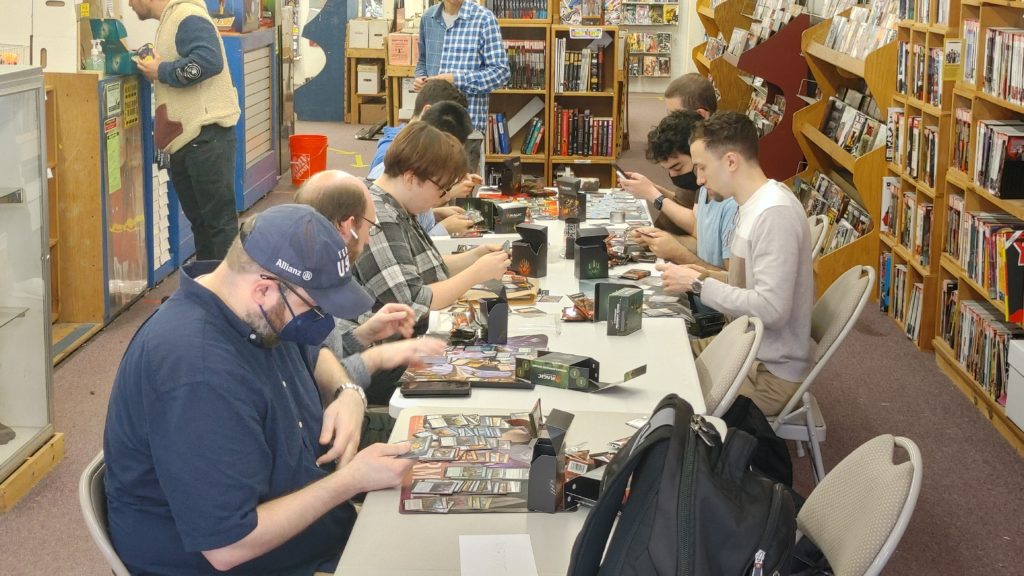 The atmosphere at New England Comics is laid back, as are the store's Magic: The Gathering events. Draft events, traditionally held on Saturday afternoons, begin at 1:30 p.m. and continue for several hours. Players can come as they are when the event starts or in the middle of the action. Everyone from newbies to regulars are welcome. The popularity of Magic: The Gathering enhances the need for spots like New England Comics. While many people consider retail stores, including comic book shops, to be a dying breed, New England Comics separates itself from its competition by allowing a community like this one to stick together. It is more than a store. For some, it is a hangout.
The store does occasionally sell Magic: The Gathering products, but in limited quantities. While Porter says the establishment "is definitely a comic shop first," these Magic: the Gathering events show that New England Comics is more than just comics.
The Malden Gaming District is also home to ChronoSquad, an augmented-reality app for history buffs. Those who download the app via the App Store or Google Play can treat themselves to learning more about Malden's past. ChronoSquad is as experiential as it is educational.
There are other businesses in the Malden Gaming District. Mixer E-Sports + Cafe is a relaxing place to sip tea and play the latest video games. Project Putt! is a fun spot for 12 holes of indoor extreme mini-golf. Station Bistro & KTV is a hip venue for karaoke and drinks. Each business has their own way of taking things to the next level. The Malden Gaming District continues to thrive with its varying concept, which makes this game far from over.
Jack Drees is a citizen journalist for Neighborhood View, a program of Urban Media Arts in Malden. Subscribe to Neighborhood View on the right-hand column of this page.