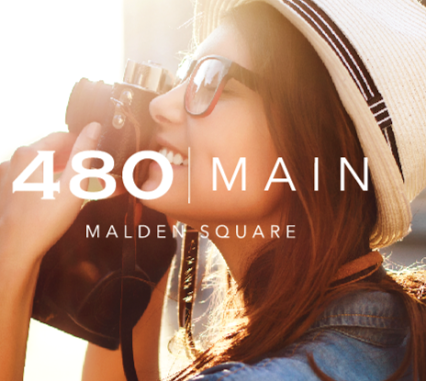 The newest kid on the block? 480 Main, the apartment complex across from the Malden Public Library, opened its doors to Neighborhood View for a behind-the-scenes sneak peek.
480 Main offers city living at its best, replete with "sleek counter tops and cabinets, open floor plans, designer quality finishes, high ceilings and extraordinary telecommunications options in each home," says Chris Todd from Priderock Capital Partners.
Why did Priderock break ground here? "Malden is a great example of a city that is on the rise, re-making itself into a coveted, unique location with a presence and life independent of Boston for its residents but still readily accessible to all parts of the greater Boston area," Todd continues.
Of course, 480 Main was stymied a bit by the city's snowiest February on record. "The past winter was certainly one of the most difficult times to build that we have seen in more than 20 years of developing in the Boston area," Todd explains. "Nine feet of snow, limited access and weeks of freezing temperatures aren't reasons to give in for us … they are tests of our resolve and ability. 480 Main is a shining example of what motivated, professional, accomplished people can do under extraordinary circumstances."
Here's our behind-the-scenes sneak peek with 480 Main's senior property manager, Jennifer Cruz. Click here to learn more about 480 Main. –Sam Baltrusis