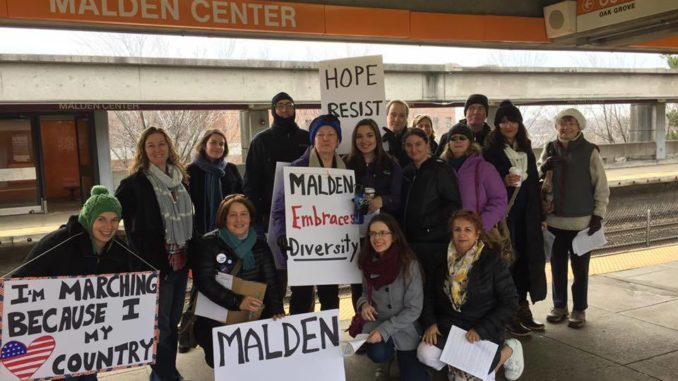 The day after the inauguration, Maldonians recognized each other as they traveled the subway to congregate with an estimated crowd of 175,000 at Boston Common followed by a march for unity, in protest of the new president and anticipated policy changes.
On Jan. 21, 2017, many Maldonians rallied at the Boston Women's March for America, representing their families and community groups.  People packed the MBTA Orange Line cars at Oak Grove and Malden Center.  They admired each other's signs, took photos, shared smiles and geared up for the day.
On the train platform, Helen Weitz said she was there to march against President Donald Trump's disrespect towards women and other cultures.  She expressed shock at the electoral results and that attending the march was for self-healing.
Maria David, another protester, agreed with Weitz's comments.
"I don't agree with his politics or rhetoric. That has angered me.  But, I don't want to be angry.  I want to move past that. I am hoping that this march helps us to unite and become more of a healing community," David said. "Secondly, I hope that this spurs more activism throughout the country in defiance of his language. I hope that communities come together and oppose his views on the world. We need to continue to do this, that this is not a one day thing, that it is a continuum."
Erin Gannon said that she was marching "because I am disgusted with the cultural message that is happening right now and I want everyone, but especially young people, to know that this is not how everyone feels and that there is a huge force of people who disagree with the racist, misogynist messages that have been coming out."
Bike to the Sea president and former School Committee member Steve Winslow said he was concerned about Donald Trump's disrespectful language towards so many people in our country and how undemocratic some of his ideas are.
"We need to unite and we need to be sure that Republicans and the administration understand that we need to work together as a country and preserve democracy.  We did not elect a king. This march will show that there are a lot of people who are not satisfied," Winslow said.
At Downtown Crossing, Neighborhood View met up with Souad Akib and Rhahma Amal Masoud from the American Association of Arab Women, based in Malden. Masoud stated that she was marching "to fight for women's rights." Akib added that they marched "for love, peace and unity. That's all what we want." When asked how the march will have an effect when they come back to Malden, Akib replied, "When we come back to Malden, we have our International Women's Day coming up and we're going to work even harder to be all one for the Malden community."
The Malden Democratic City Committee reunited under a Malden sign on the Boston Common.  Julia Hall, a college freshman, said she was there to support equal rights for women. Hall added that protesters needed to make some things clear to the new president.
"Trump is the president and there is nothing we can change about that," Hall said. "But, we have to make an impression upon him that we deserve our national rights that this country was founded on. While he may view certain groups as lower, we are not.  We are humans. We deserve the respect that he feels he is entitled to. We are going to stand up for ourselves."
Neighborhood View is reaching out to the Malden groups and individuals who participated in this rally that we did not have a chance to talk to because of the large crowd. More stories from the historical Boston Women's March 2017 will emerge as time goes on.  If you participated, send us your stories, thoughts and reflections. We also welcome thoughtful reflection from Malden folks who hold opposing views to the marchers. Rather than use the comments section, email us at neighborhoodviewmalden@gmail.com and include your full name. 
– Article by Karen Buck and Anne D'Urso-Rose, with reporting help from Ose Schwab. Thanks to everyone who contributed photos.