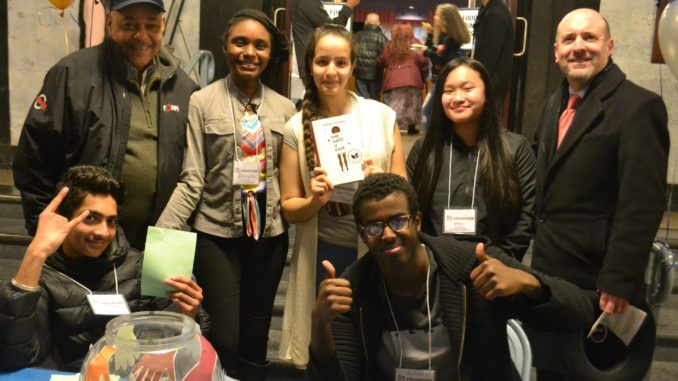 For the first time in the eight-year history of the Malden Reads program, the 2018 kickoff event was held at Malden High School on Feb. 15. Usually staged in the Converse Memorial Building of the Malden Public Library, the kickoff emphasized the intergenerational nature of the book choice, The Hate U Give by Angie Thomas, a young adult novel that can be enjoyed and appreciated by all ages. The Malden Reads committee collaborated with the student-run Black Culture Club at Malden High School to host an event that was inclusive and celebratory as well as profoundly moving, challenging and inspiring, which reflected the book's topical themes.
"One of the things that I think is really exciting about this joint venture between Malden Reads and the high school is the way it's showcasing student voice and issues that are relevant to students, starting some great conversations among students, educators and community members," said Sean Walsh, Malden High School English teacher and Drama Director, who was involved in the collaborations.
The event featured exhibit tables from a host of community organizations: American Association of Arab Women, Chinese Culture Connection, Immigrant Learning Center, Malden Arts Little Free Libraries, Malden Overcoming Addiction, Malden Public Library, Malden High School Writers Den, North Shore Black Women's Association, North Shore Hispanic Association, Outreach Community & Reform Center, and Raising a Reader, MA, as well as a local representative from the Anti-Defamation League. There was also a table with information about deceased rapper Tupac Shakur, whose words inspired the title of "The Hate U Give."
In an interview at the event, Malden Superintendent John Oteri said, "I found the book incredibly powerful, riveting, and had a message that really resonates today. With our Malden community, I think that we can learn a lot from this. This book is about social activism and taking a stand, and that's something all of our students here at the Malden Public Schools are able to do."
Event goers enjoyed food donated from Anthony's of Malden, Dockside Restaurant, Fresco's Roast Beef & Seafood, and NJR Mediterranean Catering. Student artwork that emphasized the themes of this year's book was on display. An interactive photo project was held at the event with portrait photographer Susan Margot Ecker, which celebrated Malden's diversity with words and photos.
A special presentation in the Jenkins auditorium, hosted by the Black Culture Club, featured storytelling, poetry, song, dance and even a comedy routine by teens, tied in with the themes of this year's book selection. Breakout sessions on related topics were offered following the presentation, including a presentation by Malden High School's Haitian Culture Club.
Mayor Gary Christenson, who also attended the event, said, "I can't say enough about how much Malden Reads has helped to promote literacy in this community. Growing up, I was taught that reading is one of the key ways to be successful."
Walsh was thrilled with the event. "I'm so grateful that Malden Reads selected this book and so proud of this community and events like these," he said.
Attendees were able to pick up the first copies of the Malden Reads 2018 Calendar of Events brochure. To see an online list of events, visit the Events page of the Malden Read website. You can also view the program in calendar format on the website's Calendar Page, or download a pdf version of the brochure.
To learn all about Malden's "One City, One Book" program, including sponsorship information, links, resources, and photos, visit the Malden Reads website at maldenreads.org.
Click to see a video of Christina Charles, from Malden High School Black Culture Club reciting the poem "Unite Us" by Khosal Khiev.