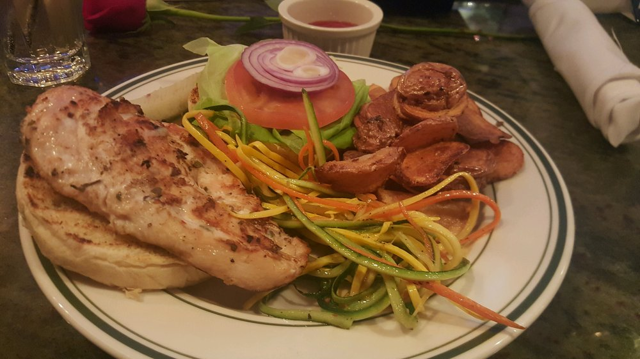 Due to the snowstorm on March 14, the Malden Reads Community Dinner at Henry's Patio has been re-scheduled to Tuesday, April 4. Plan to join fellow community members on this date for an evening of great food, company and conversation as part of the Malden Reads 2017 community dining series. Henry's Patio is located at 80 Broadway in Malden. Reservations must be made by April 2.
If you enjoy a relaxed, casual atmosphere and a full bar, this will be an event you can't miss. The event will feature a limited menu with a choice of a chicken, steak tips, or haddock prepared in a variety of ways by the chef, an appetizer, side vegetables and dessert. The cost is $20, not including tax, beverages, and tip.
Meats and fish are procured from local quality markets such as McKinnon's, the Maplewood Meat Market and the Maplewood Fish Market. Henry's Patio has been re-imagined from its former incarnation ("The Patio") as a cozy neighborhood spot serving up fresh, tasty food and drink in a relaxed setting.
One goal of the Malden Reads community dining series is to facilitate discussion between local community members around topics related to "A Man Called Ove" by Fredrik Backman, the Malden Reads choice for this year's citywide program. However, you do not need to have read the book to attend. Diners will be supplied with "Table Talk" cards to prompt and enhance general discussion at their tables.
(Slideshow below, photos from previous Malden Reads Community Dinners.)
To make a reservation, call Henry's Patio at 781-324-9826 and let them know you are attending the Malden Reads Community Dinner. The chef also requests that you let him know if you will prefer the chicken, steak tips or haddock so he can better prepare for the event. The deadline for reservations is April 2, but seating is limited so don't wait to call.
Malden Reads is a city-wide program which asks the question, "What if the entire city of Malden read the same book?" With the Malden Eats dining series, Malden Reads supports local restaurants and brings together community members to enjoy good food, company and conversation.
For more information about Malden Reads, visit maldenreads.org. To keep informed about all the Malden Reads events and activities, join the mailing list by sending an email to maldenreads@gmail.com.