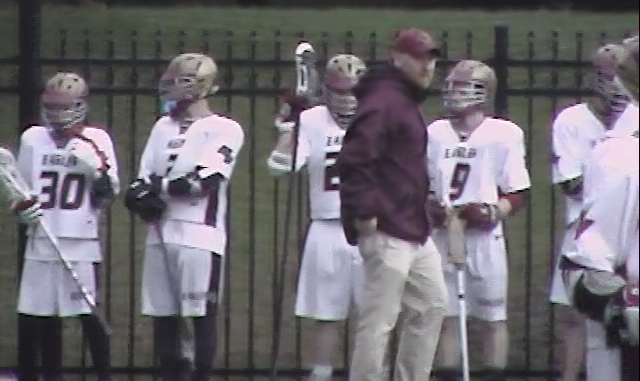 Put Me in Coach goes beyond the weekly scores of high school and youth sports in the city of Malden and focuses on the coach who drives that group, team or individual.
That leader who brings out the best the player has to offer their sport.
This month we sit down with Coach Martin "Marty" Horkan of the Mystic Valley Regional Charter School Boys Varsity Lacrosse program, or the MVRCS boys LAX coach for short.
A little background on lacrosse for those who haven't had an opportunity to see it. It's been called the "fastest game on two feet." It's an outdoor contact sport played on a field 110 yards long and 60 yards wide. There are two teams composed of 10 players plus a goalie on the field per team. The players wear protective gear consisting of a helmet, shoulder pads, elbow pads, gloves, and an athletic protector. There are no leg pads. The stick, or "crosse" is a metal shaft of varying lengths with a head consisting of a woven net. The 5 oz. ball is made of solid rubber.
Remember just a second ago when I described all that equipment the players wear? Well, it's not enough. The ball can travel at speeds of over 100 mph and they wear no leg pads! You have to really like the game just to walk onto the field. You've got to really love the game to play, coach and dedicate yourself to it.
I sat down with a man with that love of the game, Coach Marty Horkan, on a sunny morning during school vacation in April to talk lacrosse and coaching. Coach Horkan is just like most people; he has a full-time job, a spouse, kids, and responsibilities outside of coaching a sport but none of that seems to matter when it comes time to step onto the field.
I asked him how he ended up coaching a sport that is just starting to gain popularity in the last few years.
"When I was coming up in the '80s there were no programs in the city of Malden. Medford had a program, there were a few other programs around; there weren't too many. So, I had a Phys. Ed. class at Browne Jr. High (and it) was the first time. We had little plastic sticks and a light plastic ball and I really took to it… From that point I became interested in the game and went out and purchased a stick, maybe a friend or two may have had one too, and I played some wall-ball at the old Forestdale School and I fell in love with just playing, catching, throwing… So I never played competitively until I went to college. I went to the University of Connecticut and they had a club team… They played against Northeastern, BU… I tried out, made the team and started to play. I can't really say I played too much the first year or too much the second year but I kept improving."
When did you make the transition to coaching?
"I was at an alumni event at Malden Catholic  and they had started a program since I had graduated and Rick Mazzei, who is a legendary lacrosse coach, hall of fame coach in Massachusetts, (Mazzei was elected to the National Lacrosse New England Chapter Hall of Fame in 2005 and is currently in his 33rd season) was the head coach. I got to talking to him. He was starting a freshman program and he basically hired me on the spot to be the first freshman coach. That was the spring of 1997."
So you started out right at the head coaching level?
"As Freshman head coach. With that, the cool thing was I got to be an assistant coach of the varsity team… I got to learn from a guy that has got over 300 wins in Massachusetts (at the time. Mazzei now has over 400 wins), has the most wins in Massachusetts. He's a living legend and great guy."
Speaking of wins, I hear you have a milestone coming up soon.
"I guess I do. In looking at it, I think if we were to win 13 games this year that would be my personal 100th victory (at the time of writing this the MV Eagles are 8-0 with 10 games left to play in the season) as a head coach."
How did you end up here (at Mystic Valley)?
"I was the head coach at Austin Prep in Reading for three years and that was a great job, we won three straight conference championships, we did really well but it was one of those things where my kids go to this school and I knew some of the people involved and the kids who played youth lacrosse. In terms of proximity to home it was going to be easier than going from Wakefield to Reading and then from Reading to Malden. There was some dynamic with that and at the time I thought that there were some opportunities here and I like the fact of being in my hometown."
You mentioned youth lacrosse. Talk a little bit about that.
"Malden Youth Lacrosse. I actually helped to start the program in I think 2000 and I was the first coach for that. At the time it was a U14 (ages 13-14 ) and a U12 team (ages 11-12) and I coached both teams. That was actually a year where I had got a new job professionally so I couldn't do the high school piece at Malden Catholic so I wanted to stay involved. It was a little less, maybe two days a week plus a weekend (day) as opposed to a seven day a week commitment."
So are you still involved with youth lacrosse?
"Sure. I still coach youth lacrosse at the U13 level."
So you coach High School lacrosse and youth lacrosse; Do you have trouble saying no?
"It's love of the game… my family is clearly my number one passion, my kids and my wife, but after that lacrosse is there. The nice thing is that it's become a shared passion  for my wife and kids…lacrosse is in that top three somewhere in things of importance. If I could make my living at it full-time I would. I love it that much… I often tell friends, if maybe I haven't seen them in a while 'If I haven't seen you by the time March starts, I'll see you in June' because I know it's seven days a week lacrosse."
Tell us about being a head coach.
"In terms of being a head coach it's interesting. I was a sub-varsity coach for seven years prior to becoming a head coach and at the time you are coming up you think it will be an easy transition, the difference won't be that great; but it is. Definitely in terms of responsibility. As a JV coach your interaction with parents may not be as big. As a varsity coach communication is huge in terms of making sure parents are on-line with your mentality, that you have a set of team rules, that you have a vision, which I think at a sub-varsity level you don't have to have as much of that… and sometimes you need to make sure there are officials, I'll shoot them an email, and the AD (Athletic Director Shawn Thornton) does this as well, just to clarify and make sure that everything goes off without a hitch. Working with the AD is also a big thing with that…. having someone do your score-book, who's legitimate, dependable, does it appropriately, that's something at a sub-varsity level, no one keeps goals and assists and face-offs and what-have-you because there's no record. It's not the big time. When you're a varsity head coach it is… It's all on you."
Would you say you had a coaching style?
"In terms of style, we have a lot of great examples of coaching in Boston, professionally, like Bill Belichick (NE Patriots), one of those next-man-up, one of those all business type of guys. I'm more personable then the likes of that but when I'm in game mode, I'm in game mode. The kids know that I have high expectation for them as much as I have higher expectations that I put on myself. I take it personally when we don't perform like we should have… I try to motivate."
"I know that I can be an acquired taste for some people. I'm not vanilla. I'm all about being responsible for your yourself, being prepared, and I'll call them to task, a player, if I feel that they're not doing the right thing or even on one specific play. I might bark at them. I'm not going to sugar coat everything and say 'oh, everything's lovely. Everything is roses' but the nice thing is if that player can then take that information and turn it into a positive then everything's fine…I have a short memory with those sorts of things…. I'll call it like it is. I've been known to let officials know what I think at times but I try to do it in a professional manner"
"Sometimes I try to become a kinder, gentler Coach Horkan. It's hard because you react to stuff in a game setting. I read a lot on coaching during the off-season. I'm a big John Wooden fan (NCAA Hall of Fame coach) and I think he has a quote for everything and I'll reference those."
"Practice is very Belichickian, very John Wooden. Game day should be like a day off when the practice is the way it is. We're not quite to that level but it's something I would like to strive to do for the future, is make practice so physically draining and just go over all the different aspects you can go over, that when you come to a game you're on auto-pilot. Then I can be game manager and just sit back and watch. We're not to that point yet."
"I'm not a big fan (of losing). Losing isn't easy… That's very taxing, mentally and emotionally."
You mentioned before that a big part of coaching is interacting with parents. How do you handle that?
"I've changed as a coach now that I have had children… you have your idea of how you would like your own child to be interacted with so I try to be mindful of that…We're talking 14 to 18-year-old boys. They need to have a sense of responsibility and not just run home. They should be able to handle some of their issues themselves. Which I think is a good thing… Let's say for example they're not happy with me or one of the other coaches, I always say 'get through it that given day.' We have an open door, not that we have an office or a door anywhere, but we're very open and I put that in writing to the kids every season. I say to them if you ever have any issue or question or discourse or anything with the coaching staff, (or) playing time, it's your job as becoming an adult to address it. Don't go home and have your Mom or Dad address it or call someone above my head. I'm one of those chain-of-command guys that if you have a question, if you have anything, it can be any question, I'm definitely open to hear anything and then I'll give you my opinion… I've been very lucky in my time to have assistant coaches who understand relationships. They understand kids. Sometimes you need to know when to push them and when to let them have space. That's just something that comes with experience. It comes with being in-tune with kids. They're emotional teenagers who sometimes say and do things; they don't think.  It's on us to be supportive and try to mold them into positive members of society."
 Proudest moment as a coach?
"In our first year as a program (MVRCS) we made the state tournament. We beat Blackstone Valley (to make the MIAA tournament)…and they were a team that had beaten us. One of the things I always say to teams is 'we're going to be a better team at the end of the year than we were at the beginning of the year' and when we played Blackstone at their place they had beaten us and I just remember that day knowing that if we won that game we would make the state tournament… we were just coaching for our lives, and it ended up being probably our best win if you look back. I think we might have let in 3 or 4 goals. It was a 7-4 victory and it was great to have that sense of satisfaction. Coming in to the job I had high expectations that we would make the state tournament. I would say all the time 'we're going to make the state tournament this year' and I can remember some people who worked in the building almost laughing at me and giggling… I knew the teams we would play and I said 'I know we can be competitive in the first year.' So that is probably my proudest moment."
What about the student part of student-athlete?
"I'm a teacher (chemistry teacher at Northeast Metropolitan Regional Vocational School in Wakefield) and…clearly acedemics do come first but I also think it's part of being a student-athlete to balance your academics with your athletic obligation… You might have a big test in chemistry on a Friday, we might have practice on a Thursday. I would think you could find that hour-and-a-half somewhere in your day or you could take away from something else, whether it be your social media, video games, what-have-you, where you could find the time to do your hour-and-a-half of academic obligation. They are kids and they'll let it snowball and put stuff off but to me that's not a good excuse to say 'I'm missing games because I didn't study for this test.' You knew about this test for several weeks in coming, and I'm a teacher, I know that…The nice thing is we're at a school that has high academic standards and even if one of these kids becomes a professional lacrosse player, they're not going to make their living at it…academics do come first."
How has coaching evolved for you over the years?
"This is my 9th year as a head coach and it's always changing. The dynamic changes and you've got to stick to principles and you've got to have them adhered to… I used to be the young coach…I was sort of like the guy that could relate, and now I'm turning into the older coach. I have assistant coaches ten years my junior so it's like playing good cop, bad cop. I can be the hard guy and he can say 'listen, here's how you (do it)."
"It used to be, send a message through the school the get the word out. I don't have a Twitter account but I know coaches who have a Twitter specific account just for their school because the kids are on there anyway so they shoot things onto that… The nice thing about sending a text message to a kid is you know they get it because their phones are extensions of their hands."
Closing thoughts coach?
"Win or lose, I think they're learning something. Learning bigger things. Life things. How to handle adversity, how to balance your time, those are values with high school athletics that go beyond the wins and loses. I've been lucky here (at MVRCS) but when I was at Malden Catholic one of the coaches lost their mom and to have the program just come together around him and show support was one of the most touching things to see. Those are the great things about athletics."