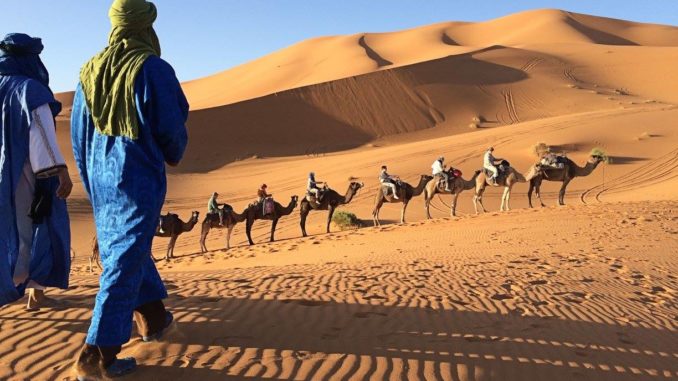 By Bonnie Blanchard
Part Three of Five Parts
Getting on a dromedary is like straddling a furry bathtub. It's not the most graceful of feats. You begin the mount while the beast is lying down. You have to figure out how to get your feet across both sides; their bodies are wider than that of a horse. There are no stirrups to lock your feet into, only a steel bar in front of the hump to hang onto. A layered blanket pack is the saddle. When each member of my group was finally aboard their ship of the desert, we started our journey into the Sahara. As I bounced and hung on, I had visions of rolling off to the side and being deposited on the desert floor. It was a premonition of things to come.
This camel-back journey had begun after an exhausting yet exhilarating day driving from Fez to Ouarzazate, the entrance to the Sahara Desert, in another leg of our Morocco trip. As our van crossed through rosemary-dotted hills and cedar groves, the road dipping and rising through the hills, Addi Ouadderrou, a Malden resident who organizes and conducts tours of his native Morocco, explained the history of what we were seeing and answered our myriad questions. Addi was our traveling Wikipedia. We wound our way through the Dra River Valley up in the northwest part of Morocco. A tunnel took us to the Ziz River, and we zig-zagged our way south toward the desert.
By 5:30 p.m. we reached flat lands indicating the approach to the desert. We descended down a green valley as a welcome site after a long day's ride. I thought we were going to stay put for a while after being shown our rooms, but we had no time to recover before we had to mount our trusty steeds – the one-humped camel. We were to spend the night camping out in the desert. It was my National Geographic dream come true. But first we had to get there.
Each of the four camel teams had a guide. Guides do not ride the camels; they would rather walk the two hours as this lumpy creature is not a comfortable ride day in and day out. As we soon found out, those years of Pilates and yoga did not prepare us for this experience. Now we knew why camel treks were for tourists. But we didn't care much at first. The hanging on, and bouncing was matched by a spectacular landscape. Rose-gold sand stretched out before us as our camels strode through undulating dunes. Once in a while we would see poufs of green and lush bushes, signs of water deep beneath. Only the guides and camels knew the well-traveled routes. Even when there were no tracks to be seen – anywhere – they all knew how to get there from here. The quiet was almost too loud. "Addi, how long before we get there," "Oh, I don't know, maybe another hour." A round of silent groans, grumbling stomachs and aching butts.
Several times during our trip we stopped for photo ops. Cameras were being tossed hither and yon to our guides. At each stop, the camel behind me, whom I affectionately named Sam, sidled up to my leg and rested his head on my thigh. Well, that gave us time to get acquainted. He was such a sweet fellow. I patted his soft muzzle, his head and checked out his ugly brown teeth. He loved the attention.
I checked out his eyes, which have three levels of eyelids. Two of the eyelids have lashes and the third eyelid comes from the corner of the eye. The eyes are protected by a double row of long curly eyelashes which help keep out the sand and dust. I  remember reading about it way back when, but checking it out up close and personal was quite a revelation.  Big thick bushy eyebrows shield the eyes from the desert sun. Atop was a curly mass of fur and small ears that are lined with fine hairs to filter out the sand. Sam had such a flat nose; the nasal passages are protected by large muscular nostrils that can be opened and closed at will. This physical exam made me think about becoming a big animal vet – in my next life.
The dromedary camel is also known as the Arabian camel and was domesticated more than 3,000 years ago. Today they are used only for domestic purposes.  So Sam and I had a friendly voyage to dinner that night. It was such a heartfelt experience to feel the connection between human and animal.
About an hour into the drive, I heard a wild holler from two of our women passengers – "Brad's falling off!" We stopped; the guides tightened up the girth (the strap that holds the saddle on) and once again Brad was up and moving. We all had a great belly laugh, led by Brad himself.   After checking our saddles, once again we were plodding along, and all of us calling "Addi, how long before we get there?" "Oh, I don't know, maybe another hour."  It seemed like every stop was followed by "Oh another hour or so."  By the end of our two-hour ride, we were moaning and groaning, like kids in the back seat of the bus. And when we finally arrived, we pretty much fell off our trusty steeds, barely able to stand. Some of us felt like we stepped out of an old cowboy movie.
This slideshow requires JavaScript.
As we were gathering our bags, the guides tethered the camels in a huge ring for the evening just outside our encampment, and then fed them dinner. "Who dropped the Milk Duds," I asked, because all around us were camel droppings that really did look like treats had been scattered all over the floor. As we dragged our tired bodies toward the entrance to our campsite, a beautiful carpeted surprise greeted us as we entered a courtyard surrounded by nut-brown woolen tents. Carpets formed roads, leading to an elegant bathroom, with brass lined sinks, and showers, all in a tent. Our tents were a most welcome sight, with rugs, clean sheets, blankets, and lights.
We gathered in the middle of the courtyard at our low-to-the-ground table for dinner. From a nearby tent came amazing smells followed by a remarkably delicious tagine dinner served by our cook and waiter, Ahmed.  Candles were lit, wine bottles popped, and good cheer resounded from one end of the table to the other upon our safe arrival. As darkness set in, we traded stories about our ride. At the end of dinner the proverbial  steaming teapot was passed around the table. A group of Gnaouan musicians, wearing beautiful robes and turbans, arrived with drums, and we danced under the stars as a deep circular fire-pit spit out rosy flames. We didn't seem tired any longer. In the dark sky, the stars seemed as big as saucers.
The morning brought the bluest of skies made bluer by the rose-colored sand. We readied for our trek back to the hotel for breakfast after Ahmed passed around cups of steaming tea.
The next part of our journey took us to Ouarzazate; we passed through the central part of the country which is dominated by the Atlas mountains while the Rif mountains make up the northern edge. The people of the Atlas region live in tight communities in quadrangle-shaped buildings that to the outside would look like mud castles. We stopped in the town of Mezguida for a visit with Addi's family who made us feel most welcome. We were invited to share tea and sample homemade sweets. The home that Addi helped build for his family has a state-of-the-art energy systems uses solar energy to heat water. His sisters make rugs from looms in their studio workspace. They are part of a women's cooperative that works to preserve Morocco's craft industries and helps women become wage earners and self-sufficient businesswomen within their community.
A five-minute walk away is a structure that resembles a castle; it's something called a ksar in Berber language.  This is a fortified quadrangle-shaped village of adobe (mud, straw and water) and cedar wood construction.  As we soon learned, this building was home to around 700 people and has been in continuous use  since the 17th century. A main entrance leads to a large courtyard, and off to the side, you can glimpse a community of apartments connected by earthen floored hallways. Within this complex are nooks to gather water, corners to tie up one's mule, and public store rooms. A community clay bread oven is in continual use and repair. Land surrounding the complex is farmed by residents and produce is sold in the large courtyard. This is Addi's original family home before they moved to a recently completed private, single-family one just a block away.
We were lucky to have as a guide, Addi —  someone who grew up in this village. We enjoyed learning how this community supports itself, educates its children, and continues century-long traditions. The generosity and interest showed not only by Addi's family and people we encountered was heartening to see.
Leaving Mezguida, we embarked on our long trip down the High Atlas to the southern oases.  A breathtaking switch back highway descended through a granite curtain wall  into the forested slopes of cypress, juniper and apple trees, down into the flat stony landscape of the pre-Sahara. We were snaking our way to Ouarzazate.
Once an outpost of the French protectorate in the 1920s Ouarzazate developed a movie industry after the French left in the 1950s. It became known as "Ouallywood" where studios built convincingly exotic backdrops for movies set in South East Asia, Rome and Egypt. Many high-profile movies, including Jewel of the Nile and Gladiator used the site of Atlas Film Studios. The adobe construction buildings proved the perfect vehicles.
This jaw-dropping excursion through Morocco left our little van quiet, and fully engrossed in architecture, landscape and photo opportunities.
Next: Part Four
To learn more about visiting Morocco, contact Addi Ouadderrou, owner of Moroccan Caravan at 285 Washington Street in Somerville. Moroccan Caravan is a showroom and gallery of all Moroccan products. See www.moroccancaravan.com or call 617-833-1503.